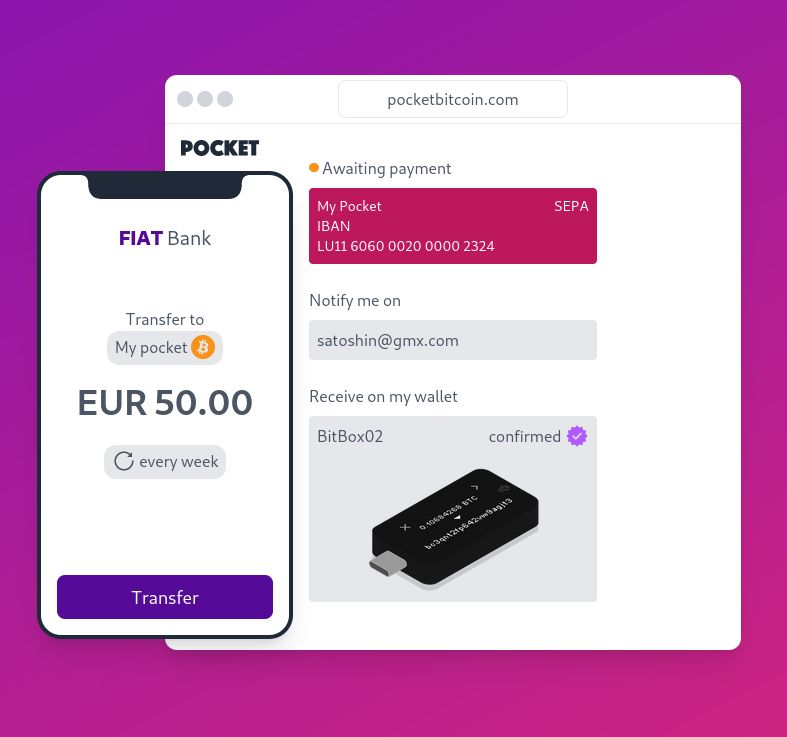 Pocket Bitcoin: Buy Bitcoin With SEPA
Pocket is a bitcoin exchange that converts bank transfers to bitcoin and sends them directly to your wallet.
Description
Pocket is a bitcoin exchange that automatically exchanges your bank transfers into bitcoin and sends them directly to your own bitcoin wallet with no account or registration. The exchange also supports automated recurring buys or dollar cost averaging (DCA). The currencies that are accepted on the exchange are EUR, CHF, and GBP.
How Pocket Bitcoin Works
You need to connect your existing bitcoin wallet to Pocket or create a new one with their assistance. After that, you can transfer money to your Pocket account via a bank transfer. When your payment arrives, it is converted into bitcoin and transferred to your bitcoin wallet automatically. You will be notified via email and will not have to do anything. You have the option of setting up a one-time or recurring payment.
The length of time it takes for a bank payment to reach Pocket depends on the banks involved, and the duration can vary from a few minutes to several business days. To ensure timely payment, users should opt for SEPA instant payments, if available. This method ensures that payments arrive at Pocket within just a few minutes. When using Pocket for the first time or with a new bank connection, your purchase may be delayed by a few minutes until it is manually cleared.
Setting up recurring bitcoin purchases through dollar-cost-averaging (DCA) is easy with Pocket's payment instructions. You can create a standing order and customize the frequency and amount according to your preferences. Moreover, you have the flexibility to stop and restart the standing order at any time.
You can receive bitcoin on your mobile wallet, hardware wallet (best for larger amounts), or Opendime USB stick using the platform. The USB stick is intended for beginners who want to get started with bitcoin right away. The Opendime stick will be delivered to your home address. Everything will be setup already so that you can receive your bitcoin instantly.
Pocket allows the use of any wallet of your choice, but once you share your Bitcoin address with them, they require a signature from your wallet to confirm your access. For BlueWallet, Bitcoin Core, Electrum, and Sparrow, use the manual "sign message" function.
For the following hardware wallets, you can now use the following options to integrate with Pocket and sign:
All of these options can be used directly within your Pocket account. However, some wallets like Muun, Cobo, Exodus, Edge, and Trust Wallet do not support message signing currently.
Pocket Limits
With Pocket, you can buy bitcoin without having to register, subject to the following purchase limits:
CHF 1000 per transaction per day
EUR 950 per transaction per day
GBP 850 per transaction per day
Should you exceed these limits, Pocket will email you requesting that you verify your identity through a brief video call. Simply provide an identity document for this purpose. Note that Pocket may also require you to go through this identification process even if you haven't exceeded the purchase limits.
There is no minimum amount when buying bitcoin with Pocket.
Pocket Bitcoin Fees
Pocket Bitcoin applies a standard service fee of 1.5%, which covers all their expenses and eliminates any hidden charges in the exchange rate. In the Bitcoin network, each payout incurs an additional network fee. To minimize these fees, Pocket combines as many payouts as possible into a single bitcoin transaction, spreading the network fee across multiple customers. On average, this fee is around 50-100 satoshis per payout, or approximately 2–4 cents. If you make multiple purchases to the same Bitcoin address in one day, you may only be charged the Bitcoin network fee once.
Disadvantages of Pocket
There are several potential limitations to using Pocket that users should be aware of. First, Pocket imposes daily purchase limits on buying bitcoin without identification, which could be a hindrance for users who want to buy more than the limit without KYC.
Second, Pocket's service fee of 1.5% is considered standard in the industry, but it may be higher compared to other platforms.
Third, Pocket only supports bank transfers as a payment method, which may not be convenient for all users. Those who prefer other payment options, such as credit/debit cards or PayPal, may find Pocket's limited payment options a drawback.
Fourth, Pocket is only available in Europe, which may limit its accessibility to some users. Users who are not located in one of these countries will not be able to use Pocket.
Fifth, Pocket cannot be used anonymously because even if you don't have to identify yourself right away, you could theoretically be traced back through your bank payments.
However, it's important to note that these potential drawbacks may not apply to all users, and that some may find Pocket's advantages outweigh any limitations.
Alternatives for Buying Bitcoin With SEPA
More Information
Additional information
| | |
| --- | --- |
| Bitcoin Only | |
| Buy with Bank Account | |
| Lightning Network | |
| KYC | |
| Payment Methods | |
| Wallet Type | |
| QR Code | No |
| Hardware Wallet Integration | |
| API | Yes |
| Supported Fiat Currencies | |
| Supported Countries | EU, UK |
| Supported Languages | |
| Made in | Switzerland |
| Year Launched | 2021 |