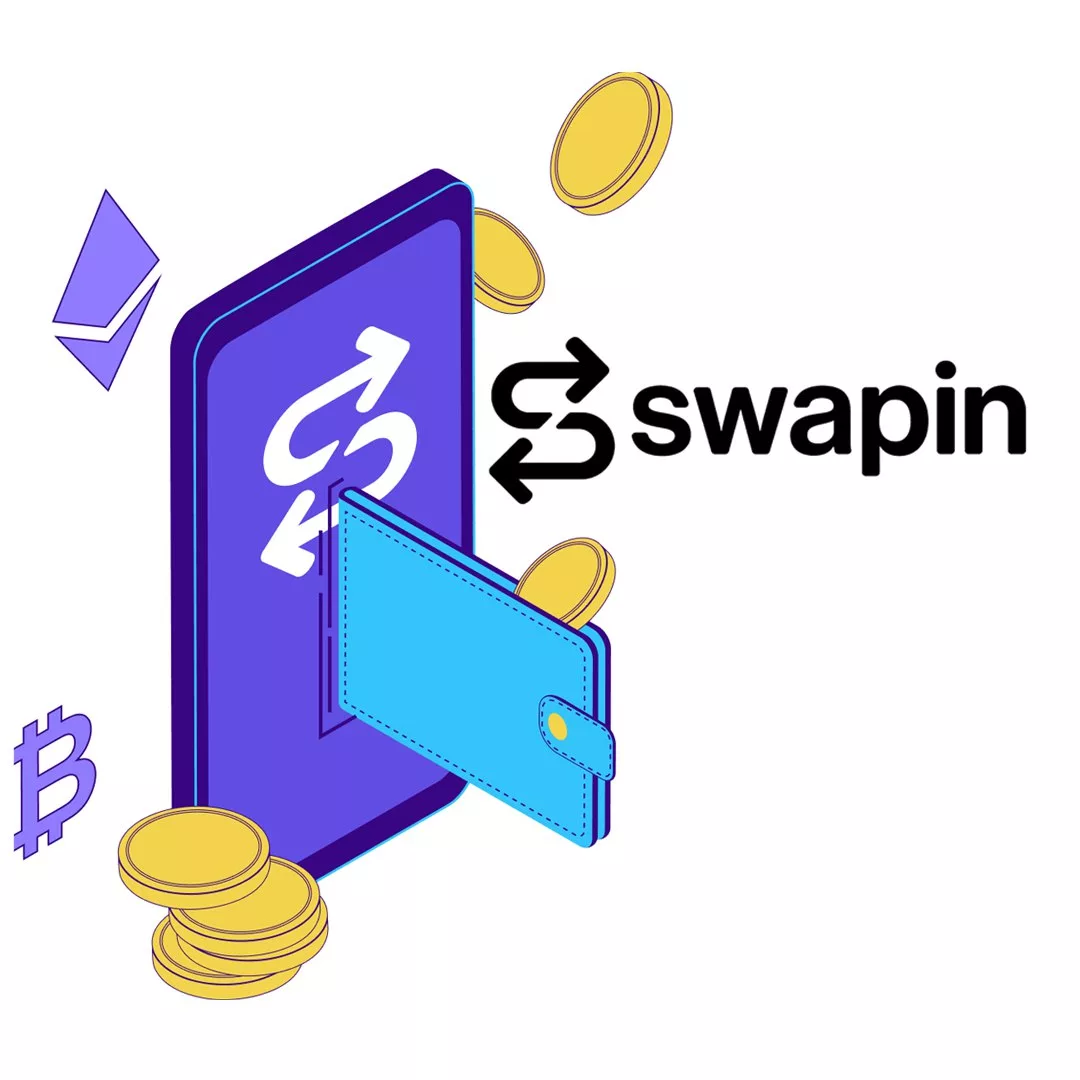 Swapin: Instant Transfers Between Bitcoin and SEPA
Swapin is a licensed financial services provider based in Estonia. It enables sending bitcoin payments and receiving fiat to any SEPA bank account. It also provides an E-commerce widget integration and features for issuing invoices and paying salaries in digital currency.
Description
Swapin is a licensed financial services provider based in Estonia. It allows sending bitcoin payments to personal or business IBAN accounts with automatic and immediate conversion into EUR or GBP. It also supports Web3 Wallet integration, recurring payments, invoices creation, bill payments, and payment of salaries to employees with the conversion to fiat.
Hot to Get Started with Swapin
Register a personal or business account to start using Swapin. The registration process for both services requires you to enter an email and make up a password. Verify and confirm your email via a link in a letter sent to your email address. You need to pass the identity verification process to access all Swapin payment solutions. First, enter your personal information, such as your name and surname, country of residence, birth country, phone number, and citizenship. Next, you will be asked to take a picture of the required document and a selfie with the document you submit.
After verifying the identity, proceed to the level of verification and limits. At this stage, you fill in and confirm your address. If necessary, Swapin may request a legal translation of all documents into English. The next step is to fill in the fields of income information. They include the purpose of transactions, net income, employer name, and source of funds.
Swapin Solutions for Personal Use
InstaPay. It is a Swapin tool that allows you to instantly convert bitcoin and other digital currencies into euros and send them directly to a recipient's SEPA bank account. With this tool, you can also use your app wallet to pay for purchases.
Predefined payments. This solution allows you to create transfer templates and reuse them for future payments. After making a payment, it is possible to set a reminder about the next payment date.
InstaFill. It is a service for transferring funds between bitcoin and fiat currency. Send bitcoin to the Swapin wallet to get euros into your bank account automatically. The service becomes active once your IBAN account is linked to the account on Swapin and the feature is set up.
Web3 Wallet Integration. Using the Swapin web application, you can instantly convert bitcoin from the Web3 wallet to a bank account. Swapin supports MetaMask, Ledger, Trust, Rainbow, Crypto.com, Argent, and Exodus wallets. To put it into action, click the "Connect Wallet" button at the top left of the page.
InstaBuy. It is an upcoming bitcoin purchasing tool. It will enable buying bitcoin with a credit/debit card.
Swapin Solutions for Businesses
SwapinCollect. This tool enables businesses and corporations to create invoices that can be paid in bitcoin. In turn, companies will get fiat straight to their corporate IBAN.
E-Com widget. This feature allows online stores to accept bitcoin payments and process them into fiat. The money is instantly transferred to the seller's linked IBAN account. Swapin's E-Com widget is compatible with popular e-commerce platforms such as WooCommerce, PrestaShop, and Magneto.
Swapin Fees
Accounts
| Type | Fee |
| --- | --- |
| Open a personal account: | Free |
| Open a business account: | Free |
| Account maintenance: | Free |
| Minimum transaction amount: | 5 EUR |
| Maximum transaction volume: | Unlimited, but a limit may still apply based on the customer's provided financial information. |
Transaction fees 1
The following are fees for exchanging bitcoin and pay fiat to anyone, as well as accept bitcoin as a business and get fiat on your SEPA bank account:
| Transaction volume | Swapin Fee | Bank transfer fee | Bitcoin to fiat exchange rate |
| --- | --- | --- | --- |
| From €5 to €15 000 | 1.35% | 0.4% | Fixed for 30 mins |
| Over €15 000 to €30 000 | 1.1% | 0.4% | Fixed for 30 mins |
| Over €30 000 to unlimited | 0.8% | 0.4% | Fixed for 30 mins |
Transaction fees 2
Fees for exchanging bitcoin and get fiat on your SEPA bank account are:
| Transaction volume | Swapin Fee | Bank transfer fee | Bitcoin to fiat exchange rate |
| --- | --- | --- | --- |
| From €5 to unlimited | 0.8% | 0.2% | Real-time |
When transferring bitcoin to Swapin, the estimated processing time is up to 5 minutes. The same applies to instant SEPA bank transfers. However, for SEPA bank transfers, the processing time may vary, and it may take longer to complete the transaction.
More Information
Additional information
| | |
| --- | --- |
| Bitcoin Only | |
| KYC | |
| Mobile App | No |
| Affiliate Program | Yes |
| Year Launched | 2017 |
| Made in | Estonia |