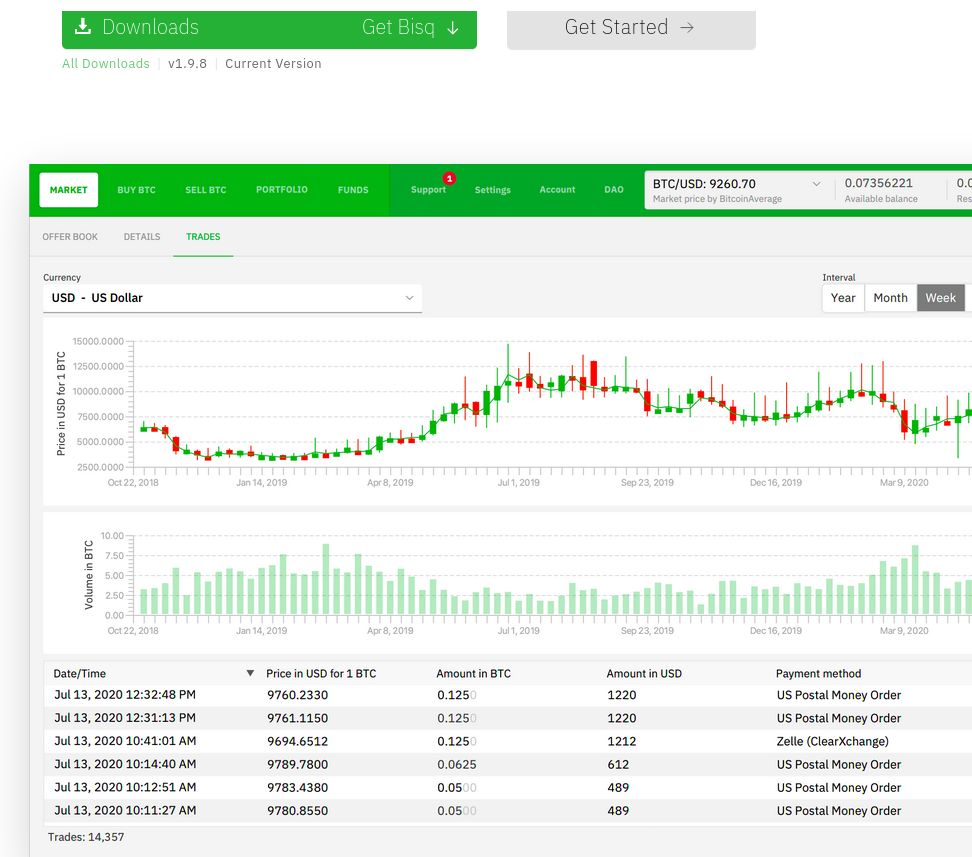 Bisq: Peer-To-Peer Bitcoin Exchange
Bisq is a decentralized cryptocurrency exchange platform that uses a peer-to-peer network and open-source desktop software to facilitate the buying and selling of bitcoin anonymously without KYC. It allows users to trade directly with one another without the need for a central authority or third-party intermediary.
Description
Bisq is a decentralized cryptocurrency exchange that allows you to buy and sell bitcoin and other cryptocurrencies using a peer-to-peer network and open-source desktop software. Because Bisq is a desktop-based application, its Android and iOS apps only allow you to receive essential notifications like trade updates and offer alerts even when you are not near your computer. It is an open-source project that aims to provide a secure, private, and censorship-resistant platform for buying and selling bitcoin.
One of the main benefits of using Bisq is that it offers a high level of privacy and security. The exchange does not require you to provide personal information, and all transactions are conducted directly between users without the need for a third party to hold funds. This makes it resistant to censorship and allows you to maintain control over your own funds. Furthermore, Bisq is decentralized, meaning it is not controlled by any central authority or corporation. Instead, it relies on a network of volunteers who contribute their computing resources to run the exchange.
Bisq also has a number of security measures in place to protect users. For example, it uses multisignature escrow to secure your funds, and it has a built-in arbitrator system that allows users to resolve disputes in the event of a trade not going as planned.
Bisq requires a bitcoin security deposit from both trading partners as a form of escrow in order to encourage both trading partners to behave in good faith. This is also why you must have bitcoin to start trading on Bisq.
Bisq does not use computerized order matching, and deals are settled manually by people. As a result, deals are not done as quickly as they would be on centralized exchanges, although they can still be performed relatively swiftly. Some payment options are instant, while others may take several days (e.g., SEPA).
Other benefits of using Bisq include:
Accessibility: Bisq is available on multiple platforms and does not require you to go through a lengthy registration process.
No deposit or withdrawal fees: Bisq does not charge fees for depositing or withdrawing funds, although there may be fees for trading.
Low trading fees: Bisq charges a small percentage of the trade value as a fee, which is paid by the maker of the trade.
How to get started with Bisq
To get started with Bisq, you will need to do the following:
Download and install the Bisq software on your computer.
Add your national currency or bitcoin account.
Create a new offer or take an existing one.
Follow the user interface to finalize the trade.
Differences between Bisq and other exchanges
Bisq does not hold any bitcoin. All bitcoin used to trade is stored in 2-of-2 multisignature addresses that are completely owned by the trading peers.
Bisq possesses no national currency. Traditional banking and payment systems are used to move national currency directly from one trader to the next.
Bisq data is sent over its own secure peer-to-peer network, which is built on top of the Tor network. There are no central servers. Because there are no data honeypots, large-scale attacks on customer information databases are impossible.
Bisq knows nothing about the traders who utilize its network, and no information about who trades with whom is stored.
Bisq does not require registration, which protects your privacy and allows you to start trading right away.
Bisq is code, not a company. It is an open-source project based on Bitcoin that is organized as a decentralized autonomous organization (DAO).
Additional information
| | |
| --- | --- |
| Bitcoin Only | |
| P2P Exchange | |
| KYC | |
| Dekstop App | Yes |
| Mobile App | Yes |
| Operating System (OS) | |
| Escrow | |
| 2FA | |
| Multisig | |
| SegWit | |
| Source Code | |
| Tor | Bisq is built on top of Tor network |
| Year Launched | 2014 |