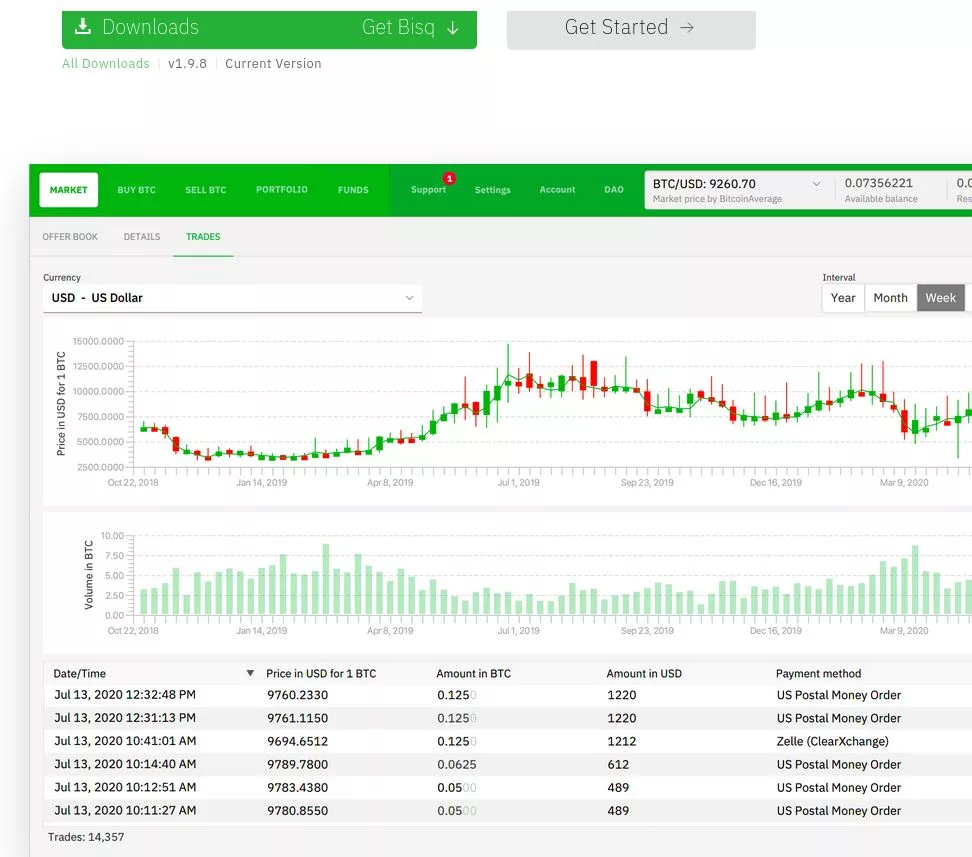 Bisq Exchange Review: P2P Bitcoin Exchange
Bisq is a no KYC decentralized platform for buying and selling bitcoin that operates on a peer-to-peer network and open-source desktop software.
Description
Bisq is a decentralized peer-to-peer exchange that allows you to buy and sell bitcoin using an open-source desktop software without KYC requirements. The exchange runs on a distributed network of nodes, meaning that there is no central server that could be hacked or taken down by a single entity. This makes Bisq more resistant to censorship and seizure, and provides users with greater privacy and security.
Bisq is code, not a company. It is an open-source project organized as a decentralized autonomous organization (DAO) built on top of bitcoin.
Benefits of Bisq
Bisq bitcoin p2p exchange provides several benefits for users trading bitcoin. These are some of the benefits:
One of the most significant advantages of using Bisq is its decentralized nature. Unlike centralized exchanges that require a middleman to facilitate trades, Bisq is a peer-to-peer network of users that operate without any central authority. This means that there are no intermediaries, no single points of failure, and no central control over the exchange, which results in greater privacy, security, and control over funds for users.
Another key advantage of using Bisq is its security model, which uses multi-signature transactions to ensure that funds are not held by any single party. Furthermore, Bisq's security model ensures that you hold the private keys to your bitcoin wallet, which means that you have complete control over your funds.
Unlike centralized exchanges that require you to go through a KYC (know your customer) process and provide personal information, Bisq does not collect your data or require KYC. Instead, you can trade without revealing your identity or personal information to anyone, which is a significant advantage for those who value their privacy.
In addition, Bisq network uses Tor, a free software that helps to protect users' online privacy and anonymity. Tor ensures that users' internet traffic is routed through a network of servers, making it difficult for anyone to track or trace users' transactions.
How Bisq Works
You need to download and install the Bisq software on your computer. After that, you can create accounts, and browse offers to buy or sell bitcoin on the Bisq network. Bisq requires a bitcoin security deposit from both trading partners as a form of escrow in order to encourage both trading partners to behave in good faith. This is also why you must have bitcoin to start trading on Bisq. After a trade is completed, both parties leave feedback for each other, which helps to build reputation scores for each user.
Bisq uses multisignature escrow to ensure that funds are not held by any single party to secure your funds. When a trade is initiated, the buyer and seller each deposit their funds into a 2-of-3 multisignature escrow address. This means that two out of three keys are required to move the funds, with one key held by the buyer, one key held by the seller, and the third key held by Bisq. This ensures that neither the buyer nor the seller can unilaterally control the funds, and that Bisq acts as a neutral third party to resolve disputes if necessary.
Once the funds are locked in the multisig escrow, the buyer sends their payment to the seller using a payment method agreed upon by both parties. The seller then confirms receipt of the payment, and the buyer has a predetermined amount of time to review the received bitcoin and either release the funds to the seller or initiate a dispute. Here's a list of common Bisq payment methods.
If there is a dispute, the case is brought before an arbitrator who has access to the third key. The arbitrator reviews the evidence provided by both parties and makes a decision on how to resolve the dispute. If the arbitrator decides in favor of the buyer, the funds are returned to the buyer. If the arbitrator decides in favor of the seller, the funds are released to the seller.
Because Bisq is a desktop-based application, its Bisq Android and Bisq iOS apps only allow you to receive essential notifications like trade updates and offer alerts even when you are not near your computer.
Bisq does not use computerized order matching, and deals are settled manually by people. As a result, deals are not done as quickly as they would be on centralized exchanges, although they can still be performed relatively swiftly. Some payment options are instant, while others may take several days (e.g., SEPA).
Bisq Fees
When using the Bisq platform to trade bitcoin, there are some fees that you should be aware of. The trading fees are calculated as a percentage of the trade size and vary depending on whether the user is a "maker" or a "taker". Makers pay a 0.1% fee, while takers pay a 0.7% fee, if paid in BTC. However, if paid in BSQ (the native crypto of the Bisq network), the fees are approximately half of the BTC fees.
A "maker" is a user who creates an offer to buy or sell bitcoin on the platform, and pays a lower trading fee when their offer is accepted. A "taker" is a user who accepts an existing offer from the order book created by a maker, and pays a higher trading fee for immediate execution of the trade.
In addition to the trading fees, you should also expect to pay mining fees for on-chain transactions and a deposit to lock into the multisig escrow. The deposit is fully refundable upon successful completion of the trade. Overall, while there are some fees associated with using Bisq, they are generally lower than those charged by centralized exchanges, and you have greater privacy, security, and control over your funds.
Is Bisq Legit? Is Bisq Safe?
Bisq network is a legitimate and decentralized bitcoin exchange that has been around since 2014. It has security measures in place, such as multi-signature escrow and decentralized arbitration. Bisq operates on the desktops of its users, as it has no central servers. This makes it difficult to surveil, censor, shut down or hack. However, like any exchange, there are risks involved, especially when trading directly with other individuals as the trustworthiness of the trading partner can vary. Conduct thorough research and exercise caution when trading on any exchange.
Differences Between Bisq P2P and Other Centralised Exchanges
Bisq P2P does not hold any bitcoin. All bitcoin used to trade is stored in 2-of-2 multisignature addresses that are completely owned by the trading peers.
Bisq possesses no national currency. Traditional banking and payment systems are used to move national currency directly from one trader to the next.
Bisq data is sent over its own secure peer-to-peer network, which is built on top of the Tor network. There are no central servers. Because there are no data honeypots, large-scale attacks on customer information databases are impossible.
Bisq knows nothing about the traders who utilize its network, and no information about who trades with whom is stored.
Bisq does not require registration, which protects your privacy and allows you to start trading right away.
Bisq is code, not a company. It is an open-source project based on Bitcoin that is organized as a decentralized autonomous organization (DAO).
Bisq Alternatives
More Information
Additional information
| | |
| --- | --- |
| Bitcoin Only | |
| Wallet Type | |
| Type of Exchange | |
| KYC | |
| Lightning Network | |
| Dekstop App | Yes |
| Mobile App | Yes, Only for notifications |
| Operating System (OS) | |
| Escrow | |
| 2FA | |
| Multisig | |
| SegWit | |
| Source Code | |
| Tor | Bisq is built on top of Tor network |
| Level | |
| Supported Countries | Worldwide |
| Year Launched | 2014 |