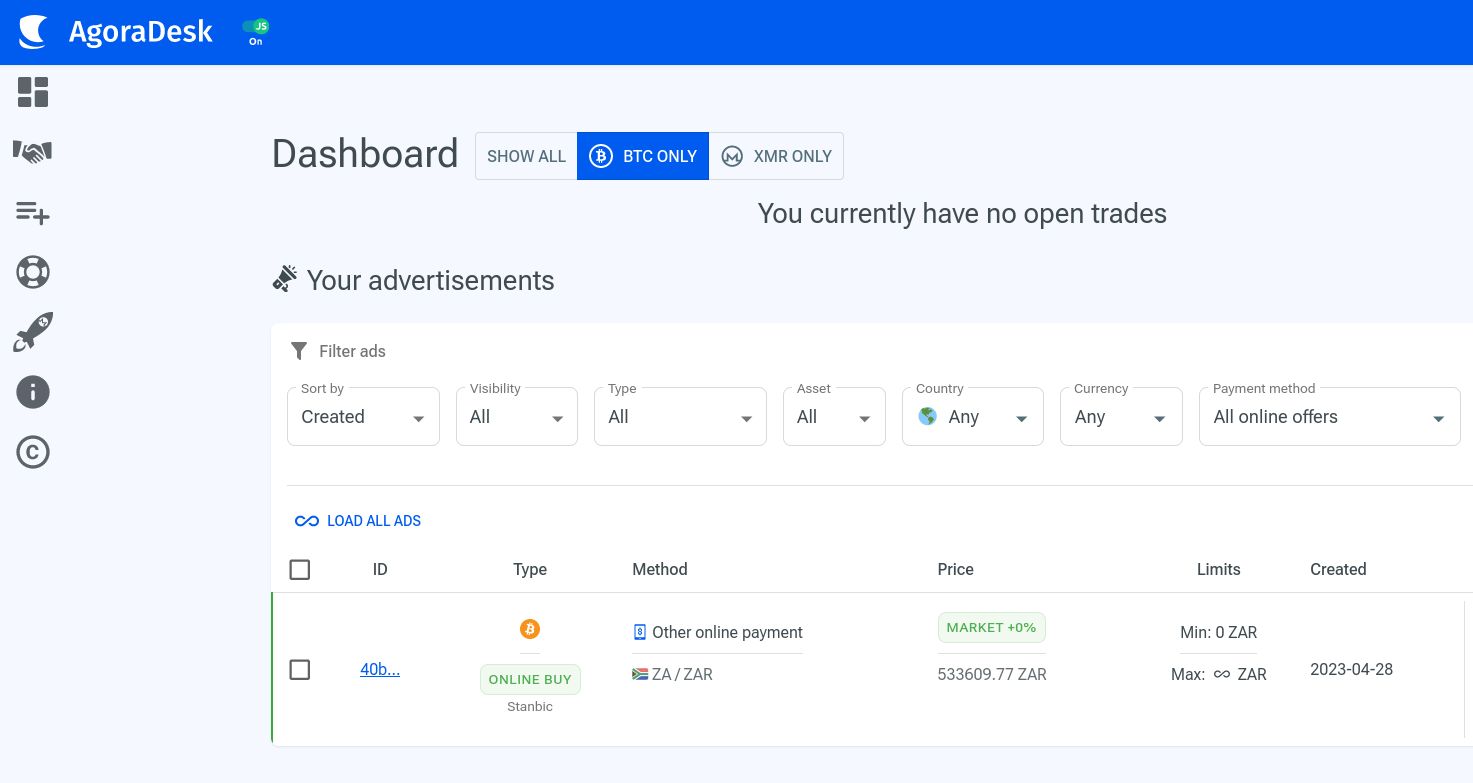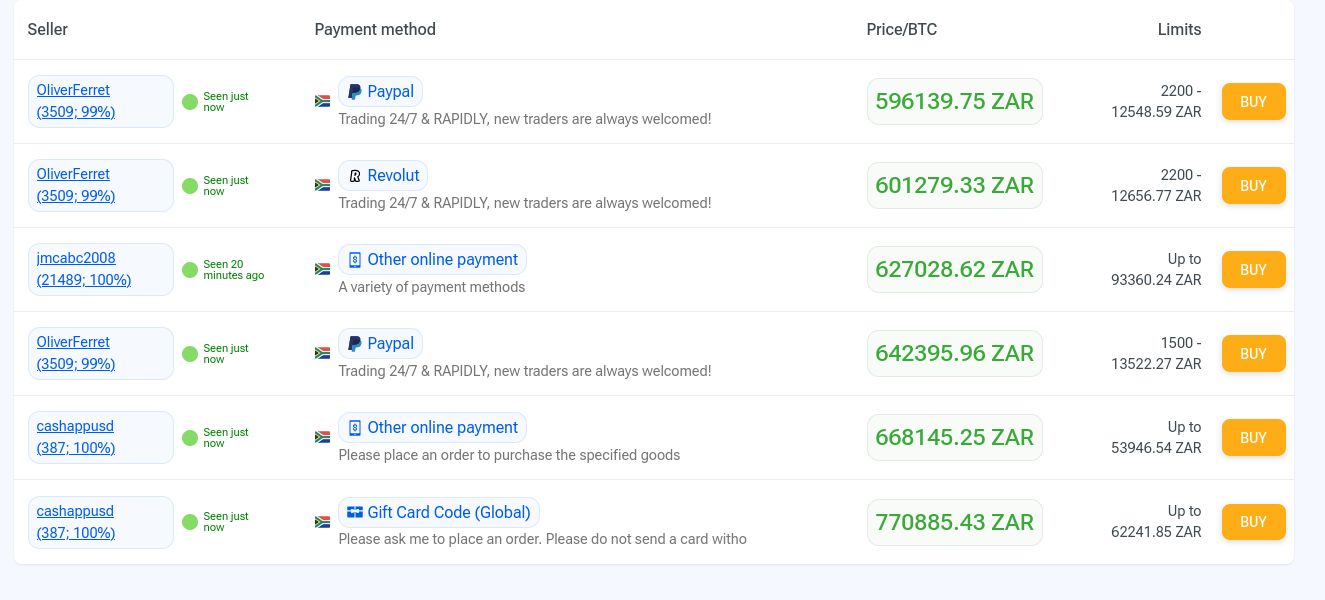 AgoraDesk: No KYC Bitcoin Exchange
AgoraDesk is a centralized peer-to-peer platform for buying and selling bitcoin without the need for ID verification.
Description
AgoraDesk is a centralized, a peer-to-peer bitcoin marketplace where users can buy and sell bitcoin to and from each other without ID verification. Users, called traders, create advertisements with the price and the payment method they want to offer. You can browse the website for trade advertisements and search for a payment method you prefer. You'll find traders buying and selling bitcoin online for more than 60 different payment methods.
How AgoraDesk Works
To use AgoraDesk, you need to sign up on the website or download AgoraDesk app on Play Store or App Store. You need a username to sign up. Entering your email is not mandatory for creating your account. However, if you do not provide an email, the marketplace will not be able to recover your password or send you email notifications.
Despite not having any mandatory KYC requirements, AgoraDesk has a number of users who choose to request KYC information when high-risk payment methods are involved, which can put sellers at risk of potential scams if they fail to verify the authenticity of their buyers beforehand.
To sell bitcoin on AgoraDesk, the first step is to transfer bitcoin for the arbitration bond to your AgoraDesk wallet. Upon opening the trade page in your browser, you will see ads from buyers. You can use the trade chat to communicate with the buyer you want to trade with and share your payment details. Once the buyer has completed the payment, a notification will be sent to you. Make sure to verify that the payment has been received and that it matches the correct amount. After confirming the accuracy of the payment, you may click on "Finalize".
To buy bitcoin, check out the top offers for your region and pick an ad from a trader with a strong trade volume and reputation. Then, utilize the trade chat to confirm the seller's readiness to receive your payment and address any concerns about the payment process. Unlike Bisq and Robosats, you are not required to have Bitcoin in your wallets to show commitment before you can buy Bitcoin.
AgoraDesk offers two types of trades: local and online. Online trades are conducted entirely through our trading platform, without the need for you to meet your trading partner in person. These trades come with automatically enabled and funded arbitration bond protection, ensuring that buyers are protected by our system. Online trades make up the majority of AgoraDesk trades. On the other hand, local trades are meant to be conducted face-to-face, and arbitration bond protection is not automatically enabled. As a result, it is not recommended to use online payment methods when paying the seller in a local trade.
All online trades are protected by arbitration bonds (escrow). When a trade is started, an amount of bitcoin equal to the amount of the trade is automatically reserved from the seller's AgoraDesk bond wallet. This means that if the seller runs away with your money and does not finalize the trade, AgoraDesk support can direct the bitcoin held in the arbitration bond to you. If you're selling bitcoin, never finalize the trade before you know that you have received money from the buyer. Please note that local trades do not have arbitration bond protection enabled by default.
AgoraDesk Fees
There are no fees for registering, buying or selling bitcoin on AgoraDesk. However, users who create advertisements will be charged a 1% fee of the total trade amount for arbitration protection on each completed trade. As for bitcoin transaction fees, there are no charges for transactions to wallets belonging to other AgoraDesk users. However, for transactions to external bitcoin wallets, relevant network transaction fees apply. You can view the current fee on the AgoraDesk wallet page under "Outgoing Cryptocurrency Fees", and it will be paid from your AgoraDesk wallet balance when you initiate a transaction.
Is AgoraDesk Legit?
Is AgoraDesk a legitimate platform? Is it safe to use? AgoraDesk ensures the safety of online trades through arbitration bonds. When a trade is initiated, an equivalent amount of bitcoin to the trade value is automatically reserved from the seller's AgoraDesk bond wallet. This allows AgoraDesk support to intervene and transfer the bitcoin held in the arbitration bond to you in case the seller runs away with your money and fails to finalize the trade. However, it should be noted that local trades (face-to-face trades) do not have arbitration bond protection enabled by default. Moreover, the exchange implements two-factor authentication (2FA) and encrypted chat functionality to protect both buyers and sellers.
Agora Alternatives (No KYC Exchanges)
More Information
Additional information
| | |
| --- | --- |
| Bitcoin Only | |
| Level | |
| Type of Exchange | |
| KYC | |
| Escrow | |
| Mobile App | Yes |
| Operating System (OS) | |
| Tor Support | |
| I2P | |
| 2FA | |
| Affiliate Program | Yes |
| Year Launched | 2019 |
| Headquarters | British Virgin Islands |
| Wallet Type | |