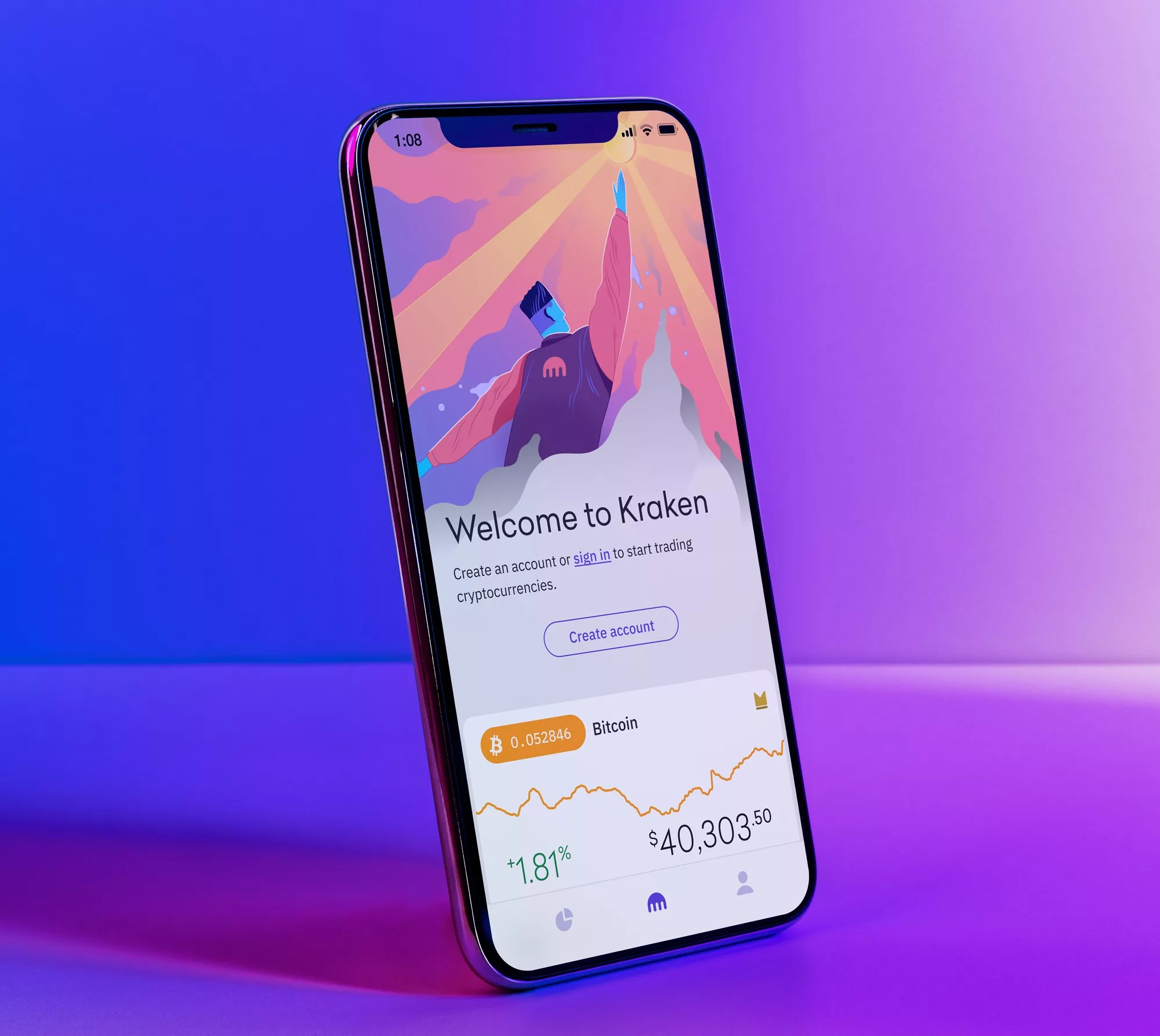 Kraken Review: Global Bitcoin Exchange
Kraken is a bitcoin exchange that operates globally and allows you to buy and sell bitcoin. It can be accessed on the web or via mobile apps supported in many languages.
Description
Kraken is an exchange that enables you to buy, sell, and trade bitcoin. It supports multiple payment options, including bank transfers, debit/credit cards, Apple Pay, and Google Pay. The account can be funded with traditional currencies or bitcoin sent from other wallets or exchanges, for example, Luno and Coinbase. Kraken provides an API for developers to integrate with their platform and a wide range of features, such as margin trading, futures trading, and stacking. Furthermore, it supports the Lightning Network.
How Kraken Works
To start using Kraken, create an account on the platform's official website or use an app for iOS or Android devices. Verify your email address, enter a PIN or choose the biometrics option to open the app every time you use it. After that, set up a two-factor authentication (2FA) via the authenticator app or security key (you can choose hardware wallets like Trezor or Ledger for this).
The next step is to verify your identity to access more features and higher limits. There are the following levels: Starter, Express (available in the US only, excluding NY, TX, WA, and overseas US Territories), Intermediate, and Pro. Fund your account with a payment method available in your country in USD, EUR, CAD, JPY, GBP, CHF, or AUD and buy or sell bitcoin.
Kraken Features
Kraken Pro. It is an advanced trading platform for professional traders, available on both web and mobile devices. It offers a range of features, including margin trading, advanced order types, and access to the Kraken OTC desk.
Futures. Bitcoin futures allow you to invest in the future price of bitcoin and make a profit if the difference in its value has been correctly predicted. The advantage of bitcoin futures contracts among the platform users is the ability to make profits in a short period of time.
Staking. It is a feature to earn passive income investing bitcoin. The exchange offers bets on various financial instruments; the reward is received twice a week.
Margin trading. Kraken can lend you money for further investment. This is done by allowing you to trade with more funds than you have in your account. If you profit on the trade, you get to keep the profits minus the interest you owe the platform. However, if the trade goes against you, you will be responsible for covering the losses plus the interest you owe Kraken.
Recurring buys. Invest a fixed amount of money at regular intervals following the DCA strategy to reduce the impact of market volatility.
Kraken Limits
Kraken has a variety of trading limits based on the user's trading volume and verification level. For example, a Starter account holder can only withdraw up to $2,500 per day, while an Intermediate account holder can withdraw up to $500,000 per day.
Kraken Fees
Kraken exchange fees are determined by a "taker/maker" fee schedule and depend on transaction size, payment method, and market conditions. The taker fee is applied when placed orders are immediately filled against existing orders on the order book. The maker fee is applied when placed orders are not immediately filled against current orders on the order book. The fees range from 0% to 0.26% for takers and 0% to 0.16% for makers.
Makers are individuals who place orders that are not immediately matched. They are willing to wait until someone is ready to trade at their specified price. Takers, on the other hand, are individuals who place orders that are instantly filled. They prefer not to wait for someone else to match their desired price.
Kraken Supported Countries
Kraken supports clients from around the globe, although there are a few specific exceptions based on international and local financial regulations. Depending on your verified residency, your account may have certain restrictions in place. For example, some regions are not yet able to use debit or credit cards. Here's the full list of countries supported by Kraken.
Alternatives for Buying Bitcoin With SEPA
If you are in Europe, you can buy bitcoin with SEPA using Kraken. However, there are other options as shown below.
More Information
Additional information
| | |
| --- | --- |
| Bitcoin Only | |
| Mobile App | Yes |
| Operating System (OS) | |
| Lightning Network | |
| 2FA | |
| API | Yes |
| Biometrics | Yes |
| QR Code | Yes |
| Bitcoin Savings Plan | |
| Over-The-Counter Trading (OTC Trading) | Yes |
| Hardware Wallet Integration | |
| KYC | |
| Affiliate Program | Yes |
| Geographical Limits | Global |
| Year Launched | 2011 |
| Headquarters | San Francisco |
| Made in | USA |
| Buy with Bank Account | |