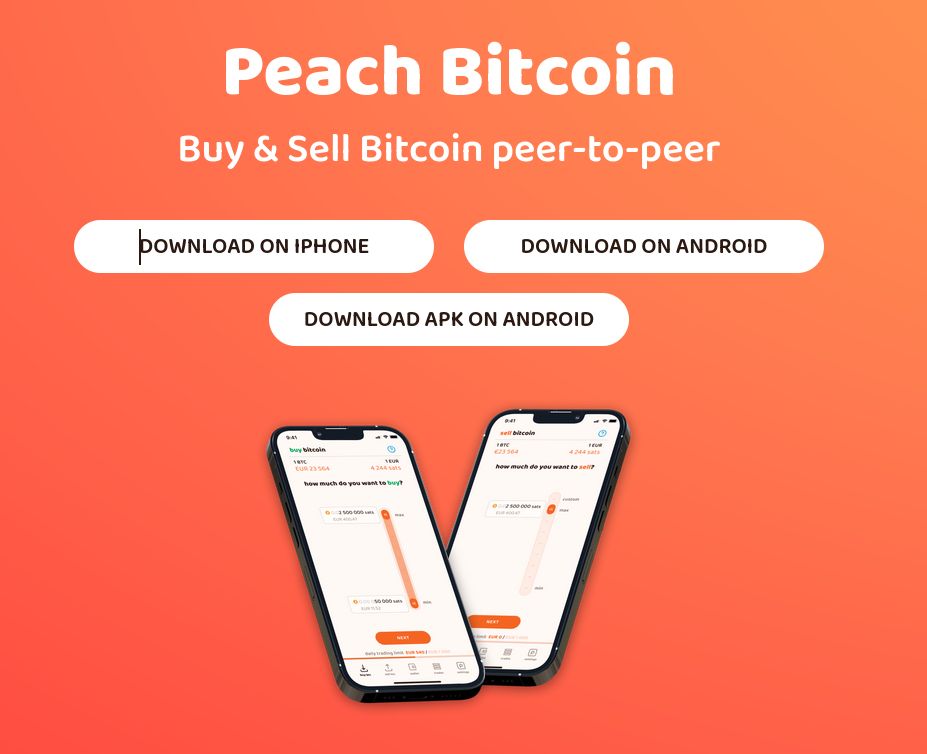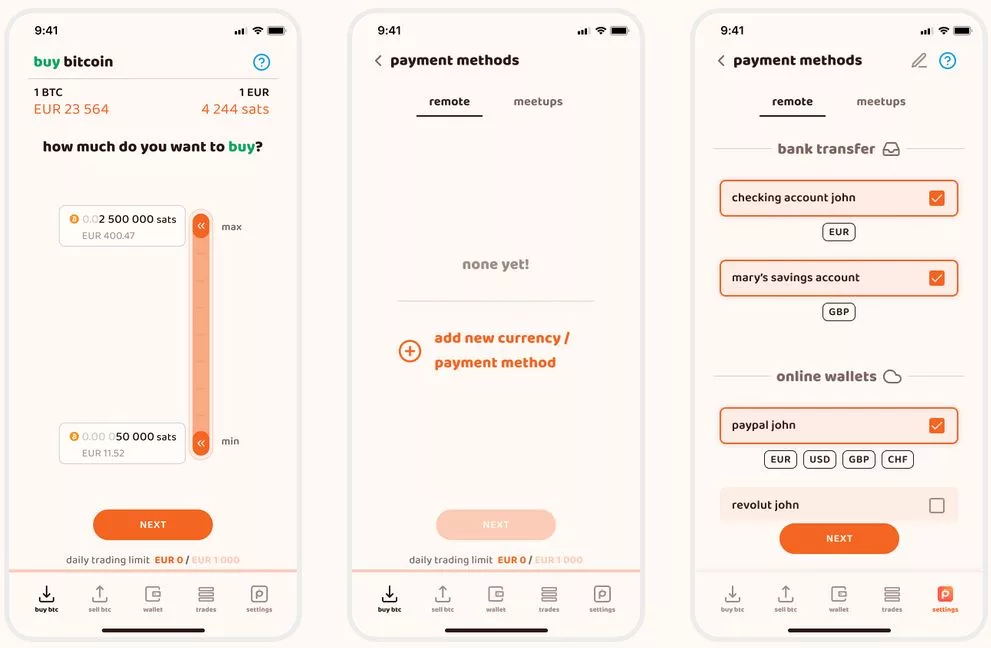 Peach Bitcoin Review: Peer to Peer Exchange
Peach Bitcoin is a European-based peer to peer exchange that does not require KYC verification and accepts various payment methods, including cash.
Description
Peach Bitcoin is a non-KYC exchange in Europe that supports multiple payment methods, including cash. As a peer-to-peer bitcoin exchange, you buy and sell directly with other peers rather than through the platform. There is no need for a passport photo or a driving license in order to buy or sell bitcoin on the exchange.
How Peach Exchange Works
You need to install the Peach Bitcoin app (via the App Store, Play Store, or APK download). After installation, you will be asked if you want to share some data with the exchange. You'll then be met with a brief three-step explanation of how Peach works. You will then be asked if you have a referral code. Don't be concerned if you don't.
A Peach account is not the same as a regular account with other services, such as an email address and a password. Your Peach account is a file that lives locally on your phone, so Peach does not to store your data or know who you are. This file contains all of your information, from your bitcoin wallet keys to your payment information. You must back up this file because losing your phone will result in you losing access to your Peach account and the funds in your Peach wallet. After you've completed your first trade, you'll be asked to create a backup and a password.
There is no other way to unlock your account if you forget your password.
Placing your first buy or sell offer can be done in just a few seconds. You'll just need to tell the platform how much you want to buy/sell, and how you want to pay your seller or how you want your buyer to pay you. Before your sell offer is published, you need to send bitcoin to an address that is controlled by you and Peach (escrow) to secure the trade. If the seller/buyer matches you back, you'll be notified and shown their payment details. Peach has a ranking algorithm that score users for various of actions, in order to protect the users.
Trading limit: a person can only buy up to 1000CHF (or equivalent) of bitcoin per day, without providing their identification to the seller. the monthly anonymous limit is for anonymous payment methods such as cash and giftcards
Peach Bitcoin Supported Currencies And Payment Methods
We are partnering with meetups all over the world to facilitate safe & secure places to trade Bitcoin with cash. If you are a meetup organizer and would like to get your meetup into Peach, get in touch, and we'll get back to you to proceed with the integration! If your meetup is eligible to be integrated inside our app, we'll get back in touch with you to ask for the final details.
At the moment, supported currencies on Peach exchange are EUR, GBP, CHF, SEK, DKK, NOK, and PLN. Supported online wallets are Advcash, Wise, Revolut, and PayPal. In addition to SEPA, the following national options are supported: Vipps (Norway), MobilePay (Denmark), Satispay (Italy), MBWay (Portugal), Bizum (Spain), Blik (Poland), Twint (Switzerland), and Swish (Sweden). Being a peer to peer exchange, you can also pay with cash. In addition, the p2p exchange supports Amazon gift cards for buying bitcoin. You can choose as many payment methods as you want to increase your chances of finding a match.
Peach Fees
Peach charges 2% of the trading volume in fees to the buyer. You can always see the full fee structure at the end of your trade.
Limitations of Peach Bitcoin from a user on the platform since 2022
Limited number of offers: The platform currently has a restricted selection of offers, with some sell offers having high premiums.
Limited filtering options: The filtering functionality is limited to fiat amount and payment options, lacking options such as score or premium.
Text-only chat: It would be beneficial to have the ability to share screenshots/PDFs in the chat, especially for sharing payment confirmation details.
Lack of a second-layer option: The platform currently does not offer a second-layer solution like Lightning Network.
Peach Bitcoin Alternatives
More Information About Peach Exchange
Additional information
| | |
| --- | --- |
| Type of Exchange | |
| Bitcoin Only | |
| Mobile App | Yes |
| Operating System (OS) | |
| Source Code | |
| Lightning Network | |
| KYC | |
| Escrow | |
| Tor Support | No |
| Wallet Type | |
| Level | |
| Year Launched | 2022 |
| Made in | Switzerland |