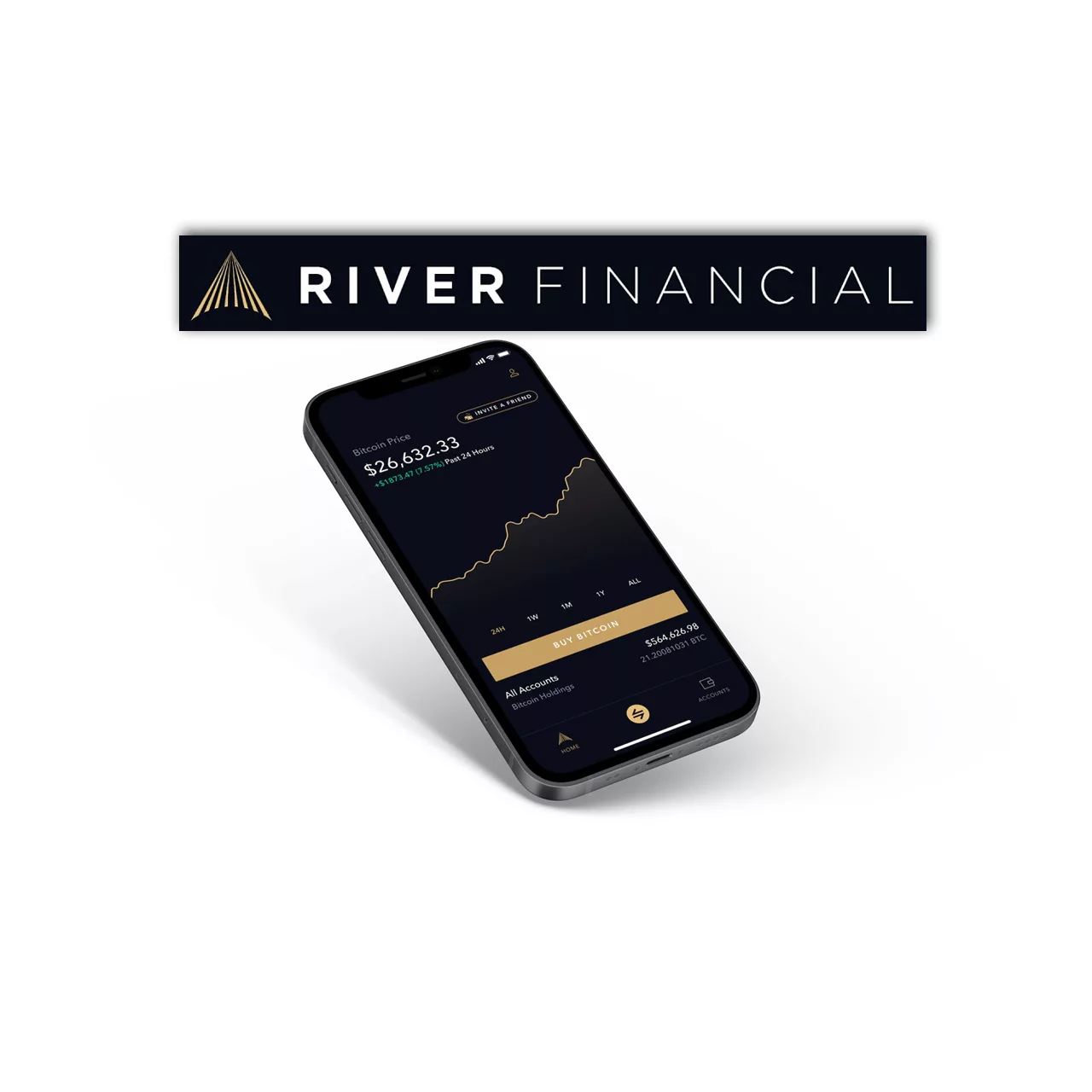 River Financial: Bitcoin-Only Financial Institution
River Financial is a bitcoin-only financial institution that provides its services in the USA. It allows users to buy, sell, mine, send, and receive bitcoin. The platform supports zero-fee recurring purchases following the DCA strategy. Buying, selling, and tracking bitcoin is also possible with River Financial's app for iOS.
Description
River Financial is a financial institution that allows users to buy, sell, and mine bitcoin in the USA (excluding New York and Nevada). It also supports the zero-fee DCA (dollar cost averaging) process on recurring orders with daily, weekly, bi-weekly, or monthly frequency. Deposit and withdraw funds are possible on-chain or via the Lightning Network. River Financial offers both individual and entity accounts.
The platform provides custodial services; it stores all bitcoin offline in secure cold storage.
We strongly advise removing your bitcoin from exchanges as soon as possible after purchasing or selling bitcoin. Moving your bitcoin to a noncustodial wallet such as Muun protects you from losing your fund. There are many exchanges that have collapsed with users' funds.
How to Get Started
To start using River Financial, create an account following these steps:
Sign up by entering your name, surname, and email address, and create a password.
Click the link in the email to confirm your account.
Enter your mobile phone number to set up two-factor authentication.
Fill in personal information to verify your identity.
Link your bank account and fund the River account to start buying or selling bitcoin. Account top-up is possible via the web or iOS mobile app.
You need to have your identity verified before sending and receiving bitcoin. The service provides two ways to send or receive bitcoin: on-chain and over the Lightning Network. You can only use the Lightning Network if the non-River wallet you are sending from also supports Lightning.
River Financial Features
Performance Tracking Tool. This feature helps monitor and analyze portfolio performance.
Private Client. To become a private client, you must be looking to invest more than $250,000 in bitcoin and fill in the website form. This status gives an opportunity to use the services of a Private Client Advisor.
Tax Optimization. River makes it easy for you to quickly generate Form 1099-B (the form contains information on your taxable trades for the reporting year) and submit it directly to the IRS.
Bitcoin Inheritance. It is feasible to designate individuals, trusts, or organizations as account beneficiaries to get funds upon the death of its owner.
Bitcoin Mining. River Mining helps clients find the most reliable hardware in the market and has technical support to set up the miner. Clients receive their profits in the form of bitcoin directly to their River account.
River Financial Account Statements. The statements are available in print and electronic formats; they are emailed to the customer's email address. They cover three main sections: account summary, bitcoin details, and cash and money details.
Mobile Bitcoin Purchases. Buy, sell, and track bitcoin with River Financial's app for iOS. The app is not available on Android devices.
Hardware Wallet Account. It is a beta feature serving as an extension of hardware wallets. It is used to view your balance, track your investments, and generate deposit addresses. River currently supports two hardware wallet providers: Trezor and Ledger.
Limits
River Financial requires a minimum of 10 USD for buy and sell orders. A weekly ACH deposit limit is $150,000. Instant Buy Limit – $100,000 per business day, buy and sell limit – unlimited ($1,000,000 per transaction).
Fees
Fees depend on how much bitcoin you buy.
| Order Size | River Fee |
| --- | --- |
| Less than $250,000.01 | 1.20% |
| Between $250,000.01 and $1,000,000 | 1.00% |
| Between $1,000,000.01 and $5,000,000 | 0.90% |
| More than $5,000,000 | 0.80% |
There are also bitcoin network fees when sending bitcoin. They are small but can vary depending on the transaction size and network congestion.
More Information
Additional information
| | |
| --- | --- |
| Bitcoin Only | |
| Mobile App | Yes |
| Operating System (OS) | |
| 2FA | |
| Multisig | |
| SegWit | |
| Lightning Network | |
| Bitcoin Investment Plan | |
| Geographical Limits | USA |
| Hardware Wallet Integration | |
| KYC | |
| QR Code | Yes |
| Referral Program | Yes |
| Year Launched | 2019 |
| Made in | USA |