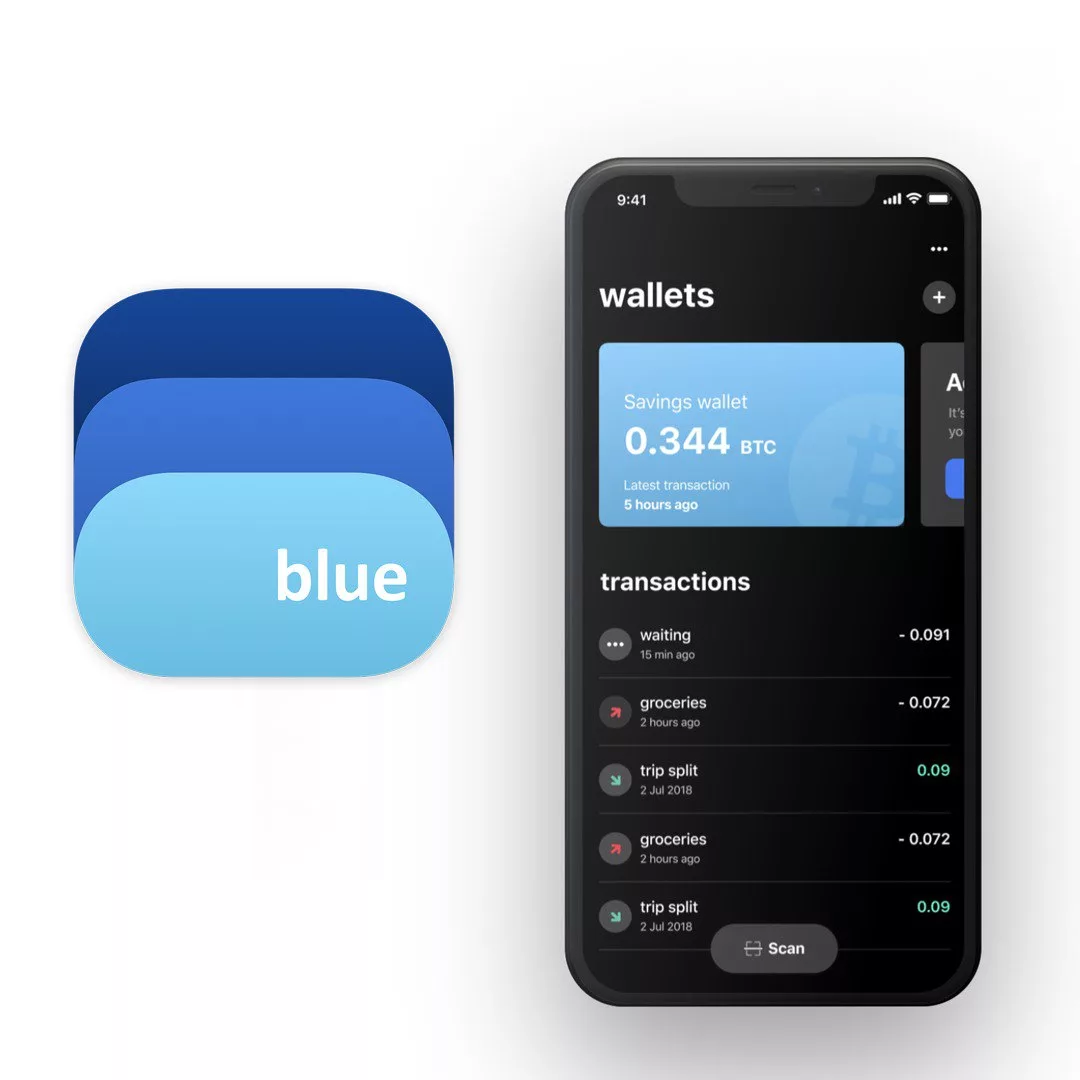 BlueWallet Review: Bitcoin-Only Wallet
BlueWallet is a bitcoin-only, self-custodial wallet. It is open-source, and allows you to send, receive, buy, and store bitcoin.
Description
BlueWallet is a bitcoin-only, self-custodial wallet for on-chain transactions. The wallet is available for desktop and mobile (Android and iOS). It is open-source, and allows you to send, receive and store bitcoin.
BlueWallet stopped offering Lightning wallet on April 30th. See the full announcement here.
How to use BlueWallet
To start with BlueWallet, you need to download it on your mobile from Google Play, Apple Store, or your desktop. The next step is to add a wallet. You can create as many wallets as you want. There are three types of wallets you can create: Bitcoin, Lightning, or Vault wallets. You can create as many wallets as you want. A Vault is a 2-of-3 multisig wallet for larger amounts. Two created vault keys will be used to make transactions, and the third one is for backup. For Lightning wallet, you need to connect to your own LND node by installing LNDHub (a Lightning plugin). Instead of setting up a new wallet, you have the option to import an existing wallet using BlueWallet from another source. To back up your wallet in case of loss, write down a mnemonic phrase of 12 words given to you..
Advantages of BlueWallet
The wallet supports more than 20 languages and 30 currencies, which enables you to conduct transactions in your native language and currency. It has hardware and mobile wallet compatibility. It can sync with most wallet types, including Electrum and Bread (BRD), which will appear in the "Wallets" tab as soon as you import them. You can connect to hardware wallets via a watch-only wallet. You cannot carry out transactions, but only receive bitcoin and check out the balance. It works with Trezor hardware wallet, Coldcard and Ledger Wallet as well.
To preserve your privacy, you can buy and sell bitcoin without KYC with BlueWallet. The wallet has integrated HodlHodl, a peer-to-peer bitcoin exchange. To use this feature, you need to create a HodlHodl account and use the Local Trader feature in your wallet.
Another interesting feature of the wallet is plausible deniability. Its basic function is to generate additional fake encrypted storage in case you are forced to reveal your password. In this case, false storage will be displayed, and your funds will be safe.
BlueWallet supports Payjoin or Pay-to-endpoint, one of the types of CoinJoin technology that enhances the privacy of the sender and the receiver. Other beneficial features include watch-only, multisig, and the ability to send multiple transactions in one batch.
Finally, the wallet offers a Replace-by-Fee (RBF) feature. BlueWallet RBF feature allows you to increase the fee of a bitcoin transaction that is stuck in the mempool (i.e., the queue of unconfirmed transactions waiting to be processed by miners) by replacing it with a new transaction with a higher fee. This can be useful if a transaction is taking too long to confirm, and you want to speed up the process by offering a higher fee.
Disadvantages of BlueWallet
BlueWallet is not a native Lightning wallet, and to make Lightning transactions, you need to connect to your own Lightning Network node. This requirement can be considered a potential drawback, especially for users who don't possess technical skills or have experience running their own nodes.
Like all hot wallets, transactions are done online. BlueWallet can be subject to hacker attacks. This is a potential risk with any software application. However, the developers of BlueWallet have implemented multiple security features to help protect your information.
Is BlueWallet safe?
BlueWallet is considered a safe and reputable wallet by many bitcoin users and experts, thanks to its strong security measures, such as two-factor authentication. As a non-custodial wallet, BlueWallet gives you complete control over your bitcoin, meaning that you are the only one with access to their private keys and funds. This provides an added layer of security compared to custodial wallets, where a third party such as a centralized exchange holds your bitcoin on your behalf. With BlueWallet, you can be confident that your bitcoin is secure and under your own control.
More information
Additional information
| | |
| --- | --- |
| Bitcoin Only | |
| Source Code | |
| Lightning Network | |
| Tor Support | Yes |
| Mobile App | Yes |
| Desktop Version | |
| Operating System (OS) | |
| Multisig | |
| 2FA | |
| SegWit | |
| PayJoin | |
| Watch-only | Yes |
| LNURL | |
| Replace by fee (RBF) | |
| Batch Transactions | Yes |
| Hardware Wallet Integration | |
| Built-in Exchange | |
| Wallet Type | |
| Supported Languages | |
| Languages | Over 30 languages: English, Chinese, Japanese, Portuguese, Spanish, Indonesian, Russian, Ukranian, Italian, German, Swedish, Norwegian, French, Danish, Turkish, etc. |
| Year Launched | 2017 |
| Made in | Spain |
| Headquarters | Barcelona |