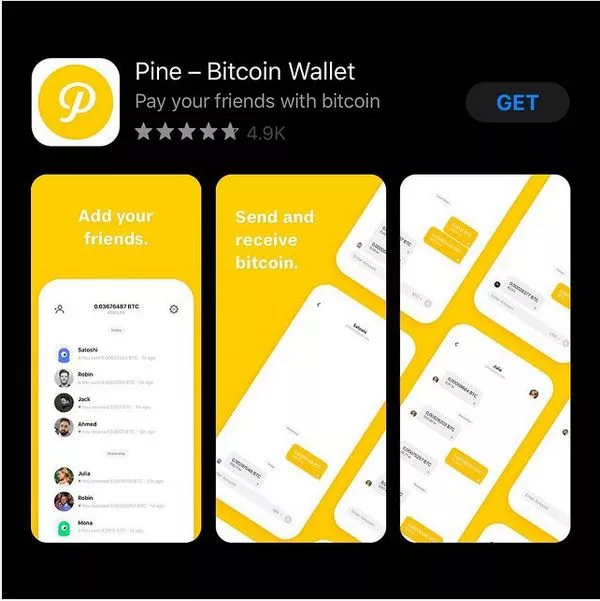 Pine: Receive, Send Bitcoin Like an Email
Pine is an open source bitcoin app that allows you to receive and send money to your friends and family as if you are sending a text message.
Description
Pine is an open source app that allows you to send and receive bitcoin in the same way that you would send a text message. It appears like a messaging program, but instead of sending messages, you send bitcoin. This means, if you can send a message, you can easily send or receive bitcoin. End-to-end encryption is used for all Pine transactions, and only the intended recipients may decrypt them. The app is currently beta testing Lightning and is available on the App Store.
Features
Full control. Pine is non-custodial. You are in control of your funds stored with Pine. The app has no access to your private keys or bitcoin.
Well-known design. Pine's messenger-like interface makes it immediately recognizable to anyone who has used a messaging service like WhatsApp or Messenger.
Localization. The app supports hundreds of local currencies for showing conversion rates, as well as languages in the near future.
Convenient addresses Enter your contacts' Pine addresses, which are similar to email addresses. Obtain a @pine.pm address or host your own server under your own domain.
Biometrics. You are the only one who can spend your money by signing transactions with Touch/Face ID. This prevents illegal payments from occurring if your phone falls into the wrong hands.
Run own node. You can run your own bitcoin node to broadcast and validate transactions without relying on others. Running your own node can also help to protect your privacy by not disclosing which transactions you are interested in.
Lightning. Join Pine Lightning Beta.
Global. Pine has no geographical limits. You can transact with anyone, anywhere in the world, without restriction and they don't even have to use Pine if the currency is bitcoin.
More information
Additional information
| | |
| --- | --- |
| Bitcoin Only | |
| Mobile App | Yes |
| Operating System (OS) | |
| Source Code | |
| Wallet Type | |
| Lightning Network | |
| Geographical Limits | Global |
| Year Launched | 2019 |