Bitcoin Mtaani is a Bitcoin-only educational platform that is making multimedia content in native African languages, thus breaking the language barrier by providing bitcoin education in Africa in languages they primarily understand and communicate in on a daily basis. Out of a population of about 1.2 billion in Africa, only around 237 million people speak English. Therefore, translation of Bitcoin-related content into local languages is key to wider Bitcoin adoption in Africa.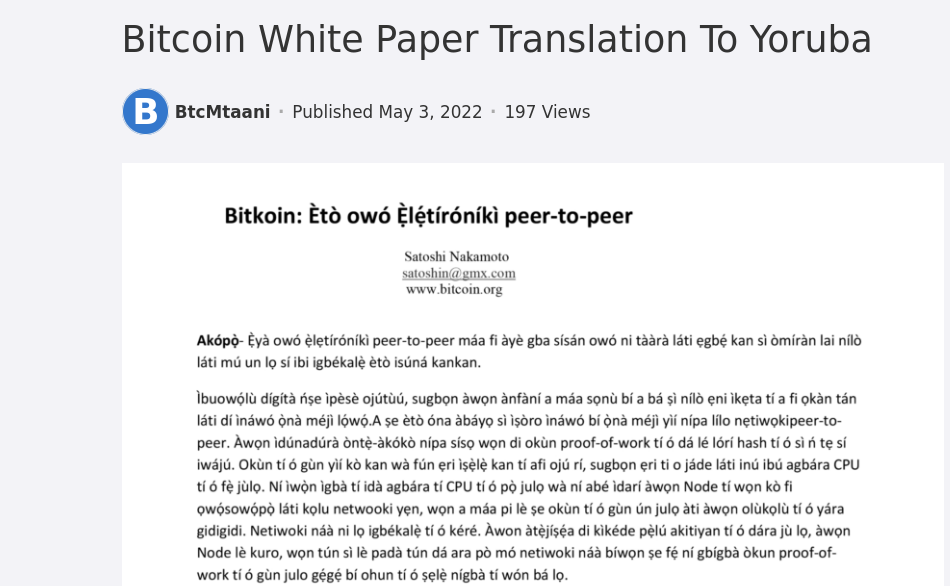 Bitcoin Mtaani founded by Guantai Kathurima and is funded by Galoy Money, Brad Mills, and Hunter. The project has strategic partnerships with SHAmory, Built With Bitcoin Foundation and Coinkite.
I am 35 years old Kenyan and was a Naval officer before joining the Bitcoin space full time. I am the founder of Bitcoin Mtaani and Kenyan Director of Machankura. The idea for Bitcoin Mtaani came from the realization that millions of Africans cannot go down the Bitcoin rabbit hole as I have done for the past 5 years due to language barrier and illiteracy by western standards.
When we spoke with him, we wanted to know what motivated him to start his Bitcoin education in Africa project:
I came up with the idea as I realized that there are very many people in Africa who can not be in a position to consume and understand Bitcoin educational content in 'UN' languages. They need accurate translations in the languages they primarily speak, e.g., Swahili for people in Tanzania. I saw the need for a platform that will provide legitimate and accurate knowledge, skills and resources on Bitcoin for Africans.
We also asked him about his desire to only focus on Bitcoin:
The focus is solely on Bitcoin as it is the best money known to man to date, thus Africans need to move from the current fiat based monetary system, which is designed to steal their time and value to the Bitcoin standard. Moreover, with bitcoin, self-sovereignty and privacy are guaranteed. Finally, Bitcoin is money and every other cryptocurrency is a shitcoin.
At the moment, Bitcoin Mtaani (Mtaani means neighborhood in Swahili) offers bitcoin education in Africa using multimedia content in Swahili, Yorùbá, Lingala and Zulu. Somali will soon be the new addition to the list.
Videos of translated Bitcoin content available on Bitcoin Mtaani website include the following:
Future Plans
We asked Kathurima about future plans for his project:
Future plans for Bitcoin Mtaani are to integrate more languages for Bitcoin-only translations and make it the go-to free resource for Bitcoin-only educational content for the African continent when it comes to native African languages.
How to Get Involved
Kathurima says that you can get involved with bitcoin education in Africa by contacting the Bitcoin Mtaani team preferably via Twitter for any translation collaborations, planning Bitcoin only events/meetups and or anything that one may want to accomplish that is Bitcoin only related to make sure more people onboard to the Bitcoin standard especially in Africa.
More Information