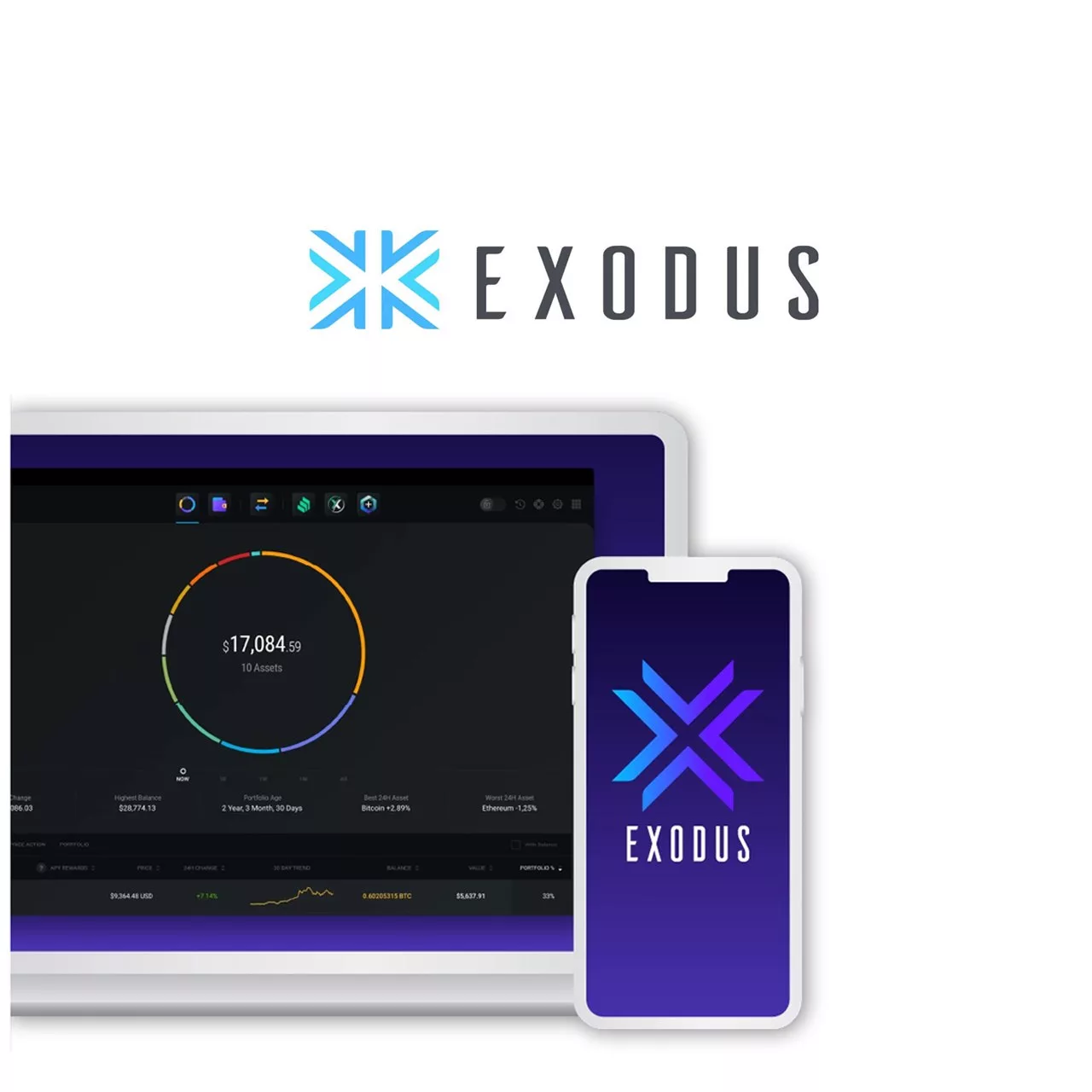 Exodus: Non-Custodial Bitcoin Wallet
Exodus is a non-custodial wallet for desktop, mobile, and browser-based applications. It has an intuitive and user-friendly interface and is compatible with Trezor hardware wallets. It allows you to send, receive, buy, sell, and store bitcoin.
Description
Exodus is a non-custodial wallet that allows you to send, receive, buy, sell, exchange, and store bitcoin. It is available for desktop, mobile, and as a browser extension. Compatible with hardware wallets, it also provides a range of features, including an integrated exchange, Lightning Network, and an outstanding interface with its design and usability.
How to Set Up Exodus wallet
To get started, download Exodus wallet app for a desktop computer (for Windows, Linux, and macOS operating systems), mobile (for iOS or Android), or as a browser extension. You should not enter any personal information. Though, to proceed, the service requires you to back up your wallet. Write down a 12-word recovery phrase to restore the wallet in case of an emergency or to use it on another device. Then set a strong passcode to open up your wallet. Now your wallet is ready to use.
Pros and Cons of Exodus Wallet
Pros
Non-custodial. Exodus wallet is a non-custodial wallet, meaning you have full control of your private keys.
Easy and user-friendly interface. The wallet has a simple, intuitive design that makes it easy to use and navigate.
Integration with ShapeShift exchange. You can access the built-in bitcoin exchange to buy or sell bitcoin. It is also possible to buy bitcoin with USD, EUR, or GBP with your credit/debit cards within the Exodus mobile.
Hardware wallet support. Exodus desktop wallet is compatible with Trezor hardware wallets (Trezor One and Trezor Model T). It allows you to send and receive your bitcoin with Trezor. These functions are only available in the desktop version. With Exodus Mobile, Trezor balance can only be viewed. Exodus Web3 Wallet does not support Trezor.
Lightning wallet. The Lightning Network helps to reduce fees and allows for faster transactions.
Face ID or Touch ID. You can enable Face ID for iOS devices or Touch ID for Android as an additional layer of security.
24/7 human support. Exodus wallet customer support can be reached 24/7 either through the customer support page on the Exodus website or by emailing [email protected]. They can also be reached via Twitter and Facebook. Though, phone support is not available.
Cons
Security. 2FA, multi-signature approvals are not supported.
Not open-sourced. The wallet has a closed source code. It means it prevents you from having full transparency of the wallet, its code is not publicly available for review, examination, and contribution.
No CoinJoin or PayJoin support. Exodus does not support CoinJoin or PayJoin transactions for enhanced privacy.
Hot wallet. Like all hot wallets, Exodus must be connected to the Internet to use it. Although because of this, it is more susceptible to hacker attacks.
Lightning Network. At the moment, Lightning support is only available on Exodus mobile wallet.
More Information
Additional information
| | |
| --- | --- |
| Bitcoin Only | |
| Lightning Network | |
| LNURL | |
| 2FA | |
| Multisig | |
| CoinJoin | |
| PayJoin | |
| Watch-only | No |
| Legacy Address | |
| Taproot | |
| SegWit | |
| Replace by fee (RBF) | |
| Browser Extension | Brave, Chrome |
| Mobile App | Yes |
| Dekstop App | Yes |
| Operating System (OS) | |
| Built-in Exchange | |
| Hardware Wallet Integration | |
| KYC | |
| Wallet Type | |
| Source Code | |
| Tor Support | |
| Year Launched | 2015 |