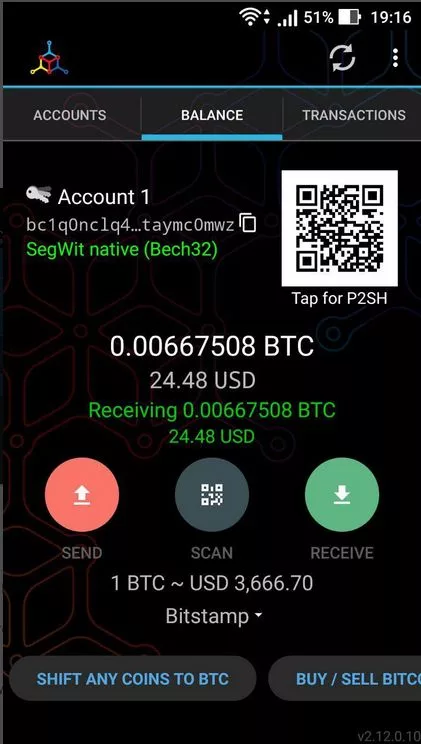 Mycelium Wallet Review: Open Source Bitcoin Wallet
Mycelium is a mobile-only, open-source, noncustodial bitcoin wallet available for Android and iOS devices. It allows you to store, buy, and sell bitcoin.
Description
Mycelium is an open-source, noncustodial, mobile bitcoin wallet available for Android and iOS devices. It provides a simple and user-friendly interface for storing, buying and selling bitcoin. Mycelium is open-source, which means that its source code is available to the public and can be evaluated by the community. As one of the oldest bitcoin wallets, it has a strong reputation in the bitcoin community.
Key features
With Mycelium, you can buy bitcoin with SEPA, credit/debit card or find Mycelium users in your area using the Mycelium Local Trader, a peer to peer exchange.
Support for hardware wallet, which lets you store your bitcoin offline using hardware wallets such as Trezor, Ledger and KeepKey.
Your private keys are automatically encrypted.
Support for Tor integration, ProtonVPN, two-factor authentication and watch-only accounts.
Custom fee settings allow you to adjust transaction fees.
Is Mycelium a good wallet?
One of the primary advantages of Mycelium bitcoin wallet is that it is open-source, which allows for transparency and security because the community can evaluate the source code. It also has an easy-to-use interface for managing bitcoin transactions and buying and selling directly from the app. Another advantage is the advanced privacy feature, which allows for more secure transactions, such as the integration of hardware wallets such as Trezor.
However, Mycelium Wallet has a few drawbacks to consider. It is only available for mobile devices, lacking Mycelium desktop version. The reliability and safety of its Local Trader feature, which allows you to buy and sell bitcoin directly within the app, have been criticized. In addition, Mycelium Wallet may not be suitable for beginners due to its complex interface. On the other hand, its support for other cryptocurrencies may be seen as a drawback by Bitcoin maximalists.
How to use Mycelium wallet
To use Mycelium Wallet, first install the app on your Android or iOS device and then create a new wallet. The following are the general steps to get started:
Get Mycelium Wallet from the App Store or Google Play Store.
Launch the app and choose "Create new wallet."
To set up your wallet, follow the prompts, which include creating a strong password and writing down your recovery phrase.
After you've created your wallet, you can view your balance, transaction history, and other information on the home screen. Other features include news, Micro OTC (Over-the-counter), games, gift cards, Local Trader (p2p exchange), address book, and tons of external services such as ProtonVPN, Spendabit, and others.
To receive or send bitcoin, go to "Balance" and tap the "Receive" or "Send" button.
Tap the "Send" button to send bitcoin, then enter the recipient's address and the amount you want to send.
To buy and sell bitcoin directly, use its built-in exchange, Mycelium Local Trader.
Mycelium Local Trader is a decentralized in-person exchange feature within Mycelium wallet. It operates without holding any of your bitcoin or fiat currency, as the coins are stored locally in your wallet. The Local Trader facilitates trade arrangements between buyers and sellers, manage transactions, and calculate reputation ratings.
Mycelium wallet fees
Mycelium, like most bitcoin wallets, charges transaction fees. The fees are determined by the current condition of the Bitcoin network and the transaction size in bytes. The wallet has a dynamic pricing mechanism that determines the right fee based on current network circumstances. You will see the fee amount before you finish your transaction. It's worth noting that greater costs often result in faster transaction confirmations, while smaller fees may take longer. Mycelium also provides a "custom fee" option, which lets customers to manually determine the fee for their transaction.
Mycelium Alternatives
Additional information
| | |
| --- | --- |
| Bitcoin Only | |
| Level | |
| Mobile App | Yes |
| Dekstop App | No |
| Operating System (OS) | |
| 2FA | |
| Tor Support | Yes |
| Lightning Network | |
| SegWit | |
| QR Code | Yes |
| NFC | Yes |
| Watch-only | Yes |
| Multisig | |
| Replace by fee (RBF) | |
| Built-in Exchange | |
| Hardware Wallet Integration | |
| Wallet Type | |
| Source Code | |
| Year Launched | 2008 |