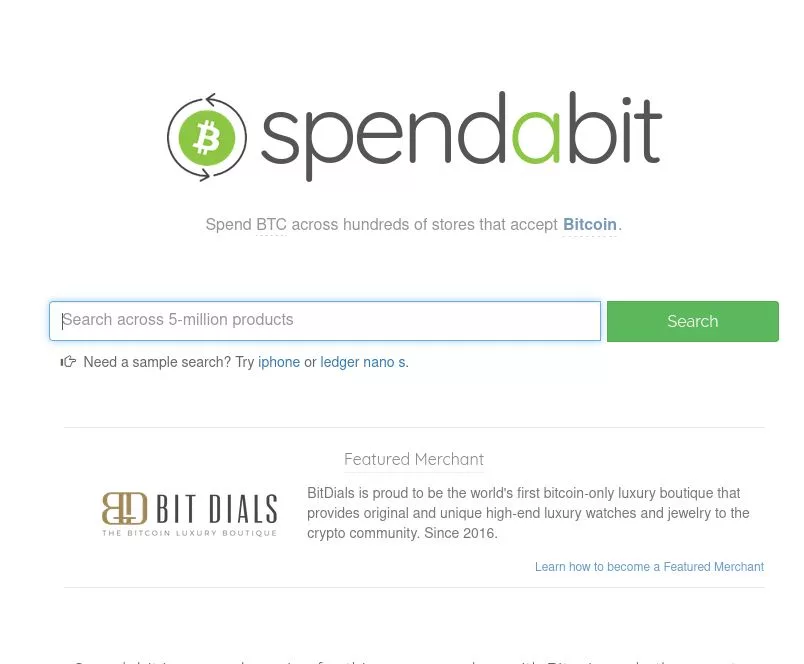 Spendabit: Find Out Where to Spend Bitcoin
Spendabit is a search engine designed to help you find out stores where you can spend bitcoin.
Description
Spendabit is a search engine that allows you to find products you can buy with bitcoin. It achieves this by scanning numerous online merchants and marketplaces. The platform was founded in 2014 and is based in California. Spendabit is useful for people who want to use their bitcoin to purchase goods online and for merchants who want to reach potential customers who are looking to spend their bitcon.
Spendabit collects products from both large, well-known Bitcoin-enabled retailers such as Overstock.com, Newegg, and Fancy.com, in addition to many smaller merchants.
We want to bring Bitcoin to the masses. We believe that an honest-money system, like Bitcoin, has world-changing potential. We can't achieve this goal by ourselves, but we believe we can do our part by providing Bitcoin advocates, as well as the naysayers, demonstrable proof that Bitcoin has real-world value. Additionally, we want to encourage existing users of Bitcoin to keep more of their economic activity in the 'Bitcoin Economy'.
How Spendabit Works
The Spendabit platform facilitates the search and indexing of products available for purchase with bitcoin from various online merchants and marketplaces. To use Spendabit, you can employ its search engine to look for products of interest, using keywords, region, popular searches, or merchants as search parameters. The results of the search are then displayed, showing product images, descriptions, prices, and the name of the merchant selling the item. You can browse through the results and click on a product you want to purchase. Upon doing so, you are redirected to the merchant's website, where you can complete the transaction using bitcoin as the payment method. Spendabit does not directly handle the payment process; instead, it provides a link to the merchant's website, where you can complete the payment using bitcoin. Once the payment is processed, the merchant ships the product to you.
Fees
Spendabit generates revenue by offering merchants the option to list their products on the search engine for a fee. The fee structure is as follows:
The Satoshi plan: Free of charge (backlink requested)
The Bitcent plan: $4.99 per month (Pro)
The Full BTC plan: $29.99 per month (Enterprise)
Read Other Buy With Bitcoin Articles
More About Spendabit
Additional information
| | |
| --- | --- |
| Bitcoin Only | |
| Year Launched | 2014 |
| Headquarters | California |