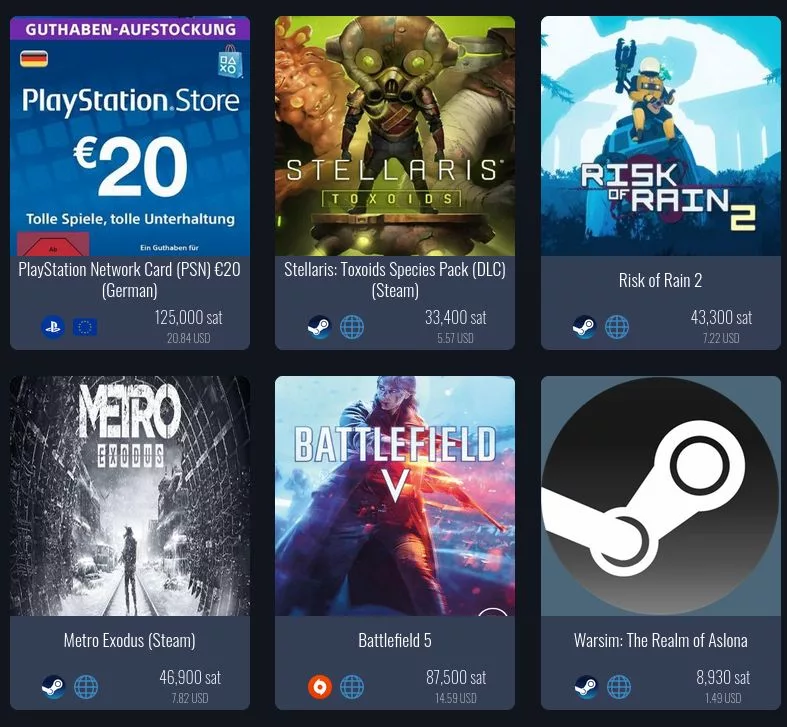 Joltfun: Buy Games Using Bitcoin
Joltfun allows you to buy over 20,000 games from popular platforms such as Steam, Origin, Xbox and Playstation using bitcoin and Lightning.
Description
You can buy over 20,000 games from 10 different gaming platforms at Joltfun using both bitcoin on-chain and Lightning. Once your bitcoin payment is validated, your game keys will be sent to your email in seconds. The online gaming store does not accept alternative payment methods and has no plans to take altcoins.
How Joltfun works
Each game is linked to a gaming platform that is specified in the product description. When you place an order for a game, Joltfun will send you a game key (also called a "game code"). It's a short alphanumeric code that you can use to get your game from the appropriate platform. In most cases, all you have to do is put the code into your gaming app and your game will be ready in 2 seconds.
When buying, your invoice is only valid for two hours. Your payment must have been received by the network before this time. If the invoice expires; you may retry by making a fresh order. If you pay on-chain, the delay is extended by an additional 12 hours to wait for a confirmation once your payment is seen on the network (unconfirmed). The invoice will expire if your payment is not confirmed in a timely manner. It's recommended that you select enough mining fees to ensure a timely confirmation.
Platforms that you can buy games from using Joltfun are:
Battle.net
Steam
Bethesda
Epic Store
GOG.com
Origin
Playstation
Rockstar
Nintendo Switch
Xbox
Additional information
| | |
| --- | --- |
| Bitcoin Only | |
| Lightning Network | |
| Platform Languages | English, Spanish |
| KYC | |
| Year Launched | 2020 |