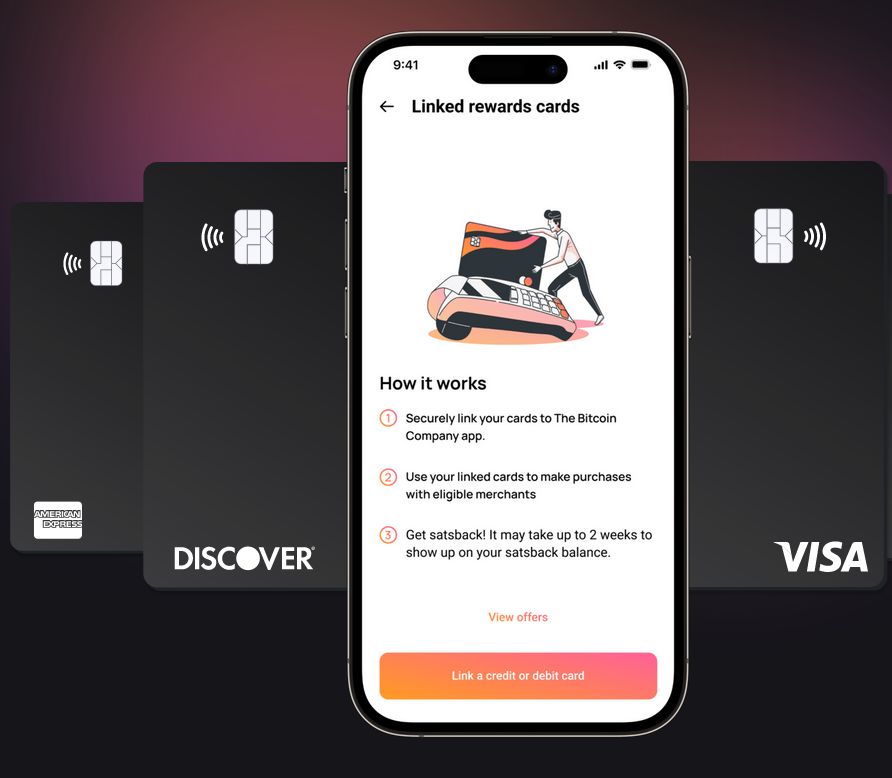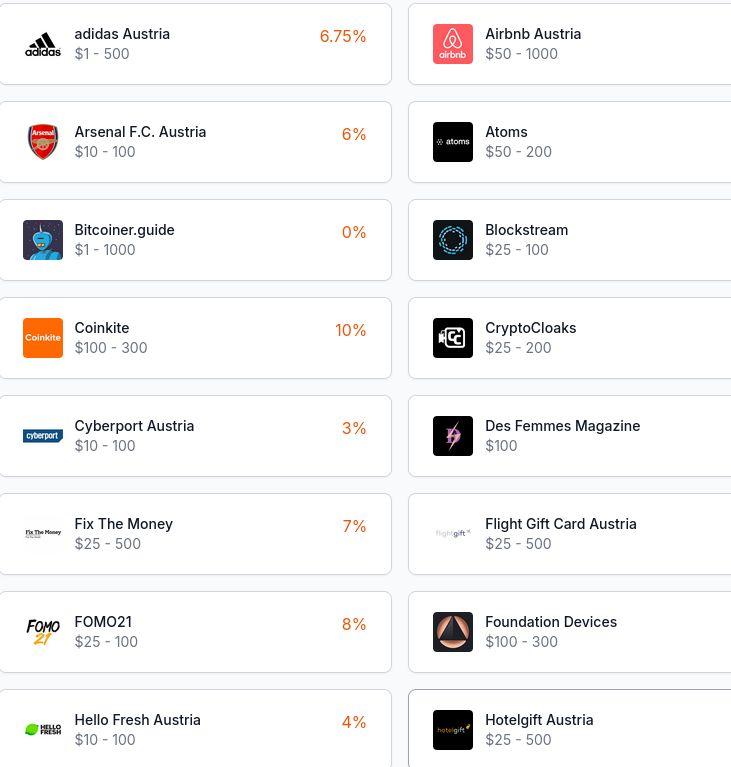 The Bitcoin Company: Buy Visa Cards With Bitcoin and Earn Bitcoin Rewards
The Bitcoin Company simplifies Bitcoin spending by enabling you to convert Bitcoin into prepaid Visa cards, buy gift cards, and earn Bitcoin cashback rewards on your purchases.
Description
The Bitcoin Company allows you to buy prepaid Visa cards with bitcoin without any KYC requirements and spend them anywhere Visa is accepted. Additionally, if you link your existing credit cards to the platform, you earn Bitcoin back on every eligible purchase. Furthermore, you can earn bitcoin with every gift card, flight, hotel stay, and shopping through the app.
The platform offers up to 50% cashback in Bitcoin when you purchase gift cards or shop online with select partners. It also offers 25% Bitcoin back on hotel stays at hundreds of thousands of accommodations worldwide.
Gift cards available on the platform include the following: Bitcoin Magazine, Coinkite, Cryptosteel, Passport wallet, Bitcoin Legal Defense Fund, Abercrombie & Fitch, Adidas, Airbnb, Albertson's/Safeway US, Allbirds US, Amazon, AMC Theatres, American Airlines, American Eagle, Amtrak, Ann Taylor, and Apple.
How to Use the Bitcoin Company
To access the platform's services, you can download its mobile app for Android and iOS devices. Alternatively, you can use the platform's web app, which is currently in beta testing. The user registration process is straightforward, requiring only an email address and password. Notably, the platform does not impose any KYC (Know Your Customer) requirements. As of November 2023, withdrawing your accumulated rewards is solely possible through the mobile app.
Benefits of the Bitcoin Company
Easy Bitcoin Spending: The Bitcoin Company offers a way to spend Bitcoin by enabling you to purchase gift cards and prepaid Visa cards with Bitcoin from a wide range of merchants.
Earning Opportunities: You earn Bitcoin rewards from credit card transactions, gift card purchases, flight and hotel bookings, and shopping through the app.
KYC-Free Transactions: The platform does not require KYC for gift card purchases, making it an attractive option for those who value privacy and anonymity.
User-Friendly Interface: The Bitcoin Company's website and mobile app are easy to navigate and understand.
Expanding Services: The company is in the process of adding new features, such as buying and selling Bitcoin, bill payment, and international remittance capabilities.
Alternatives to the Bitcoin Company
Other platforms allowing you to spend Bitcoin or earn rewards include the following:
Spend Bitcoin
The Bitcoin Company serves as a bridge between traditional finance and the digital world of Bitcoin. It provides a user-friendly platform that allows you to spend Bitcoin. Other features coming soon will allow you to buy and sell Bitcoin, pay bills, and even send international remittances. Whether you're a seasoned Bitcoin enthusiast or just starting to explore Bitcoin, The Bitcoin Company offers a convenient way to spend Bitcoin and earn Bitcoin rewards/cashback.
Additional information
| | |
| --- | --- |
| Bitcoin Only | |
| Dekstop App | Yes |
| Mobile App | Yes |
| Operating System (OS) | |
| KYC | |
| Lnurl-auth | |
| Lightning Network | |