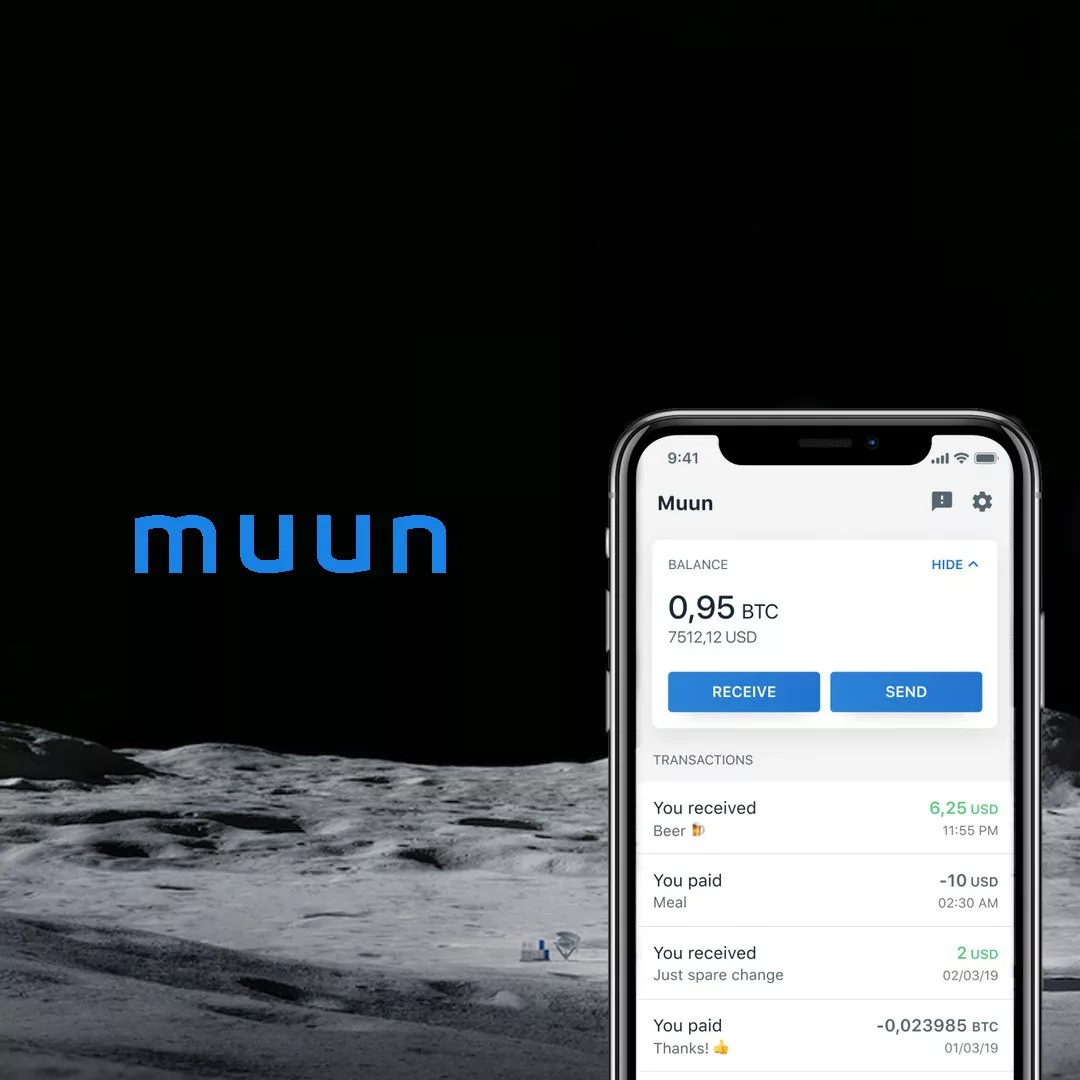 Muun Review: Mobile Bitcoin Wallet
Muun is a self-custodial bitcoin mobile wallet. Muun supports the Lightning Network, which allows users to send and receive bitcoin in seconds for very low rates. The wallet is completely open-source.
Description
What's Muun wallet? Muun is a bitcoin-only, self-custodial mobile wallet. Muun supports the Lightning payments to send and receive bitcoin in seconds, with very low fees. The wallet is available for Android and iOS.
Muun wallet is open-source, which means that anyone can view, audit or contribute to the code. This transparency builds trust, enhances security and encourages collaboration.
Is Muun a Lightning wallet? Muun's legitimacy as a Lightning wallet has been a subject of debate within online bitcoin communities. To clarify this matter, we reached out to Muun and inquired about their status as a "real" Lightning wallet. In response to h17n, Muun confirmed that they currently use submarine swaps for Lightning payments and do not hold off-chain funds at this time. However, they recognize that submarine swaps are not a sustainable solution for them, and they are actively working to transition to an off-chain framework that prioritizes user security without any compromises.
How to Use Muun Wallet
You need to download Muun self custodial wallet to your mobile device from Google Play or Apple Store. Install the wallet onto your device. Upon opening it, you will be prompted to either create a new wallet or recover a lost one. If you choose to create a new wallet, you will need to set a PIN, which Muun will use to confirm and create your wallet. To ensure the safety of your bitcoin, you need to back up your wallet in case of device loss or damage. This involves providing and verifying your email address and creating a strong password.
Keep in mind that you will need access to your Muun recovery email and password in order to recover your wallet. Alternatively, Muun offers other backup recovery options such as writing down a code on paper, or creating an Emergency Kit (a PDF file you need to save for an emergency) that enables you to recover your wallet without relying on Muun. At the moment, there's no option for Muun wallet recovery seed (seed phrase).
Muun is a 2-of-2 multi-signature wallet, so all your outgoing transactions need to be signed with 2 keys instead of 1. This setup enables what we call warm storage: good security is balanced with good UX, and self-custody is never compromised. Instead of holding all keys hot in one single device (your phone), you only carry one key there. Muun co-signs daily transactions.
Upon opening the app, the home screen will display your current balance and allow you to send or receive bitcoin using either the main chain or lightning network. The app also features three tabs at the bottom:
Wallet: This tab serves as the home screen, as explained above.
Security: This tab guides you through the process of backing up your Muun wallet.
Settings: This tab allows you to change the main currency displayed in your balance, select your preferred Bitcoin unit (sats or BTC), and customize the appearance of your wallet.
Who owns Muun wallet? Muun bitcoin wallet was founded by Dario Sneidermanis in 2018. It's important to recognize that Muun operates as a self-custodial wallet, providing you complete control over your private keys, and preventing the company from transferring or blocking your funds.
Muun Wallet Fees
Muun uses a mempool-based estimator to determine its fees, which prevents you from overpaying when unnecessary and underestimating the fee rate during high network congestion. Unlike other estimators that base their fee rates on past blocks, transactions, and fee rates, Muun's estimator examines the current state of the mempool to suggest a next-block fee rate.
Muun determines and recommends the most appropriate fee required to validate your transaction within 30 minutes, a process that usually takes less than half an hour. For instance, at the time of writing, transferring bitcoin valued at 100 USD attracts a 1.25 USD fee. You have the flexibility to select your desired confirmation duration, with options such as the default 30 minutes, 9 hours, or 13 hours, or to manually input a specific duration. Choosing a higher fee elevates your transaction's priority, while opting for a lower fee may delay confirmation by several hours.
Advantages of Muun Bitcoin Wallet
Muun wallet supports Taproot, a significant upgrade to the Bitcoin protocol. With Taproot, transaction costs are reduced and transactions more indistinguishable and less traceable.
Muun, which is available in English and Spanish, uses a single balance for transactions, making it easier to handle funds across both lightning and on-chain networks. A new feature that will be introduced soon that will allow you to lock your wallet if your phone is stolen until you get a new phone and recover your funds.
Muun wallet can be paired with the Trezor hardware wallet. You can easily and safely transfer money from Muun to Trezor and vice versa. To send money from Muun to Trezor, enter the amount you want to send and the Trezor address to which you want to send it. To receive money from Trezor to Muun, scan the QR code or enter the Trezor address into your mobile wallet.
Muun can be used anywhere in the world as it supports almost all currencies around the world. You can select your national currency as the main currency so that you know the value of bitcoin into your local currency. Finally, by supporting the Lightining payments via submarine swaps, you will be able to make faster bitcoin transactions.
Disadvantages of Muun Bitcoin Wallet
Muun is a hot wallet, meaning you need to be connected to the internet to use it. This may expose you to hackers. Unlike Samourai or Wasabi wallets, Muun does not support CoinJoin, a method used to anonymize bitcoin transactions. Muun does not use the Tor network to anonymize bitcoin transactions online. Furthemore, Muun does not support advanced features such as LNURL.
Is Muun Wallet Safe?
Muun wallet's safety is a subject of debate. While it is generally considered a safe self-custody wallet, some skeptics argue that it doesn't provide complete self-custody of lightning channels and the bitcoin held in those channels. Muun wallet operates on a custodial model where the bitcoin received is on their lightning node, not yours, as each Muun wallet doesn't have its own node. In contrast, wallets such as Phoenix provide complete self-custody, as it is a full node that opens channels owned and controlled by you. Bitcoin received in Phoenix wallet ends up in channels that you control.
In addition to the concerns about self-custody, another issue with Muun wallet is its non-standard backup method. Instead of using a standard seed phrase, you need to save a recovery PDF. This can be seen as a potential security risk, as it may not be as easy to store and recover the backup PDF compared to a seed phrase that can be easily written down or memorized.
More information
Muun Wallet Alternatives
Additional information
| | |
| --- | --- |
| Bitcoin Only | |
| Lightning Network | |
| SegWit | |
| Source Code | |
| Multisig | |
| 2FA | |
| Taproot | |
| Biometrics | No |
| Backup | |
| LNURL | |
| Operating System (OS) | |
| Hardware Wallet Integration | |
| Year Launched | 2018 |
| Made in | Argentina |
| Headquarters | Buenos Aires |