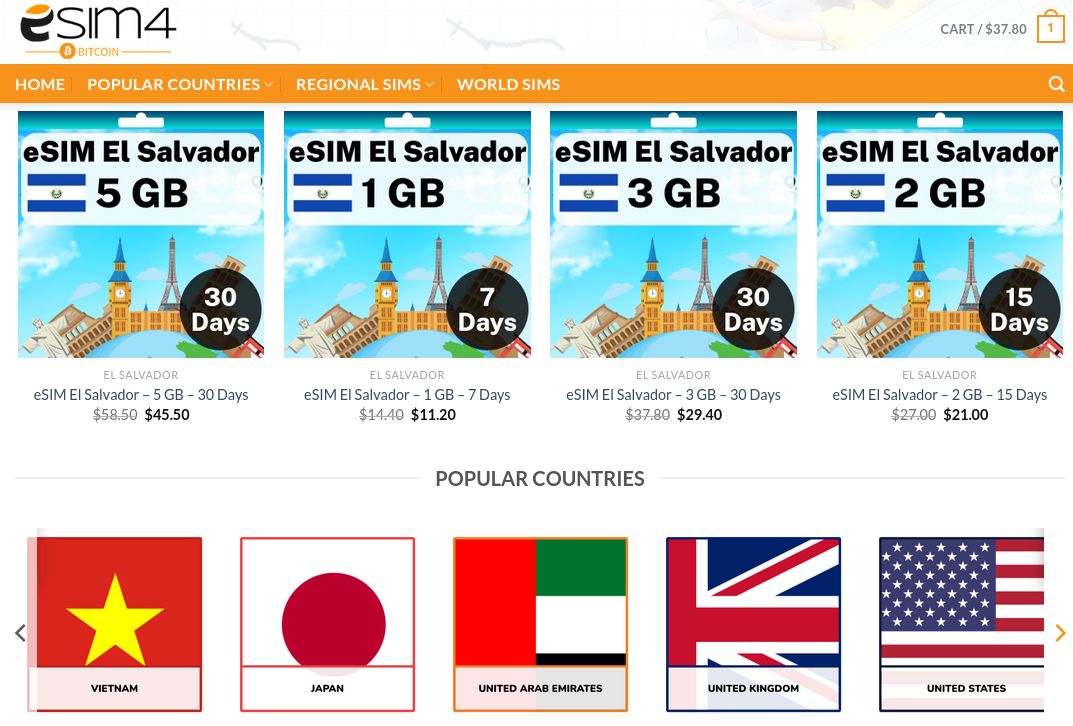 eSim4Bitcoin: Buy eSim With Bitcoin
eSim4Bitcoin allows bitcoin and Lightning payments for eSIM plans in 200 countries, offering data-only packages, with no KYC required.
Description
eSim4Bitcoin is a service that allows you to buy an eSIM plan using bitcoin and Lightning with no KYC. Currently, the service is available in 200 countries around the world and offers a variety of plans to choose from. The service offers data-only packages, which means that local and international calls are not permitted. However, you can use apps like WhatsApp or Skype to make calls.
Unlike physical SIM cards, eSIM, short for "embedded SIM," is built into the device's hardware or remotely provisioned, storing SIM card information. With eSIM, users can switch mobile network operators by activating new profiles on their devices, eliminating the need for physical SIM card swaps. This is especially useful for frequent travelers and those seeking access to local networks while abroad.
Benefits of eSim Technology
eSIM offers several advantages that make it a valuable option for users. Here are some reasons why you might need an eSIM:
Flexibility: An eSIM provides the flexibility to switch between different mobile carriers or plans without needing to physically change a SIM card. This is especially beneficial for frequent travelers or individuals who need temporary or local phone numbers.
Dual-SIM Capability: With an eSIM, you can have multiple phone numbers or mobile plans on a single device. This is useful for separating personal and business calls or managing different networks simultaneously.
Easy Activation: Activating an eSIM is a process that can be done remotely. You can simply scan a QR code or enter an activation code provided by the carrier, eliminating the need to wait for a physical SIM card.
How eSIm4Bitcoin Works
To use eSIM, you first need to select a data package from the available options. Once you have selected a package, you will be given a QR code. You can scan this QR code with your device's camera to install and activate your eSIM. Once your eSIM is activated, you will be able to use data and make calls in the country that you are visiting.
Compatible eSIM devices include both iOS and Android devices that are eSIM-enabled and unlocked. It's important to note that SIM-locked devices cannot be used with an eSIM. The validity period starts when the eSIM connects to any supported network/s.
Here are the steps on how to buy an eSIM plan using bitcoin:
Go to the eSIM4Bitcoin website and select your region or country.
Select the amount of data that you want to buy.
Click "Add to Cart".
Go to the checkout page and enter your email address, name, and country.
Accept Terms and Conditions.
Click "Proceed to BTCPay" and you will be redirected to BTCPay to complete your purchase.
To install and activate your eSIM, pay using a QR code, bitcoin address or Lightning address.
eSim4Bitcoin platform is powered by BTCPay, a bitcoin payment gateway.
eSim4Bitcoin Charges
The cost of an eSIM plan is subject to variation based on factors such as the region, country, and the duration of validity for the allocated data. Presented below is a table showcasing an illustrative example of eSim4Bitcoin plans.
| Region/Country | Validity Period | Plan Type | Price |
| --- | --- | --- | --- |
| Europe | 30 days | 3 GB | $18.20 |
| Latin America | 30 days | 3 GB | $54.60 |
| Africa | 30 days | 3 GB | $82.60 |
| Carribean | 7 days | 1 GB | $21.00 |
| Global | 15 days | 3 GB | $33.60 |
| Japan | 30 days | 3 GB | $11.90 |
| Hong Kong | 30 days | 3 GB | $11.90 |
| USA | 30 days | 3 GB | $15.40 |
| Nigeria | 30 days | 3 GB | $30.80 |
| Kenya | 30 days | 3 GB | $32.90 |
More Information
Additional information
| | |
| --- | --- |
| Bitcoin Only | |
| Lightning Network | |
| KYC | |
| Year Launched | 2022 |
| Headquarters | Estonia |