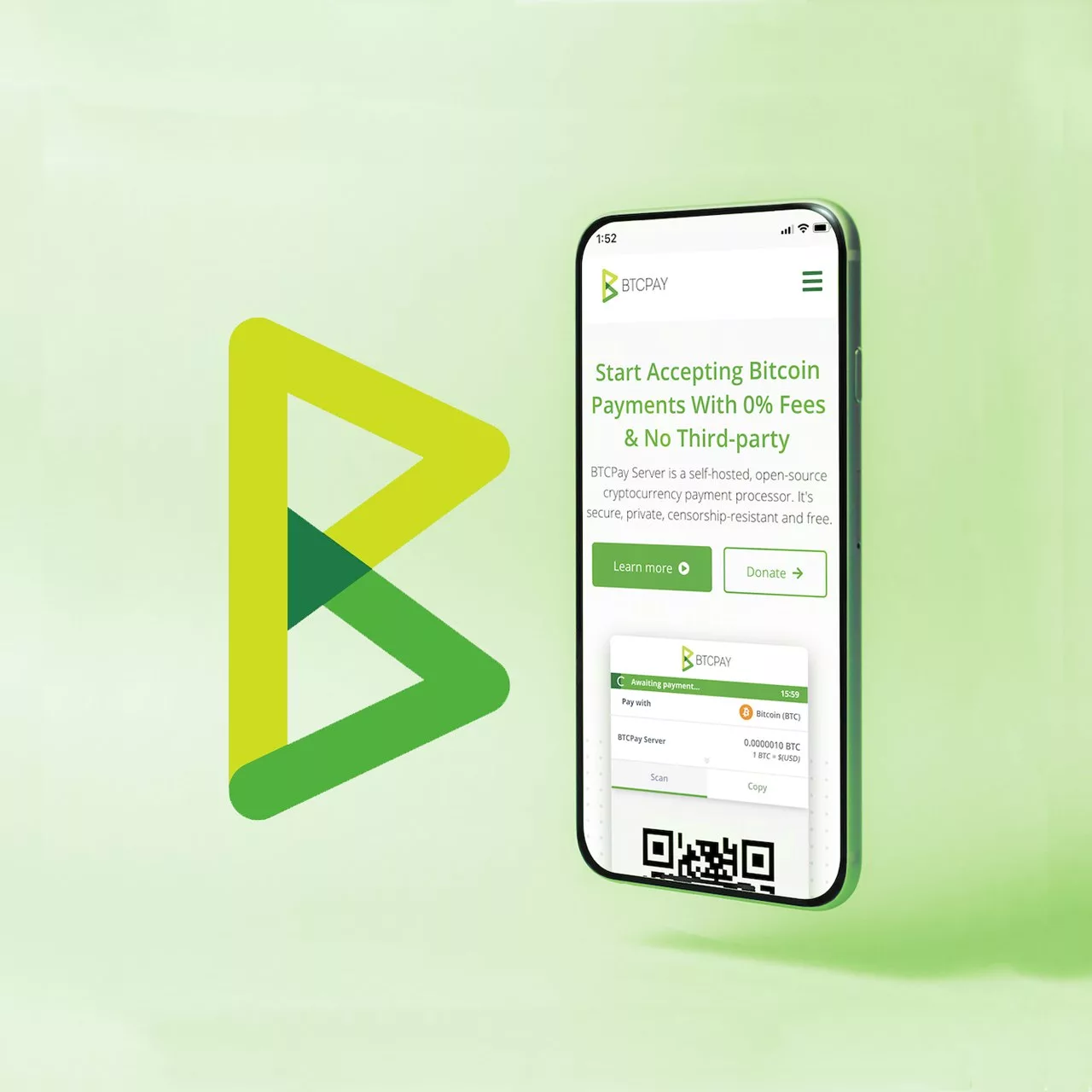 BTCPay Server Review: Bitcoin Payment Gateway
BTCPay Server is a free, open-source, and self-hosted bitcoin and other cryptocurrencies payment processor that allows merchants to accept payments without relying on a third party. It features invoicing, bookkeeping, built-in applications, a wallet compatible with hardware wallets, and integration with e-commerce stores.
Description
BTCPay Server is a free, self-hosted and automated bitcoin payment processor. It allows you to receive peer-to-peer payments in bitcoin online and offline with no fees or third parties involved. Transactions are processed on-chain and via the Lightning Network. BTCPay Server tracks the status of the invoice and updates it accordingly. It also handles payment refunds, as well as bitcoin management features. Furthermore, it does not require any form of Know Your Customer (KYC) verification, so no personal information is collected. BTCPay Server can be configured to run on the Tor network to keep users' IP addresses private.
BTCPay is open-source, meaning that developers can always contribute to the project and keep it up to date with the latest technologies. Although opt-in integrations for numerous cryptocurrencies are available, bitcoin is the project's and its core developers' exclusive focus.
BTCPay Server Setup
Before you may fully utilize the service, you need first to complete the following steps:
Deploy your own BTCPay Server in a cloud, hardware device, or use a third-party host. It is recommended to enable 2FA during the process to improve security.
Create a store. You can have as many stores as you want in your BTCPay Server. Or connect to one of many integrations such as BTCPay WooCommerce, Shopify, Magento, Prestashop, OpenCart, Drupal, Zapier, Shopware, and VirtueMart. If you're a developer, you can develop your own integration.
Set up a wallet by connecting an existing wallet or creating a new one.
Once the wallet is connected to your BTCPay, you may explore the software's built-in features.
Features of BTCPay Server
Dashboard. With the release of BTCPay Server version 1.5.0, a brand-new dashboard design was created. It includes a number of tiles that may be used to simplify setup, better comprehend store data, and handle payouts and refunds.
Wallet. BTCPay Server has a built-in wallet. BTCPay wallet is compatible with hardware wallets, mobile wallets and desktop wallets. To spend the funds, you will need to confirm the transaction on compatible wallet.
Invoices and accounting. Merchants can create, view, and manage invoices in BTCPay Server. A BTCPay invoice is a document that demands payment within a specific time frame and at a fixed exchange rate. BTCPay Server also provides several tools to help with cryptocurrency bookkeeping.
Payment Requests. Payment Requests are a feature designed for situations where a customer may need to make multiple payments to the same invoice over a period of time. The exchange rate is determined at the time of payment.
BTCPay Server Pull payments. The sender can give the receiver a certain window of time in which he can choose to pull the payment.
Apps. They are built-in programs that enhance the software's use case. For example, a web-based app Point of Sale (PoS) allows offline stores to accept payments in bitcoin directly to their wallet (it is also available on Android devices). Crowdfunding App aims to create a self-hosted crowdfunding campaign and collect funds in Bitcoin or any other cryptocurrency supported by the platform. Payment Button lets users receive tips and donations thanks to buttons embedded into webpages. BTCPay displays the invoice when a site visitor clicks on the button. Payment buttons may also be integrated into online stores.
BTCPay Server pull payments: Pull payment is a payment method that is particularly useful in enabling new applications that have a wide range of use cases. These use cases include subscription services, refunds, time-based billing for freelancers, patronage, automatic selling, and balance withdraw systems. One example of a subscription service that can utilize pull payment is where the subscriber authorizes the service to pull funds from their account at regular intervals, such as every month, to pay for the subscription.
More Information
Additional information
| | |
| --- | --- |
| Bitcoin Only | |
| Dekstop App | Yes |
| Mobile App | Yes |
| Operating System (OS) | |
| Supported E-Commerce Platforms | WooCommerce, Drupal, Magento, PrestaShop, OpenCart, Zapier, Shopware, VirtueMart, Custom Integration |
| 2FA | |
| Lightning Network | |
| Multisig | |
| SegWit | |
| QR Code | Yes |
| NFC | |
| LNURL | |
| PayJoin | |
| Hardware Wallet Integration | |
| API | Yes |
| KYC | |
| Wallet Type | |
| Source Code | |
| Fee | 0% (Free) |
| Tor Support | |
| Year Launched | 2017 |
| Made in | USA |