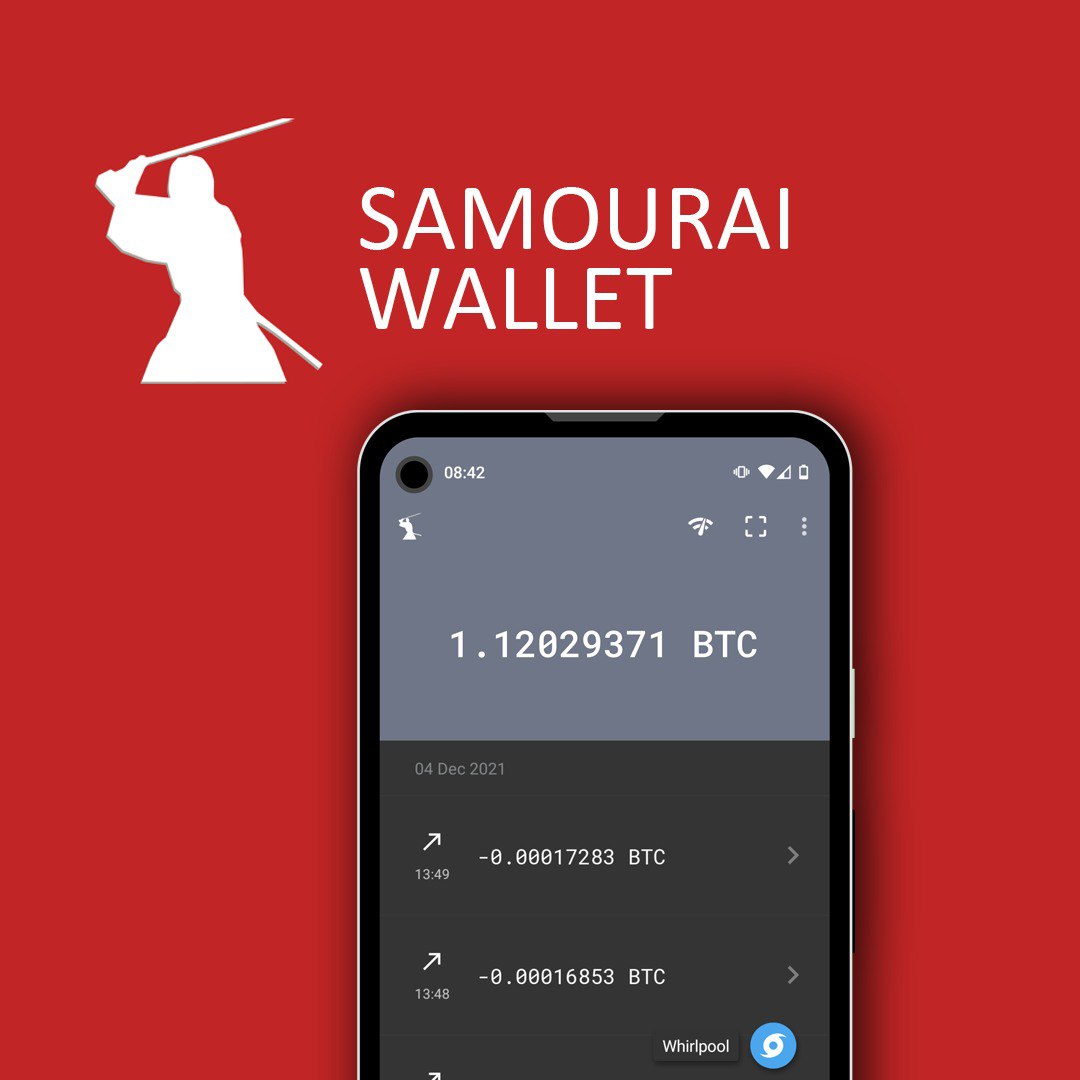 Samourai Wallet
Samourai is a non-custodial open-source wallet for Android. It is intended to be used to buy, sell, and store bitcoin. For anonymity, the wallet supports Tor and VPN, as well as CoinJoin.
Description
Samourai is an open-source non-custodial wallet available on Android. You can use it to sell, receive, and store bitcoin. The wallet has Tor and VPN support, CoinJoin, and it also provides options for hardware wallet integration and encrypted cold storage.
Samourai's primary goal is to keep your transactions private, your identity hidden, and your assets safe.
We are privacy activists who have dedicated our lives to creating the software that Silicon Valley will never build, the regulators will never allow, and the VC's will never invest in. We build the software that Bitcoin deserves. — Samourai team
Setting Up Samourai Wallet
To start using Samourai Wallet, download it from Google Play Store, F-Droid, or Android APK. The next step is to allow storage access to save a wallet backup file to your device. You need to enable the Tor network feature to get a higher level of privacy. Then create a passphrase for additional security. Once you do it, the app will require creating the PIN code. You will use it to unlock the wallet. This process is followed by generating a seed phrase from 12 random words. Make sure you memorize your words and store them in a safe place. This seed phrase, used along with a passphrase, allows you to restore the wallet and balance in any compatible wallet software.
Advantages and Disadvantages of Samourai Wallet
Advantages
Samourai Whirlpool. It is a free and open-source CoinJoin platform. Its goal is to improve privacy when performing bitcoin transactions. You can send bitcoins without leaking information about your past transactions. You pay a one-time, flat fee for anonymity and use this feature unlimitedly. Furthermore, you can use Whirpool via mobile or pair Samourai wallet to the Whirpool desktop application.
SegWit support. SegWit (short for Segregated Witness) is a proposed upgrade to the bitcoin protocol invented to help reduce fees and speed up bitcoin transactions.
Offline mode. You don't need a network connection to start using bitcoin. With Samourai, you can broadcast transactions to the bitcoin network by SMS or mesh network.
Smart miner fees. Use miner fee estimation to set a priority level for your transaction, or even increase the miner fee of a transaction even after you have sent it.
Stealth mode. This feature removes Samourai from your Android device's launcher and home screen.
Anonymity. You can anonymize your IP using VPN or TOR (The Onion Router).
Live chat and email support. In case you lost access to your wallet or faced other issues, you can contact support via live chat or email.
Samourai Sentinel is a free and open source bitcoin watch-only wallet. It's an online companion for your offline and cold storage bitcoin wallets. It can track transactions and balances on hardware wallets, including Trezor and Ledger wallets.
Disadvantages
No support for iOS devices. Mobile application is available on only Android OS.
No multisignature. This technology is used to secure bitcoin transactions. It requires multiple signatures before the transaction is broadcasted to the blockchain. Samourai wallet does not provide this feature.
Complicated for beginners. The app is created for users with a lot of experience, so it is highly complicated for beginners.
Samourai is a hot wallet. Therefore, it is more exposed to cyberattacks and hacking due to its constant connection to the internet.
More Information
Additional information
| | |
| --- | --- |
| Bitcoin Only | |
| Lightning Network | |
| Built-in Exchange | No |
| Source Code | |
| Tor Support | Yes |
| CoinJoin | |
| Multisig | |
| 2FA | |
| SegWit | |
| Taproot | |
| PayNym | Yes |
| Watch-only | Yes |
| Batch Transactions | Yes |
| Mobile App | Yes |
| Operating System (OS) | |
| Hardware Wallet Integration | |
| Non-custodial wallet (self-custody) | |
| Year Launched | 2015 |
| Made in | United Kingdom |