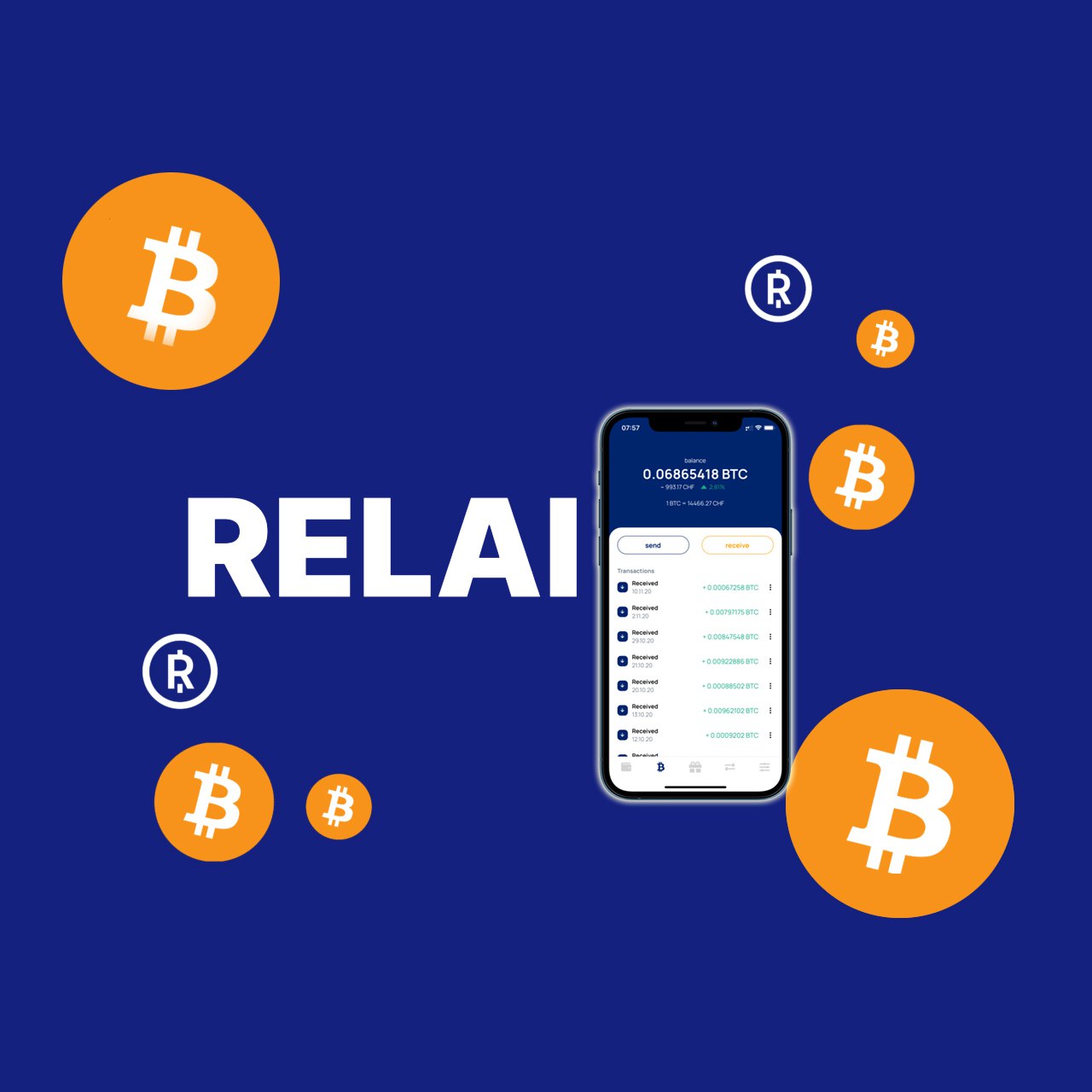 Relai: Bitcoin-Only Investment App
Relai is a bitcoin-only investment app that allows you to instantly buy and sell bitcoin with EUR or CHF without registration, identity verification, and deposits. The service is available in multiple languages, including English, French, German, Spanish, and Italian.
Description
Relai is a Swiss bitcoin-only investment mobile app. It allows you to buy bitcoin instantly with a bank account, credit card, debit card, Apple Pay, or Google Pay or set up an auto-invest plan. You can also use Relai to sell, send, and receive bitcoin. The service does not require creating an account, passing verification, or depositing. It is available in all European countries except for those where it can not be used due to compliance requirements. Relai has a built-in non-custodial wallet. It means that it does not store your private keys; only you have access to them.
We are basically a Bitcoin ATM, just digital. You put money in and get bitcoin out, and vice-versa. Relai never holds your funds and is also regulated like a Bitcoin ATM, namely as a cash exchange business.
Get Started with Relai
Create a backup of your Relai bitcoin wallet with a 12-word recovery phrase.
Enter the amount you want to invest.
Select investment frequency: one-time buy, weekly, or monthly.
Choose your payment method.
Buy bitcoin (for a minimum of 10 CHF/EUR).
Relai is a Swiss Financial Services Standards Association (VQF) member and adheres to specific regulations. So Relai's limits apply to both buying and selling bitcoin and are 950 EUR (1000 CHF per day) and 95,000 EUR (100,000 CHF) per year.
Relai Features
Buying and selling bitcoin. Buy bitcoin instantly and store it in a non-custodial app's wallet. You can also use the Relai app to sell bitcoin and receive fiat to your bank account.
Auto-invest plan. You can set up automatic purchases every week or every month using a dollar cost averaging (DCA) approach. This will reduce the risk of buying sats at a high price and benefit from lower prices in the long run.
External wallet stacking. It is a feature that allows users to invest in bitcoin directly in their external wallets.
Relai Private. This function is for those who want to buy more than 100,000 EUR per year. In this case, the fees are from 0.50% to 1.25%, depending on the amount you want to buy. In addition, you will get guidance from experts on selecting the best bitcoin custody option. To become a Relai Private customer, you will need to provide your identification documents. Only ID Cards or passports are allowed.
Custom Bitcoin network fee for sending bitcoin. This functionality enables you to choose the bitcoin network fee from four predefined options manually.
Referral program. Share a referral code with your friends. Their fees will be lowered by 0.5%, and you will get 0.5% of the amount they buy or sell each time they use your code.
Fees
| Name | Buying | Selling |
| --- | --- | --- |
| Base fee | 2.5% | 2.0% |
| Bitcoin network fee | – | ✔️ |
| Create a savings plan | -0.5% | – |
| Apply a referral code | -0.5% | -0.5% |
| Order amount is 100 EUR/CHF or more | -0.5% | -0.5% |
| Potential final fee | 1.0% | 1.0% |
More Information
Additional information
| | |
| --- | --- |
| Bitcoin Only | |
| KYC | |
| Dekstop App | No |
| Mobile App | Yes |
| Operating System (OS) | |
| Non-custodial wallet (self-custody) | |
| Bitcoin Savings Plan | |
| Hardware Wallet Integration | |
| Affiliate Program | Yes |
| Year Launched | 2020 |
| Made in | Switzerland |
| Buy with Bank Account | |