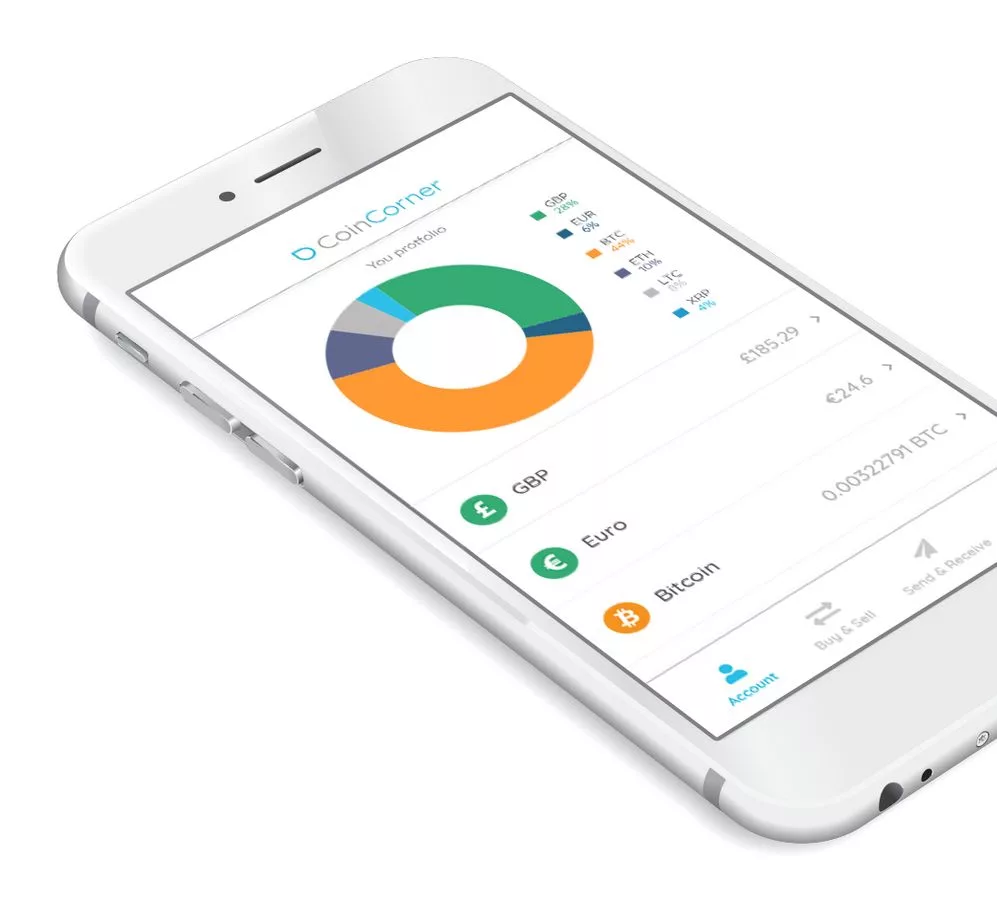 CoinCorner: Bitcoin-Only Exchange
CoinCorner is a bitcoin-only exchange for buying and selling bitcoin with a credit card, debit card, SEPA, or bank transfer. CoinCorner focuses mainly on UK users, but also supports more than 40 countries worldwide.
Description
CoinCorner is one of the UK's leading bitcoin-only exchanges that enables you to sell and buy bitcoin with credit/debit card, bank transfer and SEPA. When you shop online, the CoinCorner browser extension notifies you if you can earn Bitcoin cashback on your purchases. Launched in 2014, it also supports dollar-cost averaging (DCA) to allow you to auto buy bitcoin regularly. CoinCorner is one of the few exchanges that have integrated the Lightning Network.
How to Register on CoinCorner
Before you can do anything on the exchange, you must first register and verify your account. You can register on CoinCorner website or CoinCorner app for Android or iOS devices. Your current residential address, mobile number, ID, and source of funds are all required for KYC. To complete your CoinCorner verification, you may also be required to upload a selfie. If your identity document and address information passes automatic checks, you will be able to access your account immediately.
CoinCorner Features and Benefits
Buying and selling bitcoin instantly via the Lightning Network
CoinCorner's stacking accounts allow you to create sub-accounts within your own CoinCorner account to save in bitcoin for any purpose
Variety of payment methods: debit card and credit card for transfers in EUR and GBP, SEPA, or bank transfer
CoinCorner Bolt Card, a contactless Lightning payment card
Option to auto-buy Bitcoin (dollar-cost averaging)
CoinCorner Checkout for businesses to accept bitcoin payments
You can buy gift cards with bitcoin from Bitrefill, directly from your CoinCorner account
Recurring Lightning payments allows you to pay for bills, subscription services, or send regular payments to family and friends
CoinCorner Cashback is a program that gives you bitcoin rewards for shopping with partner merchants
Buy Bitcoin Automatically
Setting up a DCA investment strategy is possible using the Bitcoin Auto Buy service from the CoinCorner platform. Just sign up for a free account, set your order amount to as little as 10 GBP, and choose how often you want to buy bitcoin. Auto buying bitcoin in little amounts regularly will help you save money in the long run and lessen the impact of short-term price changes.
CoinCorner's automatic purchase service allows you to fund the account with a GBP bank transfer, which will be used to automatically purchase bitcoin once received in your account. A standing order in a bank account can also help eliminate all the processes of buying bitcoin that require personal manual intervention. It is enough to create a standing order using the bank details of the exchange and add a certificate of automatic purchase.
CoinCorner Stacking Accounts
This bitcoin stacking feature allow you to create sub-accounts within your own CoinCorner account to save in bitcoin for a house, a holiday, a new car, etc. You can create as many Stacking Accounts as you like, and for each one, you can set a personalised stacking target. Furthermore, you can make a one-time deposit, or set up a recurring deposit.
CoinCorner Cashback
CoinCorner Cashback is a program offered by CoinCorner where you can earn cashback in bitcoin on your eligible purchases. When you make qualifying purchases with CoinCorner's partner merchants, a percentage of the purchase amount is credited back to your CoinCorner account in the form of bitcoin. This allows you to accumulate bitcoin rewards as you shop.
CoinCorner Bolt Card
The Bolt card from CoinCorner is a physical NFC card that can be used to pay via bitcoin's Lightning Network at any physical merchant or any online merchant accepting bitcoin lightning payments via a tap on your phone. You can also use the CoinCorner card to create tappable NFC-enabled bitcoin vouchers or gift cards that anybody can redeem with a lightning wallet on the phone.
How to Withdraw Funds from CoinCorner
You can withdraw funds from your accounts using bank withdrawal in GBP, bank withdrawal in EUR and bitcoin withdrawal to your own bitcoin wallet.
CoinCorner Fees and Deposits
The minimum deposit on CoinCorner exchange depends on the method of depositing your account:
| Deposit Method | Minimum amount |
| --- | --- |
| GBP bank transfer | 5 GBP |
| International GBP bank transfer | 30 GBP |
| EUR bank transfer | 5 EUR |
| Deposit from a bank card | 10.00 GBP/EUR |
Minimum deposits in bitcoin have no restrictions. There are also no restrictions on the maximum deposit amount for all currencies and deposit methods.
| CoinCorner Fees | CoinCorner Limits |
| --- | --- |
| Trading fees | 1% for transactions above EUR 300 |
| Deposit fees | If you select Neteller, CoinCorner charges 3.2%, and the limitation is from 20 GBP/EUR to 5000 GBP/EUR. If you pick a bank transfer in GBP in the UK, you are charged from 1 GBP to 5 GBP, and there is no maximum limit |
| Withdrawal fees | Withdrawal in GBP with a minimum fee of 1 GBP and maximum of 5 GBP |
Find the full list of CoinCorner fees and limits here.
Is CoinCorner Legit?
CoinCorner is a legitimate bitcoin exchange and wallet provider that has been operating since 2014. It is a registered company in the Isle of Man and complies with the necessary regulations in its jurisdiction. CoinCorner has established a reputation as a trusted platform for buying, selling, investing, and saving bitcoin.
More Information
Additional information
| | |
| --- | --- |
| Bitcoin Only | |
| Lightning Network | |
| KYC | |
| 2FA | |
| Bitcoin Investment Plan | |
| Bitcoin Debit Card | Yes |
| Browser Extension | Chrome, Microsoft Edge, Opera |
| Mobile App | Yes |
| Operating System (OS) | |
| Wallet Type | |
| Bitcoin Cashback | Yes |
| Year Launched | 2014 |