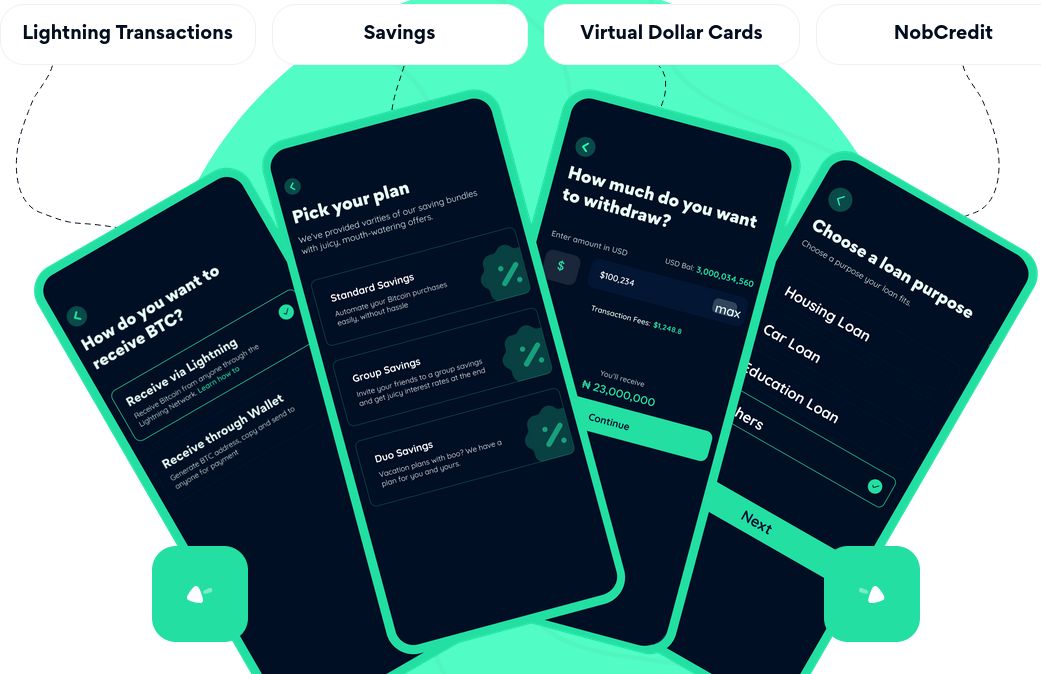 Bitnob: Bitcoin-Only Exchange in Africa
Bitnob is a bitcoin-only app for users in Nigeria, Ghana and Kenya to send and receive bitcoin, save BTC and USD and take out bitcoin-collateralized loans.
Description
Bitnob is an African Bitcoin app that enables you to purchase, trade, borrow, receive and pay using bitcoin. It also facilitates USD and bitcoin savings. You can also use the its USD virtual MasterCard to make online purchases. To enable fast, cheaper and borderless payments, Bitnob makes use of the Lightning Network. Currently, Bitnob is available in Nigeria, Ghana and Kenya (launched in September 2022).
Users can also fund and withdraw from their bitcoin wallets using mobile money merchants like M-Pesa in Kenya and MoMo in Ghana. Furthermore, merchants, content creators, and small business owners can accept bitcoin payments using Bitnob.
Bitnob Features
Savings. You may easily save money in USD and Bitcoin for you or your children using Dollar-cost averaging (DCA) method.
Nob Credit. Take out a Bitcoin-collateralized loan without documents for up to a year. You need to have a minimum of $100 in bitcoin wallet to access a loan up to 50% of your bitcoin wallet value.
Lightning address. Instantly receive money or get paid with the lightning network without sending invoices and almost zero fees.
Virtual dollar card. Use your virtual card to make any dollar transactions.
CashApp and Strike. Your family or company in the US can send money to your Bitnob account directly thanks to the interoperability of Bitnob with CashApp and Strike.
Payment gateway. Bitnob for business is specifically designed to enable merchants, content producers, and retailers to begin accepting bitcoin payments in minutes.
DCA, also known as Dollar-cost averaging, is an investment strategy that proposes periodic and timely acquisition of a given amount of Bitcoin. A simple example is buying $10 worth of BTC weekly, irrespective of the current market price. This strategy prevents you from investing all your money in one lump sum – commonly referred to as Lump Sum investing and, over time, helps you average out the price of Bitcoin to benefit you as a long-term investor.
Bitnob Currencies
Bitnob supports bitcoin and USD only.
Send Globally is a partnership between Bitnob and CoinCorner that will allow millions of people with British pound (GBP) or Euro (EUR) to transfer funds freely and instantly to Nigeria, Kenya and Ghana via the Bitcoin Lightning Network, starting with GBP or EUR and ending with Nigerian naira (NGN), Kenyan shilling (KES) or Ghanaian cedi (GHS) in a local bank account or mobile money wallet. When a CoinCorner customer uses Send Globally, their pounds will be automatically converted into Bitcoin (BTC) and sent via the Lightning Network. Once the BTC is received at Bitnob, it will be instantly converted into the local currency — NGN, KES or GHS — and the recipient will receive the funds straight into their bank account or mobile money wallet.
Bitnob Wallets
Bitnob has two types of custodial wallets.
BTC Wallet. Your bitcoins are stored in the BTC wallet, which you may also use to send and receive bitcoins to and from other wallets through in-app, Onchain, or the Lightning Network. With this wallet, you may also buy and trade BTC immediately.
USD Wallet. The main wallet on Bitnob, through which you conduct the majority of app transactions, is the USD wallet. The USD wallet funds bitcoin savings plans, you may send USD to other Bitnob users in-app, and the USD wallet is debited/credited instantly when you purchase and sell bitcoin. You can withdraw funds from the USD wallet to your local currency account.
When you wish to trade right away, you can hold the amount you want to trade on an exchange. If not, save your bitcoins in a non-custodial wallet like BlueWallet or Muun.
Bitnob KYC
Bitnob requires users to fulfill Know Your Customer (KYC) requirements. There are two KYC levels.
KYC Level 1. If you sign-up with your phone number and email verification, you will automatically be on level 1. You are limited to a lifetime total of $50 in transactions on level 1.
KYC Level 2. To upgrade to the level 2 you need to provide the following: your personal information, your residential details, live capturing of your ID and a selfie capturing of your face. Level 2 allows you to process up to $10,000 worth of transactions every day.
Bitcoin trading and investing is highly risky and speculative. This is the reason you are advised not invest what you cannot afford to lose. Trading bitcoin requires extensive experience and in-depth knowledge of the market. We do not recommend you to engage yourself in bitcoin trading. Many people around the world have lost their hard-earned cash from bitcoin trading and investing.
More Information
Additional information
| | |
| --- | --- |
| Bitcoin Only | |
| Bitcoin Loans | |
| Bitcoin Savings Plan | |
| KYC | |
| Lightning Network | |
| 2FA | |
| USD Virtual MasterCard | Yes |
| Year Launched | 2020 |
| Headquarters | Lagos |