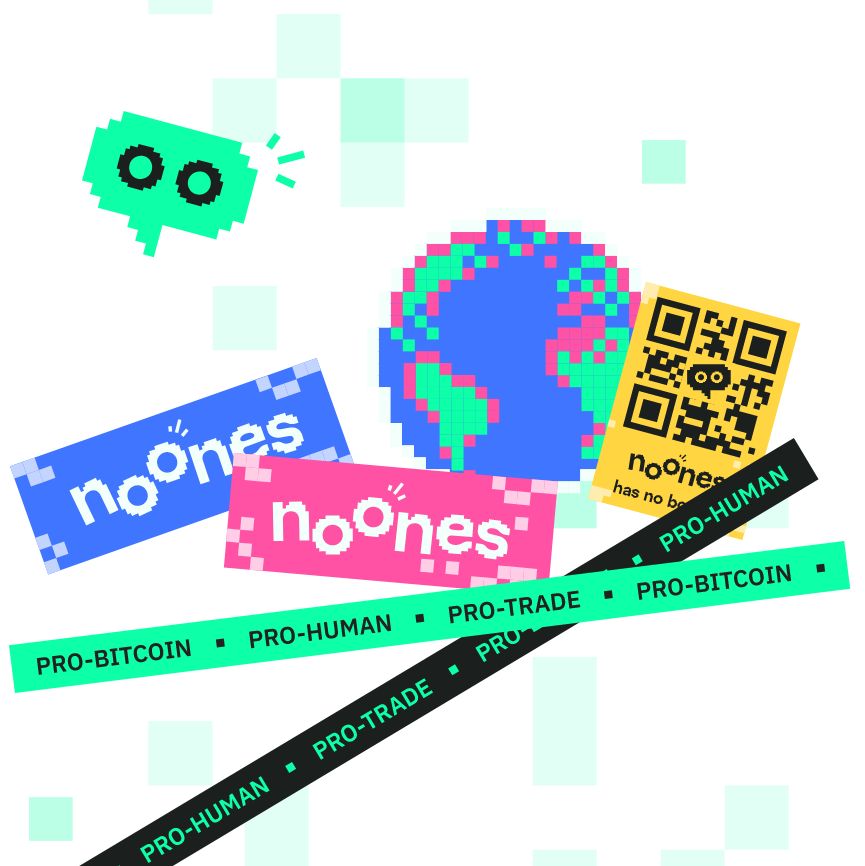 Noones App: P2P Marketplace, Wallet and Messenger
What's Noones app? Noones is a p2p BTC marketplace with a focus on the Global South. It offers a free custodial wallet and allows you to buy and sell bitcoin.
Description
Noones is a free app that allows users to communicate and trade bitcoin with one another. The platform combines messenger, wallet, and marketplace functionality. Its primary focus is on the Global South.
How to Join Noones App
To register on Noones p2p exchange, download it from for Android or iOS and enter your email and create a password. You will receive a verification code, and then set your username.
How Noones Works
This is how you can use Noones to trade. You will first need to pass verification because the platform is not a non KYC exchange. With level 1 phone verification, you can purchase up to $700 worth of bitcoin daily, and lifetime trade and send out limits are set at $10,000. By reaching level 2 email verification, your lifetime trade and send out limits will increase to $50,000.
With Noones Partner Program, you can earn 15% from your invited friends' trade fees, 4% from friends' friends, and 1% from their trades.
How to Verify Noones
To verify your Noones account, you will need to verify your email address, phone number, and identity.
When you create a Noones account, you will be sent a verification email. Click the link in the email to verify your email address. To verify your phone number, go to your Settings page and click on Profile. Enter your phone number in the phone field and click Verify. You will receive a code via SMS or phone call. Enter the code in the field provided to verify your phone number. To verify your identity, go to your Settings page and click on Verify ID. Select the type of ID you are submitting (e.g., passport, driver's license, national ID card) and upload a clear photo of your ID. Noones ID verification will be available once you have completed phone and email verification.
How to Trade on Noones
Noones app allows you to message other users, trade bitcoin with other users, set your own prices and preferred payment methods. The platform also provides Noones wallet, a free custodial wallet for secure storage of your bitcoin, which can be transferred to external wallets for a fee.
When trading, the platform's escrow system will ensure the security of your funds. When a trade starts, the seller's bitcoin is automatically transferred into a temporary safe deposit account (escrow). The amount transferred into the escrow is the trade amount plus escrow fee. Once the payment is made and confirmed, the seller can release the bitcoin from the escrow and this will mark the completion of the trade. If you've made a payment and the seller refuses to release your bitcoin, the seller's bitcoin will stay in escrow until Noones moderators step in to investigate and award to the deserving party.
To sell bitcoin on Noones, simply hover over the Sell arrow in your account, click on your preferred cryptocurrency, and view the available offers to buy. You can filter the offers based on your preferred payment method and currency.
To buy bitcoin on Noones, you can create an offer on the Noones app. Select the payment method you wish to use, choose your preferred currency from the drop-down list, and then decide between Market price (price adjusts with the market) and Fixed price options (price remains unchanged).
Noones app accepts several payment methods, including Amazon gift cards, bank transfers, credit/debit cards, mobile money like Mpesa, and online wallets such as PayPal and Venmo.
Noones Fees
Trading Fees
| Payment Type | Sell | Buy |
| --- | --- | --- |
| Bank Transfers | 0.5% | no fee |
| Credit/Debit Cards | 1% | no fee |
| Digital Currencies | 1% | no fee |
| Online Wallets | 1% | no fee |
| Cash | 1% | no fee |
| Mobile Money | 1% | no fee |
| Gift Cards | 5% | no fee |
Fees for Sending and Receiving Bitcoin
| Wallet Type | Send | Receive |
| --- | --- | --- |
| External Wallet | $0 – $49.99 = $0.5 fee | no fee |
| | $50 – $99.99 = 1% fee | |
| | $100+ = $2 fee | |
| Internal Wallet | | no fee |
On Noones, the rate at which you buy bitcoin from other users is set by the sellers themselves and varies based on factors such as verification status, payment method, currency pair, and order size. If you're selling bitcoin, Noones will deduct an escrow amount from your Noones Wallet at the start of the trade. The platform receives the escrow fee upon successful completion of the trade, and if the trade isn't completed, the amount is released back to the seller with Noones taking no fee.
Noones Supported Countries
The peer to peer exchange is available globally. However, users from certain countries are currently blocked from using the platform. These countries include Cuba, Iran, Northern Korea, Russia, Syria, United Kingdom, Canada, Japan, USA, and UAE.
Is Noones Legit?
Noones is a recently established peer-to-peer Bitcoin exchange that has received mixed reviews from users. While some have found it user-friendly with positive experiences, others have expressed concerns about the presence of scammers, inadequate dispute moderation, funds disappearing from wallets, and poor customer service on the platform. At the time of writing, 48 out of 54 reviews on Trustpilot gave the platform a poor 1/5-star rating.
It's important to note that Noones operates as a custodial wallet, meaning you do not have control over your private keys. However, you do have the ability to withdraw your funds to your own personal wallet at a fee.
Regarding regulatory oversight, it remains uncertain whether Noones is regulated by any financial authority to provide user protection against fraud or theft. Additionally, due to its limited trading volume as a new exchange, there may be challenges in buying or selling bitcoin at fair market prices.
Join Noones
Noones Alternatives (No KYC Exchanges)
Additional information
| | |
| --- | --- |
| Bitcoin Only | |
| KYC | |
| 2FA | |
| Wallet Type | |
| Type of Exchange | |
| Escrow | |
| CSV | |
| Supported Languages | |
| Supported Countries | Worldwide |
| Year Launched | 2023 |