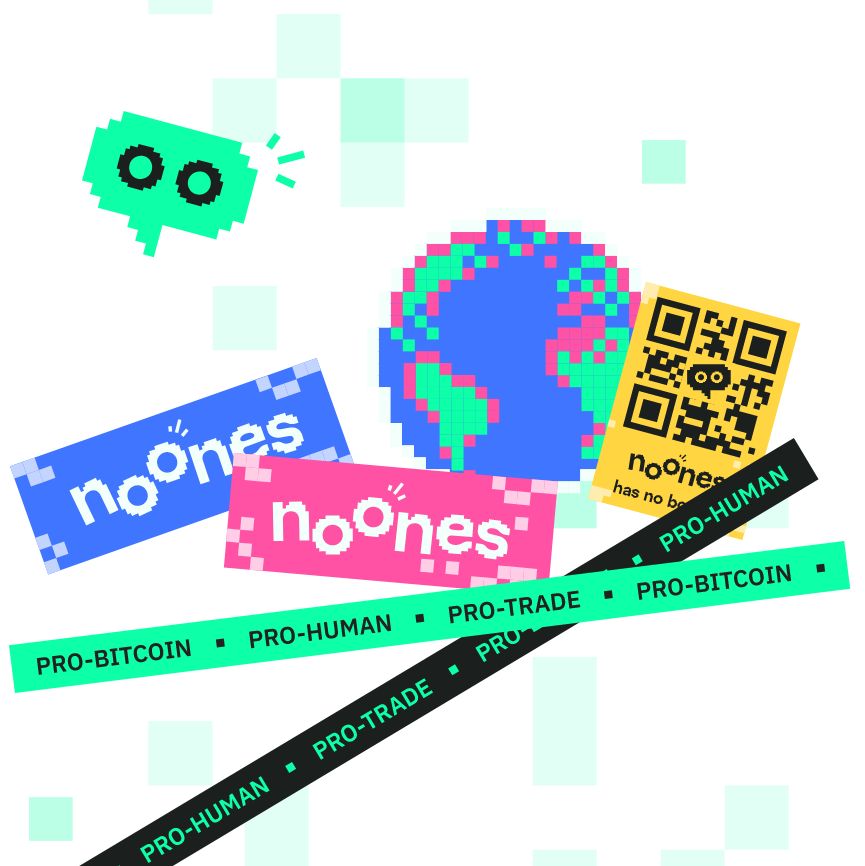 Noones App: P2P Marketplace, Wallet and Messenger
Noones is a p2p BTC marketplace with a focus on the Global South. It offers a free custodial wallet and allows you to buy and sell bitcoin.
Description
Noones is a free app that allows users to communicate and trade bitcoin with one another. The platform combines messenger, wallet, and marketplace functionality. Its primary focus is on the Global South.
How to Join Noones App
To register on Noones p2p exchange, download it from for Android or iOS and enter your email and create a password. You will receive a verification code, and then set your username.
In order to use Noones exchange, it is necessary to accept its privacy terms. However, some users may find these terms to be too intrusive: "Noones collects and transmits to third party service providers, data about your phone number, email, device, browser, information about applications installed on your device, network connection and your account within the framework of your session for fraud prevention and security purposes."
How Noones Works
To receive bitcoin on Noones exchange, you will need to pass verification. With level 1 phone verification, you can purchase up to $700 worth of bitcoin daily, and lifetime trade and send out limits are set at $10,000. By reaching level 2 email verification, your lifetime trade and send out limits will increase to $50,000. ID verification will be available once you have completed phone and email verification.
Noones app allows you to message other users, trade bitcoin with other users, set your own prices and preferred payment methods. The platform also provides Noones wallet, a free custodial wallet for secure storage of your bitcoin, which can be transferred to external wallets for a fee. When trading, the platform's escrow system will ensure the security of your funds.
Noones app accepts several payment methods, including Amazon gift cards, bank transfers, credit/debit cards, mobile money like Mpesa, and online wallets such as PayPal and Venmo.
Noones trading app offers users its own wallet. For the safety of your funds, it is advisable to only keep the amount you plan to trade on Noones marketplace. Any excess earnings should be stored in a self-custody wallet, like BlueWallet, Samourai, or Muun.
Noones Fees
Trading Fees
| Payment Type | Sell | Buy |
| --- | --- | --- |
| Bank Transfers | 0.5% | no fee |
| Credit/Debit Cards | 1% | no fee |
| Digital Currencies | 1% | no fee |
| Online Wallets | 1% | no fee |
| Cash | 1% | no fee |
| Mobile Money | 1% | no fee |
| Gift Cards | 5% | no fee |
Fees for Sending and Receiving Bitcoin
| Wallet Type | Send | Receive |
| --- | --- | --- |
| External Wallet | $0 – $49.99 = $0.5 fee | no fee |
| | $50 – $99.99 = 1% fee | |
| | $100+ = $2 fee | |
| Internal Wallet | | no fee |
On Noones, the rate at which you buy bitcoin from other users is set by the sellers themselves and varies based on factors such as verification status, payment method, currency pair, and order size. If you're selling bitcoin, Noones will deduct an escrow amount from your Noones Wallet at the start of the trade. The platform receives the escrow fee upon successful completion of the trade, and if the trade isn't completed, the amount is released back to the seller with Noones taking no fee.
Noones Supported Countries
The peer to peer exchange is available globally. However, users from certain countries are currently blocked from using the platform. These countries include Cuba, Iran, Northern Korea, Russia, Syria, United Kingdom, Canada, Japan, USA, and UAE.
Join Noones
Noones Alternatives (No KYC Exchanges)
Additional information
| | |
| --- | --- |
| Bitcoin Only | |
| KYC | |
| 2FA | |
| Wallet Type | |
| Type of Exchange | |
| Escrow | |
| CSV | |
| Supported Languages | |
| Supported Countries | Worldwide |
| Year Launched | 2023 |