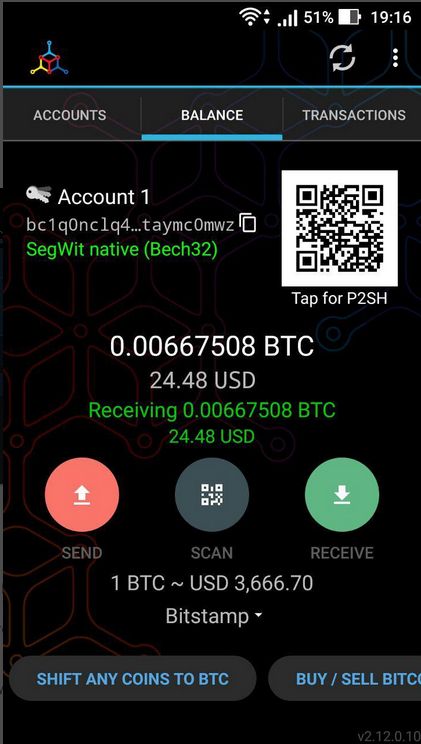 Mycelium: Open Source Bitcoin Wallet
Mycelium is a mobile-only, open-source, noncustodial bitcoin wallet available for Android and iOS devices. It allows you to store, buy, and sell bitcoin.
Description
Mycelium is an open-source, noncustodial, mobile-only bitcoin wallet available for Android and iOS devices. It provides a simple and user-friendly interface for storing, buying and selling bitcoin. Mycelium is open-source, which means that its source code is available to the public and can be evaluated by the community. As one of the oldest bitcoin wallets, it has a strong reputation in the bitcoin community.
Key features
Support for hardware wallet, which lets you store your bitcoin offline using hardware wallets such as Trezor, Ledger and KeepKey.
The Mycelium Local Trader function includes built-in support for buying and selling bitcoin with local traders.
Your private keys are automatically encrypted.
Support for Tor integration, two-factor authentication and watch-only accounts.
Custom fee settings allow you to adjust transaction fees.
Pros and cons of Mycelium wallet
One of its primary advantages is that it is open-source, which allows for transparency and security because the community can evaluate the source code. It also has an easy-to-use interface for managing bitcoin transactions and buying and selling directly from the app. Another advantage is the advanced privacy feature, which allows for more secure transactions, such as the integration of hardware wallets such as Trezor.
However, Mycelium Wallet has some drawbacks to consider. One disadvantage is that it is only available for mobile devices, not desktop or web. Furthermore, the Local Trader feature, which allows users to buy and sell bitcoin directly within the app, has received some criticism for its reliability and safety. Besides, it may not be appropriate for beginners because it requires a basic understanding of bitcoin and how it works.
How to use Mycelium wallet
To use Mycelium Wallet, first install the app on your Android or iOS device and then create a new wallet. The following are the general steps to get started:
Get Mycelium Wallet from the App Store or Google Play Store.
Launch the app and choose "Create new wallet."
To set up your wallet, follow the prompts, which include creating a strong password and writing down your recovery phrase.
After you've configured your wallet, you can view your balance, transaction history, and other information on the home screen.
To receive bitcoin, tap the "Receive" button and provide the sender with your public address.
Tap the "Send" button to send bitcoin, then enter the recipient's address and the amount you want to send.
To buy and sell bitcoin directly, use its built-in exchange, Mycelium Local Trader.
Additional information
| | |
| --- | --- |
| Bitcoin Only | |
| Mobile App | Yes |
| Dekstop App | No |
| Operating System (OS) | |
| 2FA | |
| Tor Support | Yes |
| Lightning Network | |
| SegWit | |
| QR Code | Yes |
| NFC | Yes |
| Watch-only | Yes |
| Multisig | |
| Built-in Exchange | Yes |
| Hardware Wallet Integration | |
| Non-custodial wallet (self-custody) | |
| Source Code | |
| Year Launched | 2008 |