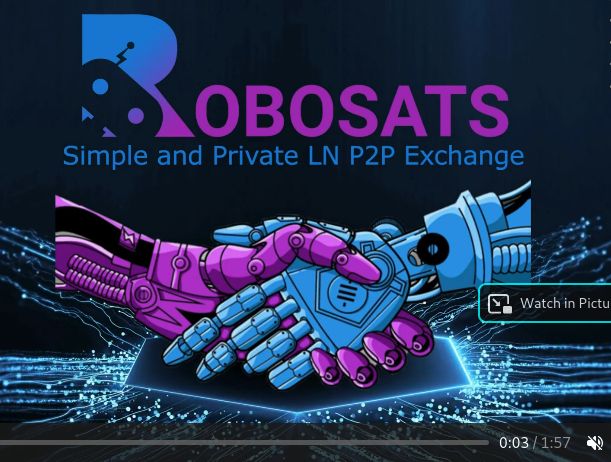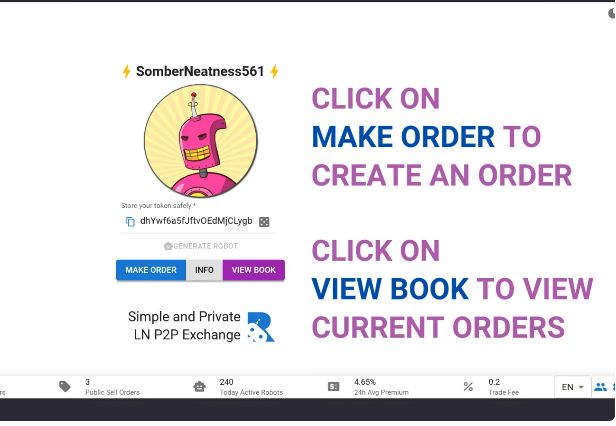 Robosats: No KYC P2P Bitcoin Exchange
RoboSats is an open-source platform that allows users to buy and sell bitcoin in exchange for any national currency without any registration at all.
Description
Robosats is a decentralized, open-source platform that enables you to buy and sell bitcoin for any national currency without the need for identification or KYC requirements. This peer-to-peer exchange uses the Lightning Network and the Tor browser, and offers a diverse range of payment options worldwide.
How Robosats Works
To ensure maximum privacy while using RoboSats, it is recommended to access the platform through its Onion address, which requires the use of the Tor Browser. Because of Tor Browser, your location or IP address is never known to the node or your trading peers. It's completely private. You also require a Lightning wallet such as Muun, Blixit and BlueWallet.
To buy or sell bitcoin, you need to adopt the identity of a robot and use a corresponding private token. By doing so, you can maintain anonymity while initiating and fulfilling orders with RoboSats. It's advisable not to reuse the same robot, as this can compromise your end-user privacy. To maximize your privacy, it's highly recommended that you create a new robot with random characteristics after each trade. Reusing a robot could potentially link multiple orders to a single avatar, which could lead to the disclosure of end-user information.
You can (and you are advised to) trade with a different identity every single time. It is convenient and easy. No other exchange has this feature and it is critical for privacy! In RoboSats there is no way for observers to know that several trades have been made by the same user if he used different robot avatars. Only your trading peer can get to know things about you while you chat. Keep the chat short and concise and avoid providing more information than strictly necessary for the fiat exchange.
The trading system of RoboSats relies on fidelity bonds to encourage both the order maker and taker to abide by the rules and not engage in fraudulent behavior towards other robots. To participate, users are required to deposit a small sum known as the fidelity bond, which is then locked until the trade is successfully executed. However, failing to fulfill the terms of the agreement may result in the loss of the bond.
The default fidelity bond is set at 3% of the total trade value, but order makers have the flexibility to set their amount between 2% and 15%. Opting for a larger bond implies a greater commitment to the trade and more at stake.
To safeguard the buyer against fraud or default when purchasing bitcoin, a trade escrow is used. The time frame within which the escrow must be submitted (locked) is at the discretion of the order maker, who can customize it to last between 1 and 8 hours, while the default expiry timer is set at 3 hours. If the seller fails to lock the trade escrow within the allotted time limit, their fidelity bond is forfeited. Furthermore, if a dispute is raised, the satoshis held in escrow are released to the winning party.
Payment Methods
At present, there are no limitations on the fiat payment method used for Robosats transactions. You are free to use any payment method agreed upon by both parties, including higher-risk options such as PayPal, Venmo, and Cash apps. Nonetheless, it's advisable to use a lower-risk payment method whenever possible. Medium-low risk payment methods include Amazon e-gift cards, Interac e-Transfer (Canada) and Wise, formerly Transferwise.
For the fiat payment method to be effective, it should allow for instant sending and receiving, given that the hodl invoice has a 24-hour expiration time. If the timer runs out and the invoice expires, it could potentially result in a dispute, which may cause the loss of the fidelity bond (explained above).
Paypal is one of the widely used fiat payment methods. However, with PayPal buyer protection policy, buyers can do fraudulent action by creating a refund request in PayPal after the trading process in RoboSats is finished and therefore taking both fiat and bitcoin all by themselves. This fraud can be prevented by agreeing with the buyer to have them send money using the "send money to a friend or family member" option. This will make the buyer become the one liable for the transaction fee and make it less likely for them to request a refund.
Fees
When using RoboSats, a fee of 0.2% is charged on the entire trading amount. This fee is divided between the order maker and the order taker, with each paying 0.025% and 0.175%, respectively. It's important to note that additional fees may be incurred, such as Lightning Network routing fees and on-chain transaction fees.
More Information
Robosats Reviews
Robosats is a user-friendly exchange that allows users to exchange any amount of cryptocurrency, which is a great advantage for those who are just starting to stack sats and might want to make a payment. The transactions on the platform are always smooth and fast, ensuring that users can quickly and easily exchange their cryptocurrency for other coins or cash. Additionally, the platform provides a small cashback on transactions, which is a nice bonus for users. Finally, the platform has very little downtime, meaning that users can rely on it for quick and efficient exchanges. Overall, Robosats is a great choice for anyone looking for a user-friendly, fast, and reliable cryptocurrency exchange.
Additional information
| | |
| --- | --- |
| P2P Exchange | |
| Bitcoin Only | |
| Lightning Network | |
| Source Code | |
| Tor Support | Yes |
| KYC | |
| Escrow | |
| Supported Countries | Worldwide |
| API | Yes |
| Year Launched | 2021 |