As the adoption of bitcoin continues to grow worldwide, Africa has emerged as a vibrant and dynamic hub for bitcoin users and innovators. In response to this rising interest, various individuals, organizations and initiatives have emerged, dedicated to providing valuable resources for bitcoin education in Africa. These resources aim to equip individuals and businesses with the knowledge and skills necessary to navigate the world of bitcoin effectively. Lack of education is a significant barrier to bitcoin adoption in Africa and globally.
Whether through online courses, community events, books, grants, or networking platforms, these educational resources empower Africans to embrace the potential of bitcoin and participate actively in the digital economy. The growing interest in bitcoin education in Africa holds promising potential for the continent. Increased knowledge about bitcoin can lead to greater adoption, offering benefits like cheaper remittances, financial inclusion, and economic growth.
In this article, we will explore some of the notable resources available for bitcoin education in Africa, highlighting the initiatives that cater to a diverse range of audiences, including beginners, entrepreneurs, and women-centric communities.
Resources for Bitcoin Education in Africa
Here are some specific resources for Bitcoin education in Africa: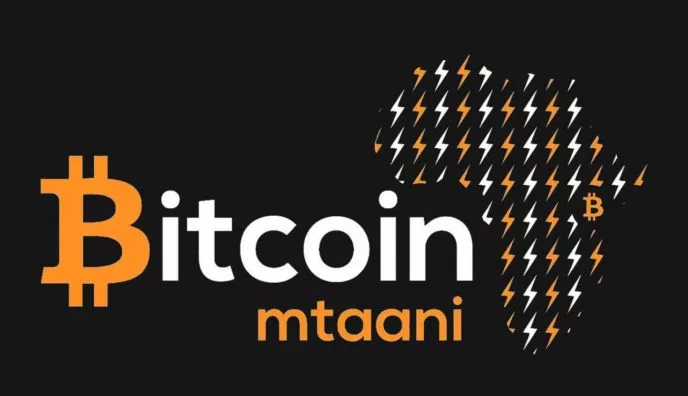 Bitcoin Mtaani (Mtaani meaning "neighborhood" in Swahili) is a bitcoin-only educational platform that aims to overcome the language barrier by providing bitcoin education in African using African languages. Recognizing that out of Africa's approximate population of 1.2 billion, only around 237 million people speak English, this platform focuses on creating multimedia content in languages that Africans primarily understand and use in their daily lives. By offering Bitcoin-related resources in local languages, this initiative plays a crucial role in promoting wider adoption of bitcoin across Africa.
Bitcoin Mtaani currently provides bitcoin education in Africa through multimedia content available in Kiswahili, Yorùbá, Lingala, and IsiZulu.
African Bitcoiners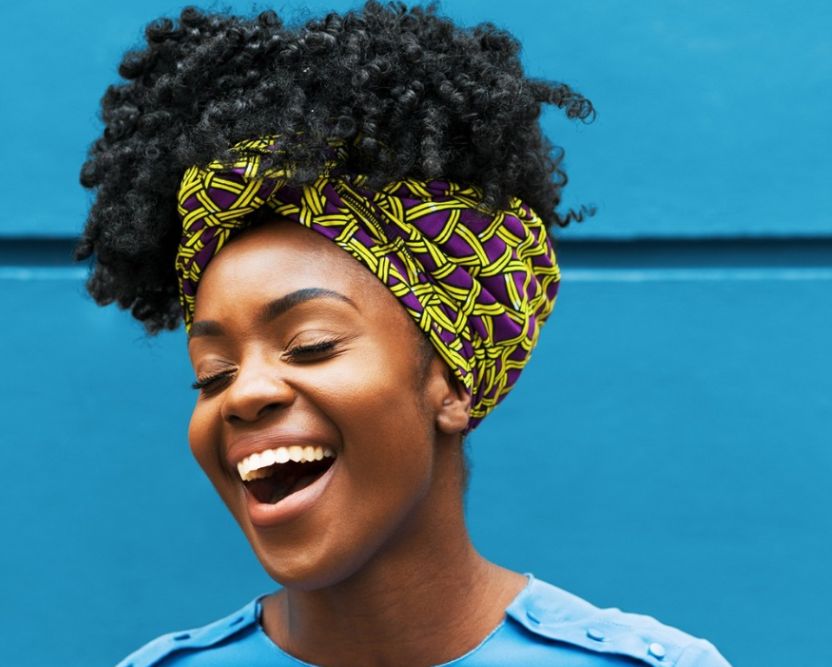 African Bitcoiners is an active bitcoin community committed to assisting and guiding new African users throughout their bitcoin journey, starting from earning satoshis to practicing self custody. As part of their efforts, the community offers a comprehensive 21-day free bitcoin course. The course is designed with one lesson per day for 21 days, accompanied by a brief test at the end of each lesson. Each day's lesson should not require more than 15 minutes of your time, unless you choose to delve deeper into the intricacies of bitcoin. The course provides a suitable introduction to bitcoin, covering its functioning, the reasons behind its trustworthiness, and how it can bring benefits to individuals. By participating in this educational initiative, individuals can gain a solid foundation in bitcoin and develop the necessary knowledge and confidence to navigate the world of bitcoin effectively.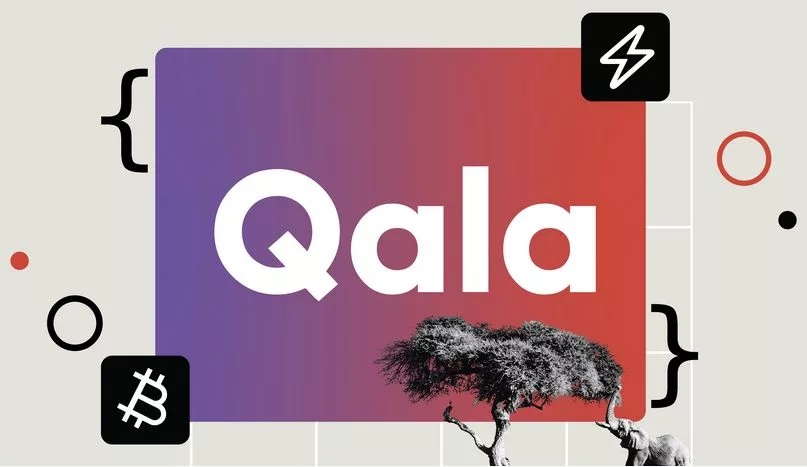 Qala is an educational program specifically designed to provide training and knowledge on bitcoin and Lightning technology to the emerging generation of African developers. The program offers study grants and accepts applications throughout the year, processing them at different intervals. This 13-week program aims to equip participants with the necessary skills to become proficient Lightning and Bitcoin developers in Africa. Participants enrolled in the full-time course receive a stipend to support their learning journey. Additionally, Qala provides exposure to potential employers, helping participants navigate the job market and negotiate favorable terms to thrive in their roles. The program's comprehensive approach ensures that African developers receive not only education, but also practical support to excel in the world of bitcoin and Lightning technology.
Bitcoin for Fairness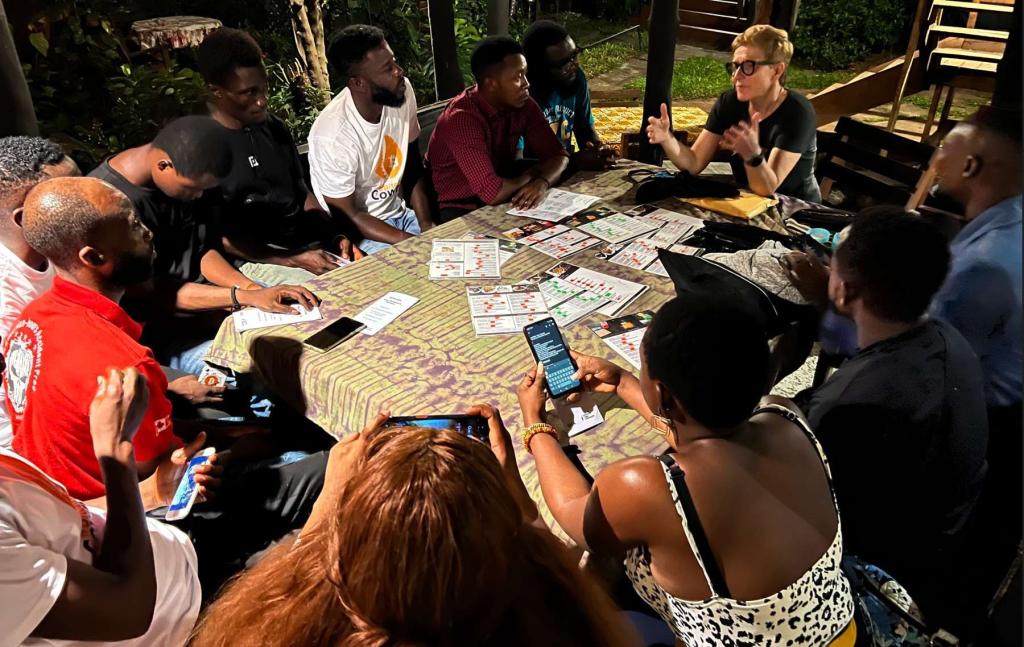 Bitcoin for Fairness (BFF) is a non-profit initiative dedicated to promoting knowledge and understanding of bitcoin among people in emerging countries and disadvantaged communities, particularly Africa. Founded by Anita Posch, a bitcoin educator, author and podcaster, BFF aims to bridge the information gap and empower individuals with the potential benefits of bitcoin.
As part of their efforts, BFF organizes bitcoin meetups specifically tailored for bitcoin education in Africa. So far, they have successfully organized meetups in Zimbabwe, Zambia, Ghana and Nigeria. Notably, in Zambia, BFF has been hosting monthly bitcoin meetups since 2022. Additionally, BFF has conducted bitcoin workshops for journalists and human rights defenders in Africa, providing them with valuable insights into the intersection of bitcoin and their respective fields. To further facilitate education, BFF has created a bitcoin education flyer available in Kiswahili, Oluganda, and English, enabling individuals to access introductory bitcoin information in languages they are familiar with.
Bantu Bitcoin is a Bemba bitcoin-only education podcast in rural Zambia. Bemba is the most widely spoken language in Zambia. This initiative is a collaboration between 5atoshi Nakamoto, Anita Posch from Bitcoin for Fairness and BTCpodcasting.com, aiming to bring bitcoin knowledge to the local community in Zambia.
Bitcoin Ekasi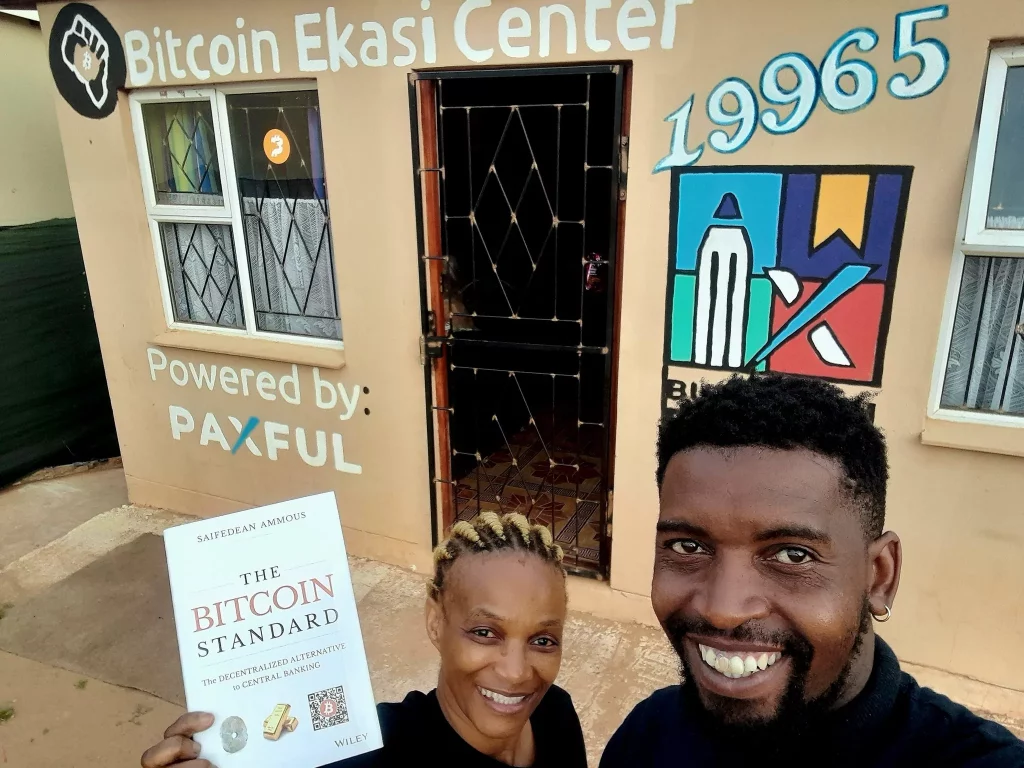 Bitcoin Ekasi is a non-profit organization that is dedicated to providing bitcoin education in South Africa, with a particular focus on establishing a Bitcoin circular economy in an underprivileged township located in Mossel Bay. The organization has achieved significant progress thus far, successfully convincing a total of 13 shops in the area to accept Bitcoin payments.
Founded in 2021 by Hermann Vivier, who is also the co-founder of Surfer Kids, Bitcoin Ekasi draws inspiration from the Bitcoin Beach project in El Salvador. The primary mission of Bitcoin Ekasi aligns with the broader goals of Surfer Kids, which aims to empower young individuals both financially and personally through surfing and bitcoin education. Through its efforts, Bitcoin Ekasi is actively contributing to the advancement of Bitcoin adoption and financial empowerment in South Africa, particularly within marginalized communities.
Bitcoin Dada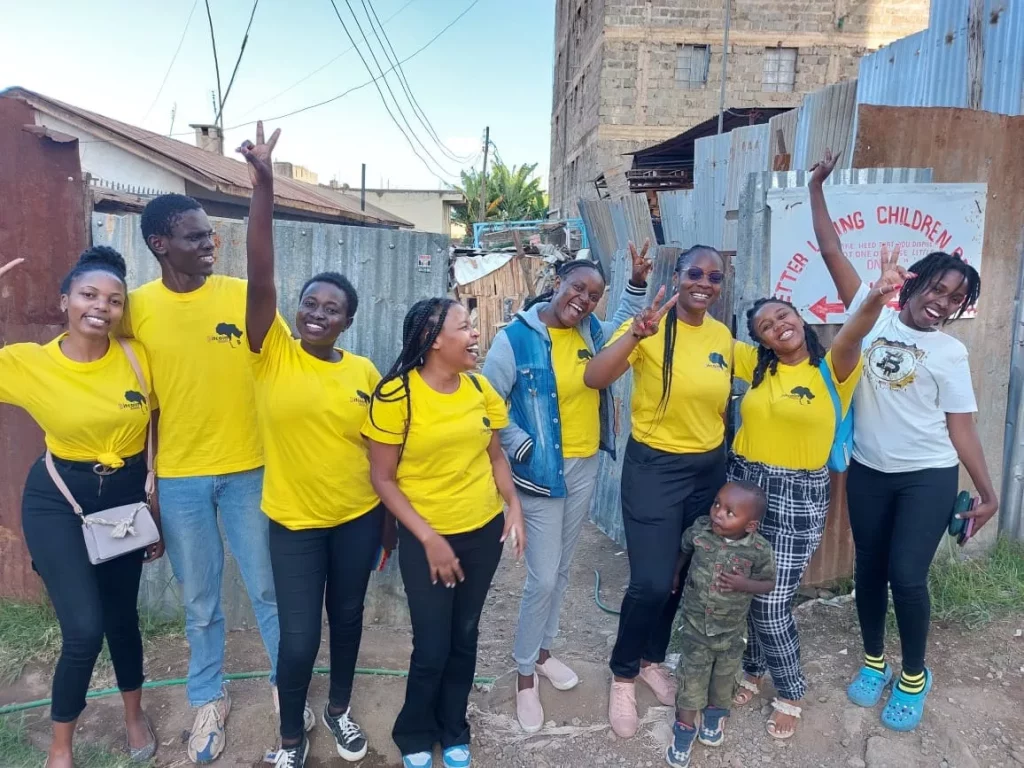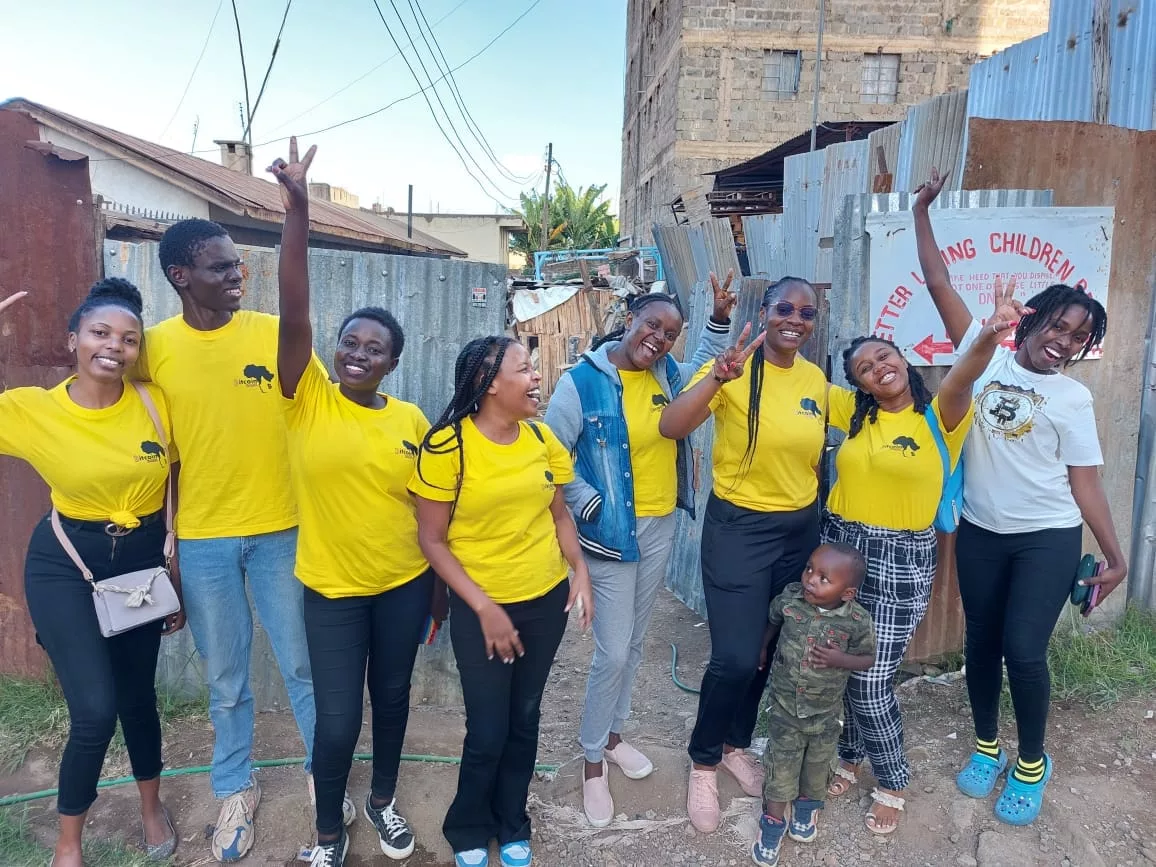 Bitcoin Dada is a female-focused organization that is dedicated to providing bitcoin education in Africa. Their mission is accomplished through various means, including online courses, meetups, circular economies, and social networking. Founded in 2022 by Lorraine Marcel, Bitcoin Dada aims to foster a more equitable and inclusive financial system in Africa and beyond by actively encouraging and empowering women to participate in the world of bitcoin.
Bitcoin Dada, meaning "Bitcoin Sister" in Swahili, has made significant strides since its inception. They have successfully trained over 100 students, organized bitcoin-only meet-ups in Nairobi, Kenya, and actively facilitated the adoption of bitcoin as a payment option for businesses owned by some of their students.
Bitcoin Ubuntu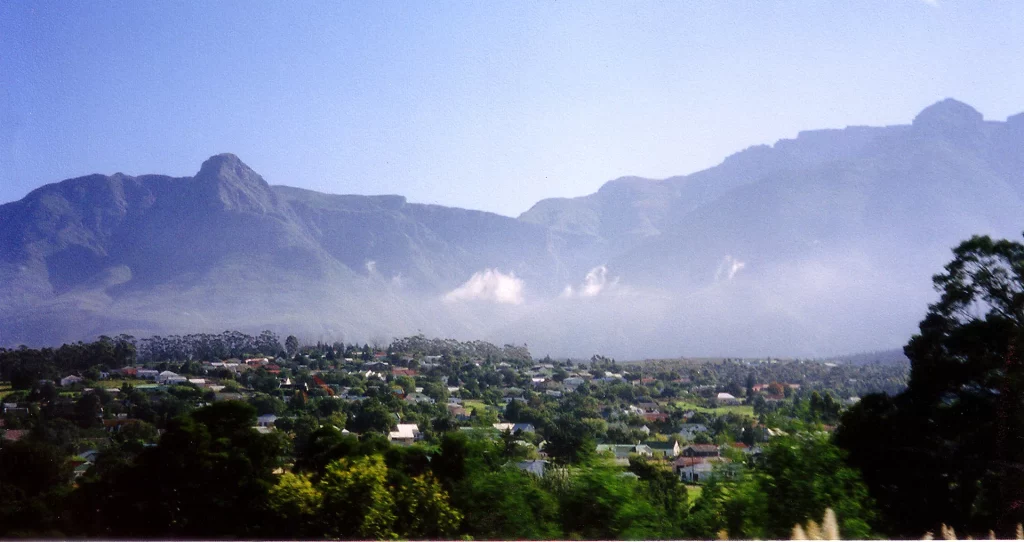 Bitcoin Ubuntu is a community-driven initiative focused on promoting bitcoin in Swellendam, South Africa. As a grassroots Bitcoin community outreach program, it aims to provide free, in-person education and onboarding resources to the local community. The name "Ubuntu" holds significance, as it represents a popular African philosophical term that emphasizes the interconnectedness of humanity. Ubuntu can be understood as the belief that "I am because we are" or "I am because you are."
Although still in its early stages, Bitcoin Ubuntu is actively seeking volunteers to join and contribute to the initiative. If you have a passion for Bitcoin and would like to get involved, you can reach out to the program through their Twitter handle. By volunteering, you can play a vital role in helping spread bitcoin education in Africa and fostering a greater sense of community and understanding in Swellendam and beyond.
Bitcoin Jamii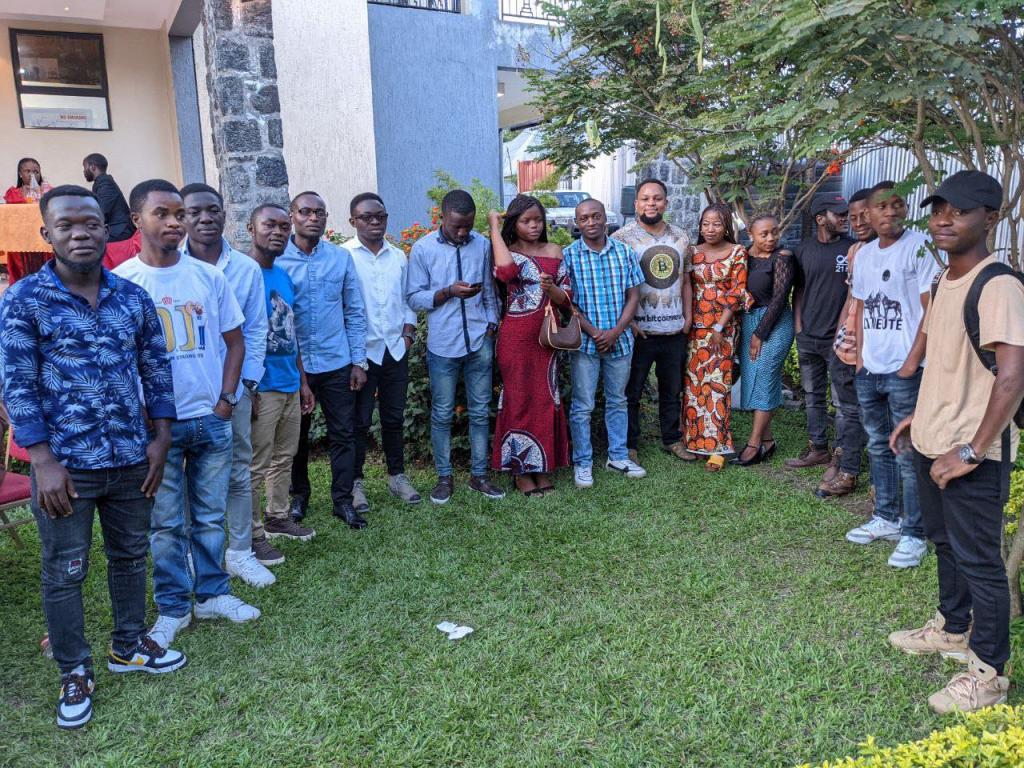 Bitcoin Jamii is a 100% Bitcoin education platform that promotes digital financial literacy in DR Congo and across Africa through grassroots initiatives, user cases, meetups, awareness, news, competitions, all aimed at educating individuals, communities, businesses, and merchants on how to adopt and use Bitcoin in their day-to-day financial transactions.
Bitcoin Jamii offers online Beginner courses, guides, practical tips, and market updates for first-timers, experienced investors, and everyone in between. Advance your knowledge for free through their interactive courses.
Here are some of the things that Bitcoin Jamii does to educate people about Bitcoin:
Online Beginner Courses: Online courses designed for beginners, covering the basics of Bitcoin, including its definition, functionality, and usage.
Guides and Practical Tips: Comprehensive guides and practical tips on using Bitcoin safely and securely.
Market Updates: Stay informed with regular market updates, ensuring people are aware of the latest Bitcoin news and trends.
Grassroots Initiatives: Actively engages in grassroots initiatives, user cases, meetups, and awareness campaigns to educate individuals about Bitcoin and its associated benefits.
Competitions: Organizes competitions to encourage learning about Bitcoin and its practical application in everyday life.
Bitcoin Jamii is a valuable resource for anyone who wants to learn more about Bitcoin and how to use it. Their courses and resources are easy to understand and follow, and they are completely free. If you are interested in learning more about Bitcoin, I encourage you to check out Bitcoin Jamii.
Bitcoin Kids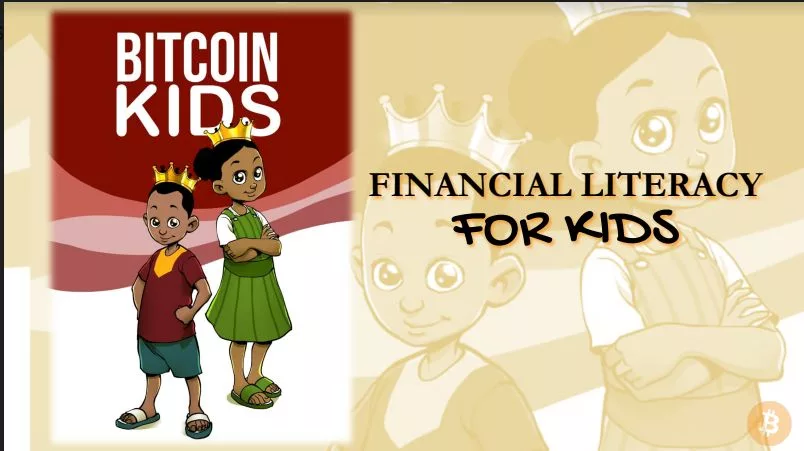 Bitcoin Kids is a captivating and visually appealing book that seeks to provide bitcoin education in Africa while promoting financial literacy among children. This educational resource is primarily designed for kids between the ages of 2 and 15, with parents and relatives also benefiting from its content. The book's author, Nzonda Fotsing Sr, is an experienced Cameroonian digital entrepreneur who brings over 10 years of expertise to this project. With a mission to bridge the digital divide in Africa, Bitcoin Kids aims to empower children by equipping them with vital financial knowledge in a fun and engaging way. Through this initiative, young readers can develop a solid understanding of bitcoin and its potential benefits, setting them on a path towards financial empowerment and technological literacy.
Exonumia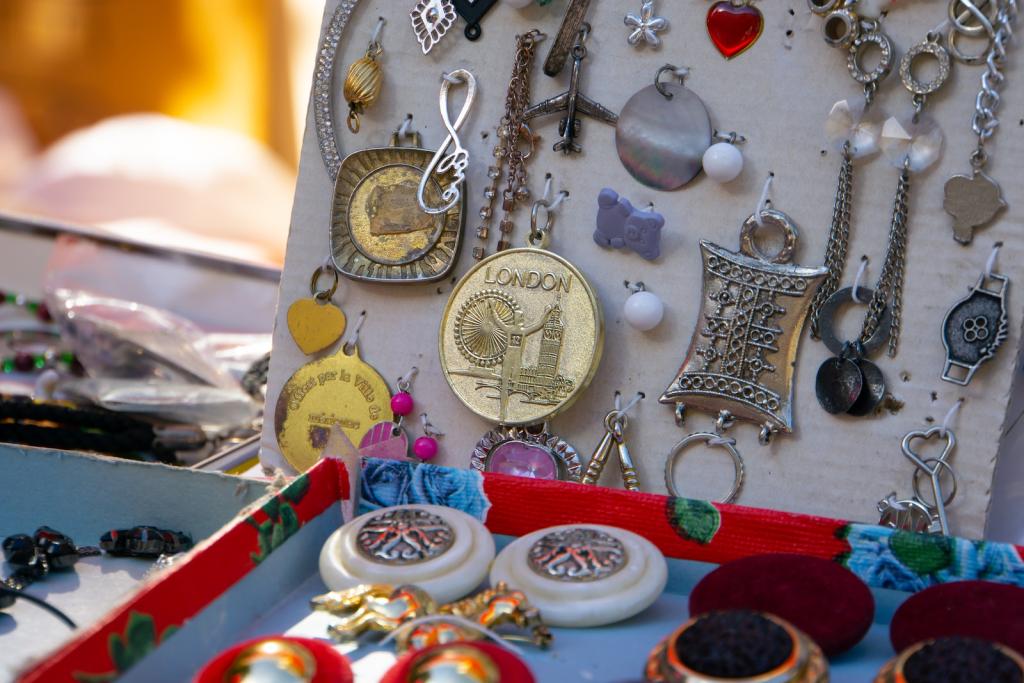 Exonumia, an open-source platform, serves as a valuable resource for bitcoin education in Africa. Managed by the South African non-profit organization of the same name, Exonumia empowers contributors to translate and publish educational content in various languages spoken in Africa.
To date, Exonumia has successfully provided bitcoin-related materials in a wide range of languages, including Oshiwambo, Kirundi, Lingala, العربية (Arabic), Amharic, Twi, Kiswahili, Berber (Arabic script), Chewa, Oshikwanyama, Khoekhoegowab, Oshindonga, Hausa, Igbo, Yoruba, Kinyarwanda, Somali, Forro Creole, Luganda, Shona, Afrikaans, IsiNdebele, Sepedi, Xitsonga, Sesotho, TshiVenda, IsiXhosa, and IsiZulu. This extensive language coverage demonstrates Exonumia's commitment to making bitcoin education accessible to individuals across the African continent, irrespective of their native languages.
Kiveclair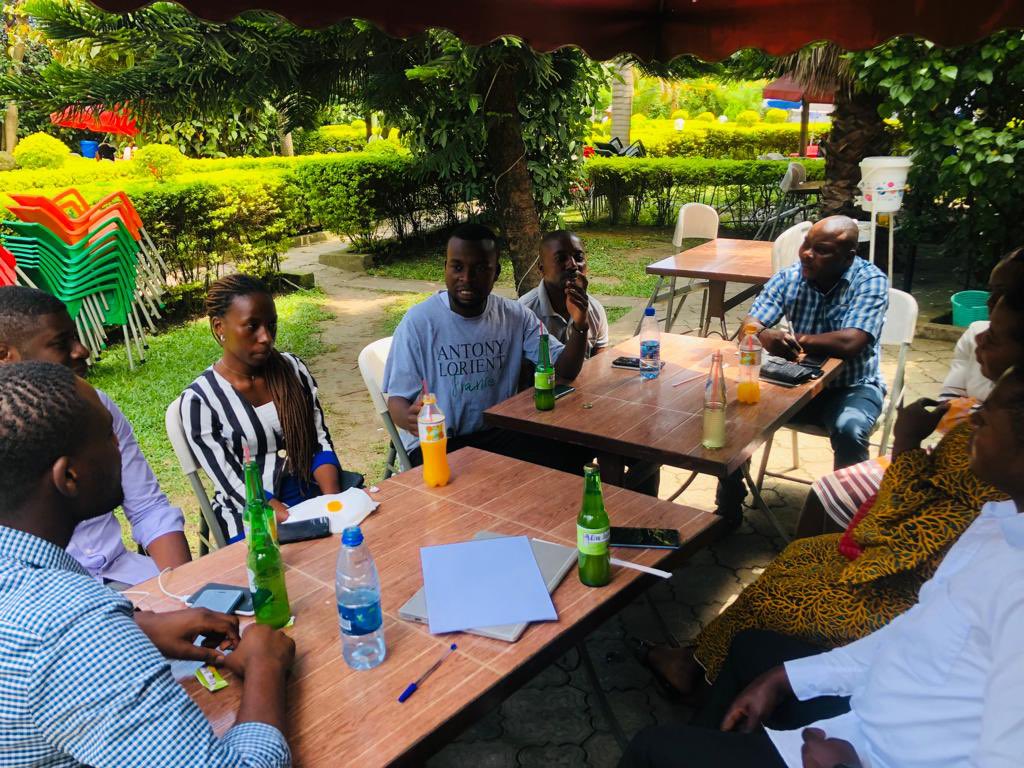 The Kiveclair project has a strong commitment to educating the people of Goma in the Democratic Republic of Congo about the advantages of bitcoin. The project aims to foster financial inclusion and provide support to the underprivileged local population through the use of bitcoin and its Lightning Network. The project is led by bloggers affiliated with Chainglob and inspired by the success of the Bitcoin Beach initiative. Kiveclair is a natural progression from the Lightning Torch campaign launched by Gloire Wanzavalere, which provided crucial assistance to victims of the volcanic eruption in Goma in May 2021, offering hope and aid to those affected by the tragedy.
A Lightning Torch is a social media phenomenon where participants contribute satoshis to a shared pool through successive handovers. Gloire utilized Twitter to initiate a chain of Lightning Network transactions by sharing an invoice and encouraging individuals to send small amounts of bitcoin, paying it forward to the next recipient. The accumulated funds were utilized to assist Goma residents displaced by the volcanic eruption.
The Kiveclair project derives its name from the combination of "Kivu," representing the region where the initiative is being implemented, and "clair," alluding to the Lightning network.
The Bitcoin Innovation Hub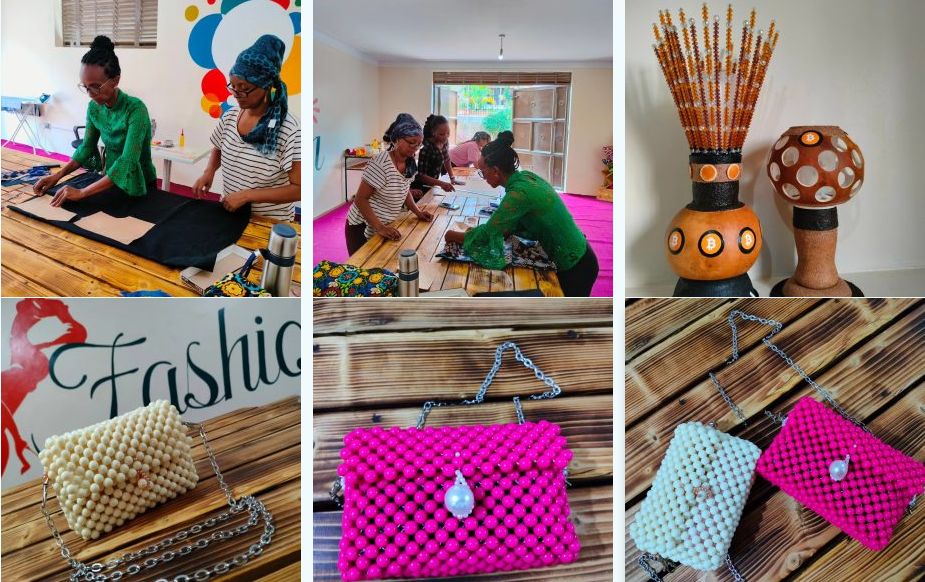 The Bitcoin Innovation Hub in Uganda is a starup that is dedicated to educating Ugandans about Bitcoin promote the adoption and use of Bitcoin in the country.The hub has become a leading center for Bitcoin education in Africa. It also serves as a platform for entrepreneurs, startups, researchers, and businesses to connect, share knowledge, and work together on innovative bitcoin-related projects.
The hub offers a course that provides an introductory understanding of Bitcoin and its use, while also providing basic life skills training in tailoring, fashion and design, art, crafts and design, music and dance, personal fitness training, and kids boxing program.
This is a great way for people to learn about Bitcoin and how it can be used to improve their lives. It is also a great way for people to learn some new skills that can help them get ahead in life.
We welcome any information regarding bitcoin education projects in Africa that may have been overlooked. If you are aware of any such initiatives, please feel free to contact us so that we can include them and ensure a comprehensive representation of the bitcoin education landscape in Africa.