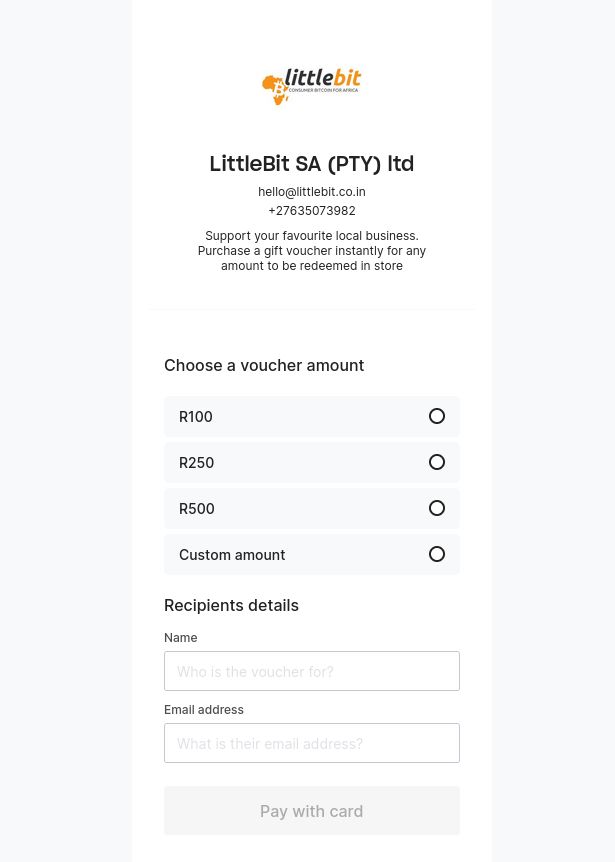 LittleBit: Buy Bitcoin in South Africa
LittleBit is a bitcoin startup focused on advancing the Bitcoin economy in Africa. Currently, operational in South Africa, LittleBit aims to support Bitcoin adoption across the continent.
Description
LittleBit is a bitcoin startup that allows you to buy non KYC bitcoin in South Africa with card, bank transfer and cash. Its primary focus is providing instant bitcoin self-custody purchase and tools tailored to the needs of individuals and businesses across the continent.
While LittleBit's vision extends to serving the needs of individuals and businesses across the entire African continent, it is presently operating exclusively in South Africa.
Our purpose is to become leaders in driving mass adoption of a bitcoin economy in Africa and uniting the entire continent, using bitcoin and it's lightning network technology.
One of the key services offered by LittleBit is an instant bitcoin on ramp through bitcoin Withdraw QR links. This feature enables you to easily buy bitcoin in South Afirca directly to your self-custody wallets, even in small amounts.
In addition, LittleBit equips businesses with the tools and software required to accept bitcoin as a form of payment without any technical knowledge or risk exposure to bitcoin price volatility, as the backend accounting is managed in a stable USD business account. By utilizing the lightning network, companies can utilize LittleBit's Bitcoin Payment Terminals (BPTs) to enable seamless transactions for goods and services. Whether businesses prefer to receive bitcoin to their self-custody wallets or opt for payouts in the local currency (ZAR), LittleBit provides flexible options to accommodate their preferences.
How LittleBit Works
To begin, you can purchase a LittleBit bitcoin voucher via the payment page. The LittleBit voucher offers you a range of choices to suit your preferences. You can opt for one of the predefined amounts, including R100, R250, or R500. If these options don't meet your specific requirements, you also have the flexibility to set up a custom amount of your choosing.
Your voucher code will be delivered to you instantly. LittleBit's system allows you to redeem your bitcoin with a QR code directly into your own custody. Redeeming the LittleBit bitcoin voucher is a straightforward process. You need to provide the unique eight-letter voucher code you received via email along with the desired redemption amount from the stored value in your voucher. This can be done by contacting LittleBit through WhatsApp or email. Notably, the voucher retains the equivalent value of the purchase in ZAR for a period of three years. You can redeem it partially or in full, with a minimum redemption value of R20. Once the payment has been successfully processed and settled to their account, LittleBit will share a bitcoin withdrawal QR to be scanned with your Bitcoin Lightning wallet.
LittleBit accepts payments for bitcoin vouchers through Visa or Mastercard. In addition to Visa and Mastercard payments, LittleBit offers alternative purchasing methods for customer convenience. Customers have the option to buy LittleBit vouchers through OTC (Over-the-Counter) cash or EFT (Electronic Funds Transfer) Bitcoin purchases. These transactions, as well as physical consultations, can be arranged and conducted at LittleBit's premises located at 1 College Avenue, Parklands, Cape Town, 7441.
Virtual consultations are also available upon request, allowing customers to engage with the LittleBit team remotely and receive the necessary guidance and support regarding their voucher purchase.
To access your bitcoin, you must have a lightning and LNURL enabled bitcoin wallet.
Reviews of Lightning and LNURL Wallets
More Information
Additional information
| | |
| --- | --- |
| Bitcoin Only | |
| Lightning Network | |
| LNURL | |
| Wallet Type | |
| Payment Methods | |
| Supported Countries | South Africa |
| Supported Fiat Currencies | |