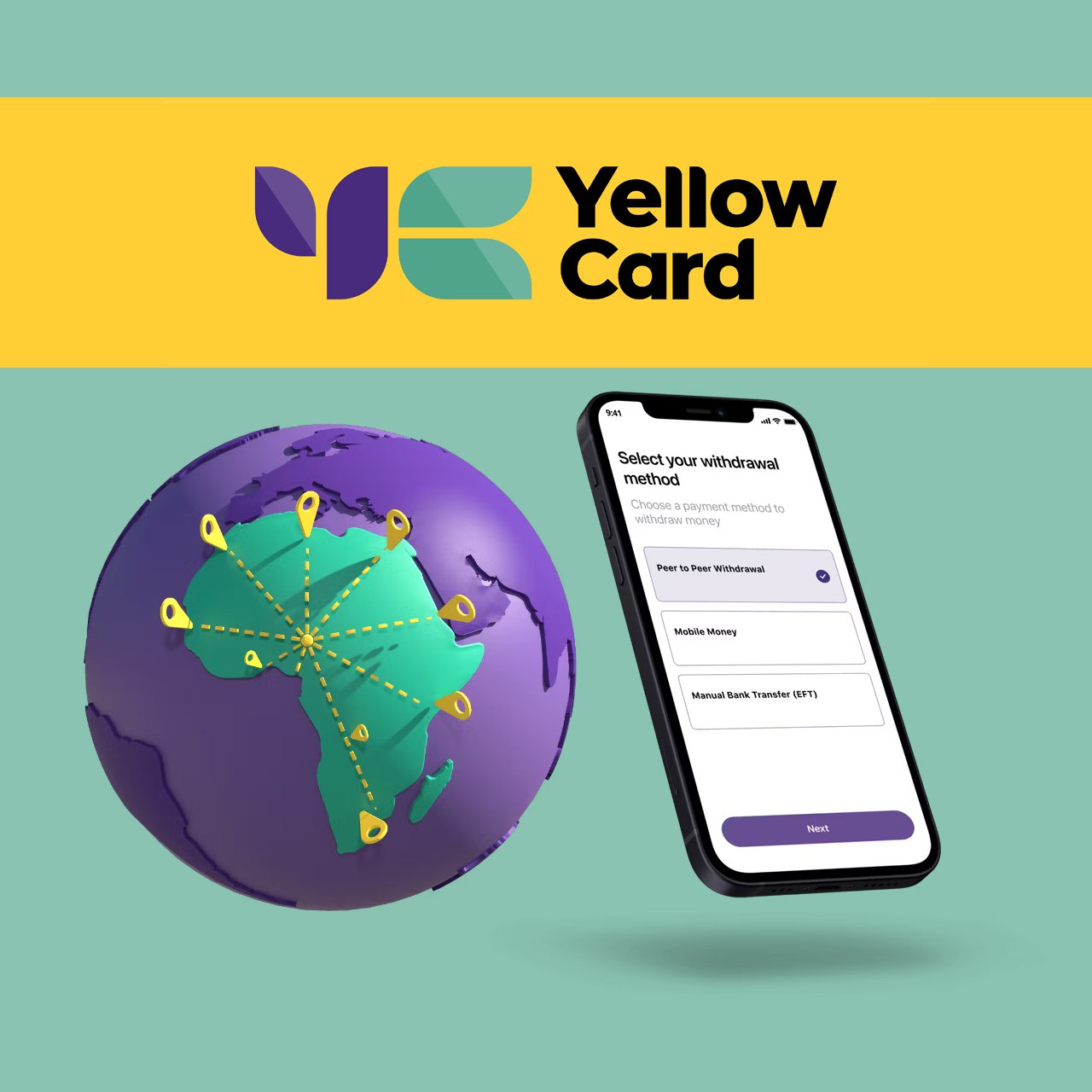 Yellow Card: African Bitcoin Exchange
Yellow Card is an exchange that allows users to buy, sell, send, and receive bitcoin in Africa. It also includes a function Yellow Pay, allowing for the transfer of funds across African borders.
Description
Yellow Card is a bitcoin exchange focusing on the African market. It offers buying and selling of bitcoin, fiat on-and-off ramps, and an API for businesses. It enables bank and mobile money transfers and peer-to-peer trading (only in Nigeria). The service is available in English and French.
How Yellow Card Works
To start using Yellow Card, sign up on its website or download an app for iOS and Android devices and create an account.
Please note that to have a Yellow Card account, you must be 18 years old at the time of account creation.
Upon signing up, the service will automatically assign you Tier 1. It means you can buy, sell and receive bitcoin and other cryptocurrencies, but depositing and receiving money via Yellow Pay and withdrawing in local currency will be limited. The exchange recommends passing the KYC verification process to access all its features. It includes Tier 1 – verify your identity providing your ID and a selfie (Nigerian residents should follow this instruction); Tier 2 – enter your home address and upload proof of residency; Tier 3 – proof of income or source of funds and no conviction document (not for all countries) are inquired; Tier 4 – this verification is intended for businesses. Check out the documentation required per country here.
Your account balance can be topped up with 13 fiat currencies (via bank transfer and Mobile Money) or bitcoin. The 13 fiat currencies are the Nigerian Naira, Kenyan Shilling, Central African CFA Franc, West African CFA Franc, Tanzanian Shilling, Congolese Franc, South African Rand, Botswana Pula, Ugandan Shilling, Malawian Kwacha, Zambian Kwacha, Ghana Cedi, and the Rwandan Franc. Additionally, Nigerians can purchase bitcoin via P2P. You will be given a wallet address to send bitcoin. You can either copy it or scan the QR code.
Buying and selling take place on the dashboard by selecting the "Buy" or "Sell" buttons and the purchase amounts of assets, respectively. If you want to withdraw fiats, choose a bank transfer or a mobile money method. This process usually takes a few minutes for mobile money, while bank transfers take 1-2 business days. Withdrawing bitcoin is possible into any bitcoin wallet worldwide. It will be enough to enter the bitcoin address you want to send sats to.
Through Yellow Pay, a Yellow Card money transfer service, users can instantly transfer money across Africa. It allows for instant cross-border transactions, converting your local currency to the USDT stablecoin and then back to the recipient's local currency. Yellow Pay is not a money remittance or foreign currency exchange service.
Yellow Card also proposes an Over-the-Counter (OTC) trading service with deep liquidity pools and competitive rates. OTC trading is operational across all Yellow Card regions in Africa, with a minimum transaction size of $50,000.
The Yellow Card API offers a set of features that include local fiat on-and-off ramp solutions, enabling peer-to-peer, bank, and mobile money transfers in 16 African countries. Businesses can also track real-time customer transactions, manage deposits, withdrawals, and balances through the Yellow Card business dashboard.
Supported Countries
Yellow card services are available in 17 African countries: Kenya, Rwanda, Tanzania, Uganda, Côte d'Ivoire, Ghana, Nigeria, Senegal, Togo, Cameroon, the Democratic Republic of the Congo, Gabon, the Republic of the Congo, Botswana, Malawi, South Africa, Zambia.
Yellow Card Fees
Buying and selling bitcoin has zero fees. Other fees vary by country. You can check the fees for each supported country here.
Is Yellow Card Safe?
Yellow Card is committed to anti-money laundering (AML) regulations and has a stringent Know Your Customer (KYC) process to prevent financial crimes. Yellow Card also upholds UN Security Council Resolutions (UNSCRs) for financial institutions. Although Yellow Card primarily focuses on Africa, it meets US tax requirements.
While no online platform can guarantee 100% security, we strongly advise you to remove your bitcoin from exchanges as soon as possible after purchasing or selling bitcoin. Moving your bitcoin to a custodial wallet such as Muun protects you from losing your fund. Many exchanges that have collapsed with users' funds.
Yellow Card Alternatives (Buy Bitcoin in Africa)
More Information
Additional information
| | |
| --- | --- |
| Bitcoin Only | |
| Over-The-Counter Trading (OTC Trading) | Yes |
| KYC | |
| Type of Exchange | |
| Operating System (OS) | |
| Mobile App | Yes |
| Payment Methods | |
| QR Code | Yes |
| Lightning Network | |
| API | Yes |
| Supported Languages | |
| Supported Countries | Africa |
| Wallet Type | |
| Headquarters | United States |
| Year Launched | 2019 |