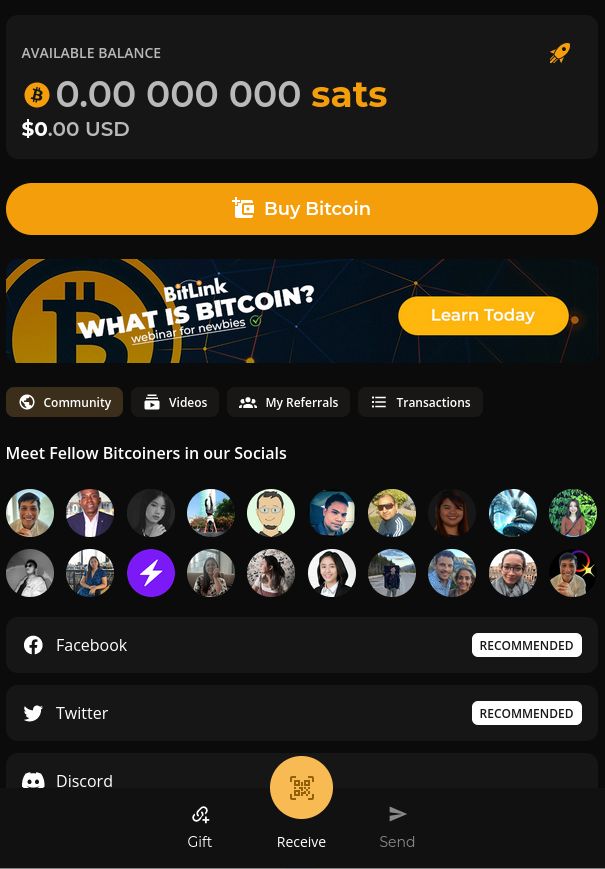 BitLink: Send Bitcoin to Friends With URL
BitLink is a new web wallet that lets you easily send or spend bitcoin. It also offers a special feature that allows you to send bitcoin as a gift using a link.
Description
BitLink is a new web wallet that is currently under development. It functions as a Lightning bitcoin web wallet. While still in its development phase, BitLink offers full functionality, allowing you to send or spend the available bitcoin within the wallet. One of its standout features is the ability to buy bitcoin peer-to-peer without the need for KYC procedures. The unveiling of BitLink took place at Bitcoin Conference 2023 in Miami, showcasing its potential in the bitcoin community.
How to Start Using BitLink
To start using BitLink, there is no traditional sign-up process. Instead, you can simply log in using your Google/Gmail account. Alternatively, you can unlock the wallet by depositing bitcoin into the wallet without login in. Upon logging in, you are directed to your personalized dashboard, which provides a range of features. These include options to buy bitcoin, send and receive funds, access the community, participate in referrals, view transactions, watch educational videos, and engage with the "Learn Today" webinar specifically designed for newcomers to the world of bitcoin.
How BitLink Works
The process begins with depositing bitcoin into the BitLink wallet. Once funds are available, you can create a new BitLink that contains some bitcoin and share it to your friends and family via any messenger apps like WhatsApp, Viber, Messenger or SMS. The advantage is that recipients do not need to navigate through complex steps such as wallet installations, account creation, or providing personal information (KYC). BitLink serves as an educational tool, introducing recipients to bitcoin and acting as their first wallet to store and manage their funds.
It is crucial to keep the BitLink URL confidential, as anyone with access to it can also access the associated funds. Even the BitLink team cannot assist in recovering lost or forgotten BitLink URLs. However, if users have created an account with BitLink login, they can easily recover their funds by logging in again on their wallet section. In the event of suspected compromised security, generating a new BitLink is recommended, preventing the original sender from accessing the funds.
If you are interested in sending bitcoin to a Lightning wallet using the Lightning Network, the following steps should be followed. First, navigate to the "Send" section within the BitLink wallet. Select the option to send bitcoin and choose "via Lightning Network" as the transfer method. Provide the BTC Lightning address of the recipient or scan their QR code. Finally, click "Send" to make the transfer.
If you are looking for BitLink recommended Lightning wallets, there are several options worth considering. They include Wallet of Satoshi, Muun, and Blink Wallet (supports USD savings). In the Philippines, you can utilize Pouch.ph for converting Lightning to Philippine Pesos.
Please note that the "Buy Bitcoin" feature of BitLink is currently in beta. It allows you to buy bitcoin through a chat box. Although this method may feel unconventional, rest assured that it is legitimate. The BitLink community team is available to assist you in the buying process.
BitLink is actively developing new features to enhance its services. In the future, the wallet will transition to a non-custodial model, providing you with more control over your funds. You will also be able to send your bitcoin to centralized exchanges through on-chain transactions. Additionally, you will have the ability to send bitcoin to Philippine bank accounts and use popular services such as Instapay, Maya, or GCASH.
BitLink Referral Program
BitLink's referral program is designed to reward you for your efforts. As your referred friends purchase bitcoin, you earn 0.5% of the total amount they spend forever. There is no referral code. You need to send a new BitLink to your friend that you want to refer. Payouts are sent to you in real-time.
BitLink Fees
BitLink charges a 1% fee when purchasing Bitcoin (BTC) through credit card, bank deposit, or peer-to-peer transactions. Additionally, a 1% fee is applied for creating new BitLinks. However, all outgoing transactions, whether it's sending to another BTC Lightning wallet or a bank account, are completely free of charge, with a 0% fee.
More Information
BitLink Alternatives
Additional information
| | |
| --- | --- |
| Bitcoin Only | |
| Lightning Network | |
| Wallet Type | |
| Web-Based Interface | |
| Mobile App | No |
| Desktop Version | |
| Built-in Exchange | |
| Type of Exchange | |
| Referral Program | Yes |
| Year Launched | 2023 |