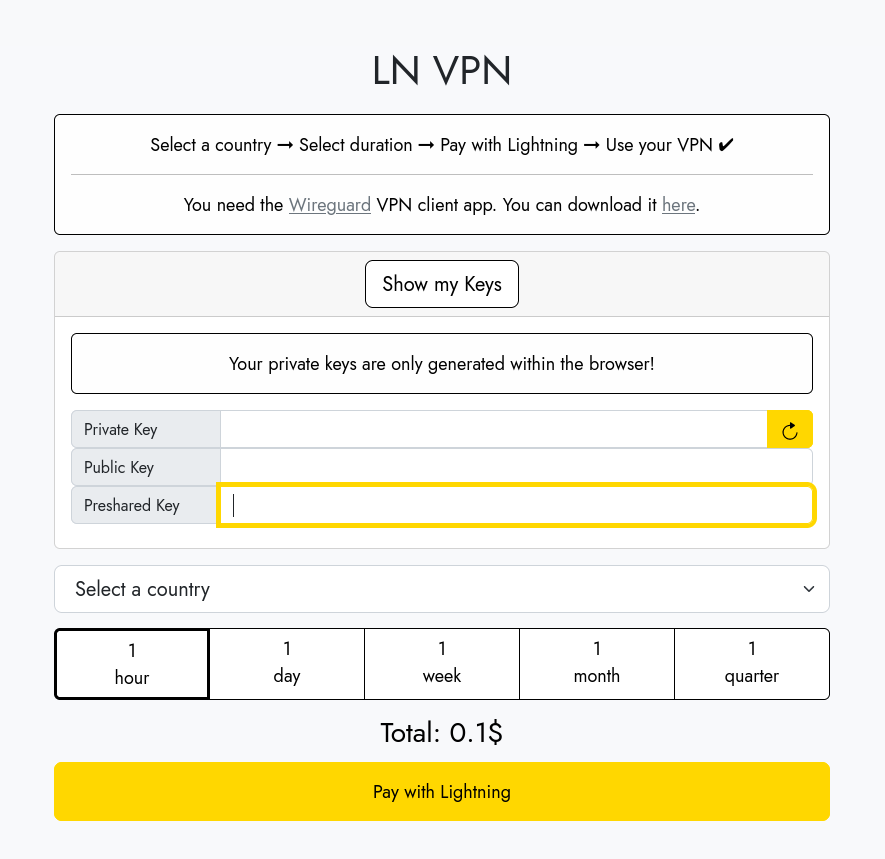 LNVPN: Pay For VPN With Lightning in Africa
LNVPN is a VPN service that enables people in Africa to use privacy tools without needing a PayPal account or credit card. It is a pay-as-you-go service that accepts payment through bitcoin Lightning. It was built by Berlin Bitcoiners.
Description
LNVPN is a VPN pay-as-you-go service that allows people in Africa to access privacy tools like VPNs and a disposable phone numbers without the need for a PayPal account or credit card. It is paid via bitcoin Lightning and offers VPN connections on servers in different African countries for one hour at only 10 cents in USD. Users do not need an account, credit card or email address to use the service, making it a cost-effective, flexible, and secure option for users on the continent.
VPN is an abbreviation for Virtual Private Network. It is a service that allows you to connect to the internet securely while also protecting your online privacy and security by establishing an encrypted tunnel between your device and the VPN server.
How LNVPN Works
VPN
LNVPN website allows you to generate WireGuard VPN keys using JavaScript in your browser. First, choose the country where you want your VPN endpoint to be located and how long you want your connection to last. Click "Get Invoice" to receive a QR code, which you can scan using a Bitcoin Lightning-capable wallet such as Phoenix, Muun, Breez, or BlueWallet. Once you have successfully paid, the website will reload, displaying a new QR code and the message "PAID." You can then scan the QR code with the WireGuard App on the Google Play Store or Apple App Store. If you want to use the VPN connection on your PC or Mac, you can download the WireGuard configuration file and import it into WireGuard for Windows or MacOS, or use it in CLI/Linux. You can also email the configuration to yourself to use on another device in the future.
Many people in Africa don't have the privilege of a PayPal account or credit card, so they are not able to pay for privacy tools like VPNs. Many services in the western world are only available with a IP address from the US, Europe or similar developed countries. This is not fair! That is why we built LNVPN. All you need is a smartphone with a Lightning wallet and about 10 cents in US dollar.
Burner Numbers
LNVPN's burner phone numbers are an effective tool for safeguarding your privacy and security, especially when engaging in online activities that require you to keep your personal information confidential. They offer a convenient solution to combat spam calls, phishing attacks, and various types of phone scams.
To use the service, activate your desired services anonymously in just a few clicks with these instructions:
Select your desired country and service.
Pay the Lightning Network invoice.
Receive the requested SMS code.
If the SMS code is not received successfully, your payment will be automatically cancelled and funds will be returned to your wallet.
How Private And Anonymous Is LNVPN?
LNVPN does not use cookies and only stores the first half of your IP address in their webserver logs. The website also stores your WireGuard public key, PSK, and bandwidth usage on their VPN endpoints. However, they only keep your IP address in memory while you are actively connected to a LNVPN VPN endpoint. After 5 minutes of inactivity, your IP address is removed from memory, without storing it on disk. Since LNVPN only accept Bitcoin Lightning as payment, they cannot trace the source of your payment. If you choose to send your WireGuard configuration via email, it will be sent through Sendgrid.
Data Transfer Limit
The data transfer limit for LNVPN is as follows: 1 hour of usage allows for 1 GB of data transfer, 1 day allows for 5 GB, 1 week allows for 15 GB, 1 month allows for 40 GB, and 3 months allows for 90 GB of data transfer.
More Information