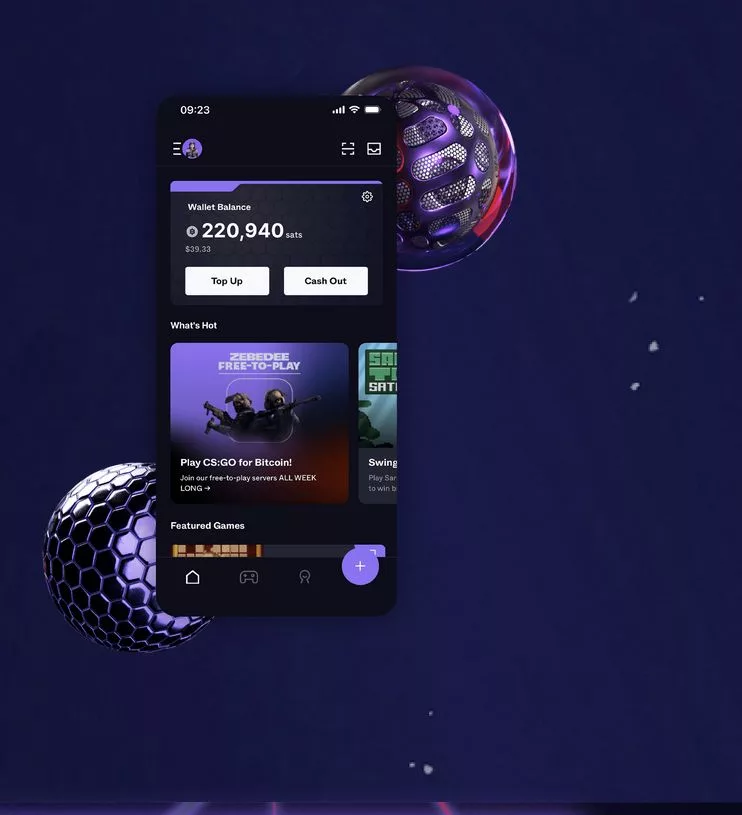 Zebedee: Earn Bitcoin Playing Games
Zebedee is a developer of desktop and mobile games that allow you to earn bitcoin, spend it, and tip others.
Description
Zebedee is a company that develops desktop and mobile games in which you can earn bitcoin. The company's goal is to make it simple for players to earn and spend bitcoin within their games, as well as to promote bitcoin use in the gaming industry. The free sats are provided by sponsors and brands.
How Zebedee works
To use Zebeee, you need to download the Zebedee games app from the App Store, Google Play Store, Chrome or Firefox.
When you completes a level, achieves a high score, or reaches a certain milestone, you are rewarded with a small amount of bitcoin that is sent directly to your bitcoin wallet.
The company has integrated a custodial bitcoin wallet into their games, allowing players to easily manage and spend their earnings. However, you can withdraw the funds to your own noncustodial wallet or deposit to bitcoin exchanges that support the Lightning Network. Some examples of these wallets and exchanges include Muun, Exodus, CoinCorner, OKCoin and Bitfinex. They also have a built-in exchange system where players can trade bitcoin with one another.
In addition to transferring bitcoin, you can spend your sats (the smallest unit of bitcoin) on a variety of activities. Tipping other players is one of these actions.
This is possible with Zebedee Bots on platforms like Discord and Telegram. You can also tip content creators and streamers on platforms like YouTube, Twitter and Twitch by sending sats to anyone who has a Zebedee wallet. Finally, you can use your sats to shop online using apps like Bitrefill and Moon. These apps allow you to use your Bitcoin to buy a variety of goods and services.
Zebedee games
Games that are available on the platform include the following:
Bitcoin Chess (iOS and Android). The classic strategy game.
Bitcoin Scratch (iOS and Android). Receive packs of scratch cards and earn bitcoin if you score combos.
Counter-Strike Global Offensive (desktop) with ZBD Infuse. One of the most popular competitive FPS games.
ZEBEDEE Karts (Bitcoin Rally) (desktop). A fun multiplayer arcade racer with a twist: anyone watching you play has the ability to drop hazards or power-ups on the racetrack.
SaruTobi (iOS, Android). A casual game in which you fling a little monkey through a jungle in search of bananas (or bitcoin).
Lightning Crush (Android). A match-3 game similar to Candy Crush, but with real money at stake.
Balls King (iOS, Android). The addictive bitcoin brick-breaker game for your smartphone.
Wheel of Crypto (iOS, Android) Spin the wheel and answer the questions to win more bitcoin.
Amazeballs (iOS, Android). A puzzle game that allows you to earn bitcoin by playing.
Wheel of Trivia (iOS, Android). Trivia fans, get rewarded for your knowledge.
Bitcoin Bounce (iOS, Android) A mobile platformer in which you use your finger to bounce a bitcoin across a virtual blockchain and compete for rewards.
Turbo 84 (iOS, Android) A mobile lane-changing racer in which you accumulate speed, avoid obstacles, and collect power-ups.
More information
Additional information
| | |
| --- | --- |
| Bitcoin Only | |
| Lightning Network | |
| Mobile App | Yes |
| Operating System (OS) | |
| Browser Extension | Chrome, Firefox |
| QR Code | Yes |
| Built-in Exchange | Yes |
| Wallet Type | |
| Discord Bot | Yes |
| Telegram Bot | Yes |
| API | Yes |
| KYC | |
| Source Code | |
| Year Launched | 2019 |
| Made in | USA |