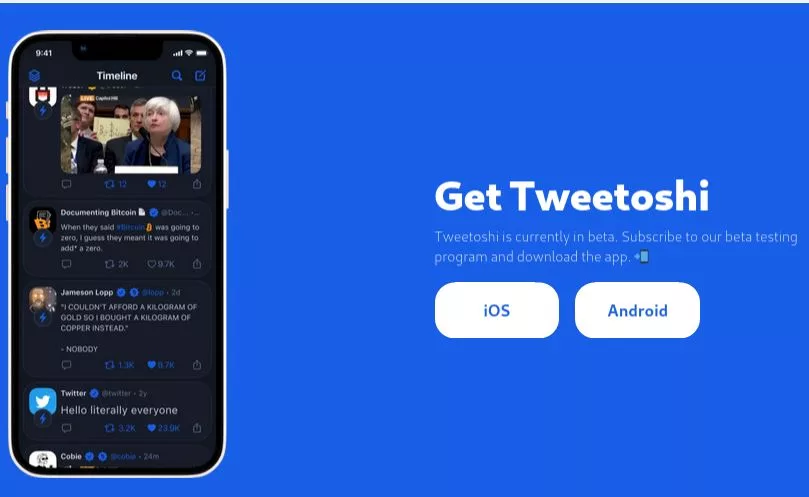 Tweetoshi: Earn Bitcoin for Using Twitter
Tweetoshi is a Twitter client that splits revenue with users and features an integrated Lightning Network for tipping content creators with no KYC.
Description
Tweetoshi is a startup based in the Czech Republic that pays users with bitcoin for using Twitter and allows users to send bitcoin to one another on Lightning Network. As a Twitter client, Tweetoshi displays everything on Twitter. It is available for Android and iOS.
Anyone who uses Twitter may now get started and earn bitcoin "for doing what they do every day anyhow." Furthermore, as the price of Bitcoin rises, the value of the awards may rise as well. All of this is only feasible because of bitcoin's lightning-fast and low-cost second layer, the Lightning Network.
How Tweetoshi works
You don't need any new account. You simply log into Tweetoshi with your existing Twitter account. When you log into to Tweetoshi, you will get a built-in Bitcoin Lightning Network (LN) wallet that is linked to your Twitter account. You can deposit and withdraw funds at any time with no fees.
Tweetoshi wallet is not designed to keep huge amounts of bitcoin. Therefore, it's recommended that you keep only enough to tip content creators and store the rest on no-custodial wallets supporting Lightning such as Muun and BlueWallet.
Once you log in, you can browse your favorite tweets in the same way as you would on Twitter. In addition, you may also receive a tip from other Tweetoshi users who like your content.
Tweetoshi earns money from advertisements. You can buy a premium plan to remove all advertisements.
Benefits of Tweetoshi
Collect rewards. You will automatically receive some sats for using Tweetoshi. Simply check Twitter to see new content and get bitcoin.
Sat a Tweet. Show your appreciation by tipping content creators with a couple of sats. It might be sats that you deposited or received when using Tweetoshi. There is no need for KYC.
It's like Patreon but with no fees & thanks to Bitcoin and its second layer – Lightning network – it is lightingly fast!
More information
Additional information
| | |
| --- | --- |
| Lightning Network | |
| Bitcoin Only | |
| Wallet Type | |
| Mobile App | Yes |
| Operating System (OS) | |
| Year Launched | 2021 |
| Made in | Czech Republic |