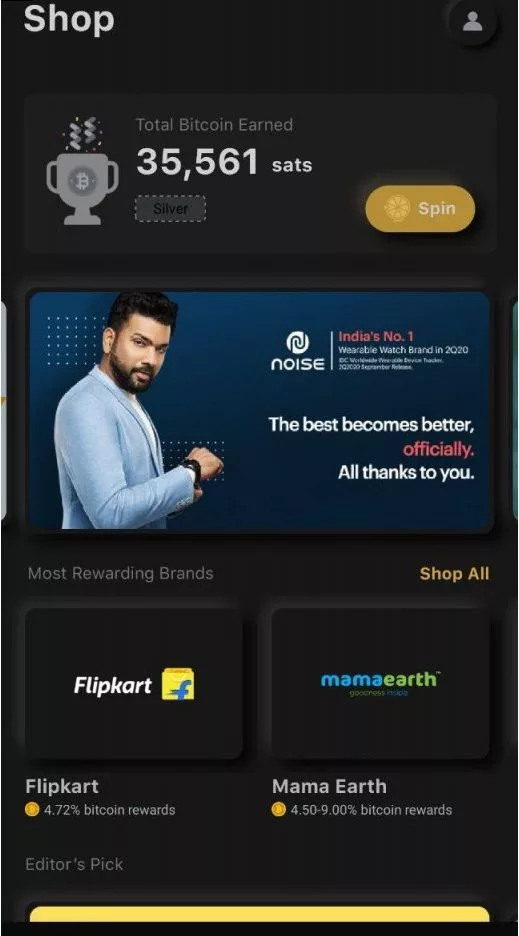 GoSats Review: Earn Bitcoin Rewards in India
GoSats prepaid card is India's first card that rewards free bitcoin for shopping. The app features brands such as Flipkart, Amazon, Swiggy, Big Basket, Mama Earth, Dominos, Adidas, One Plus, Tata Cliq, ClearTrip and Myntra.
Description
GoSats allows you to earn bitcoin as a reward for shopping with the GoSats app or making payments with the GoSats Bitcoin Rewards Card in India. There are no expiry dates or minimum purchase requirements. The app features more than 120 brands including the likes of Flipkart, Amazon, Swiggy, Big Basket, Mama Earth, Dominos, Adidas, One Plus, Tata Cliq, ClearTrip and Myntra.
How to Get GoSats Card and How It Works
The brands on the platform pay a commission for bringing them customers and sales. GoSats takes that commission, convert it into bitcoin and pass it on to users.
The GoSats app is available for both Android and iOS devices, as well the GoSats Chrome extension. GoSats offers brand vouchers/gift cards of major brands including Uber, Starbucks, Grofers, BookMyShow, and others on the app where you get instant bitcoin rewards every time you make a voucher purchase. You can also share your referral link with your friends and family. When they sign up using your code, you both get 2000 sats on their first purchase.
After the payment is successful, a cashback of up to 20% (depending on the brand) is credited into the user's GoSats bitcoin wallet. For GoSats withdrawal to your non-custodial wallet, you need to head over to the wallet section of your app and tap the withdraw button. Once you fill in and confirm your withdrawal details, the order will be processed in the next batch. All withdrawal requests are processed at 6 pm on Wednesdays. There are no fees on all your withdrawals.
What is the monthly limit for the GoSats prepaid card? The monthly limit for the GoSats prepaid card is Rs 10 lakhs, Rs24 lakhs yearly and Rs10 lakhs daily.
How to Use GoSats Card
The GoSats Bitcoin Rewards Card is a prepaid virtual and physical card that allows you to earn bitcoin rewards on every INR transaction, whether it's shopping or monthly payments. Because it is a prepaid card, it must be topped up using the app before it can be used. The card can be topped up through the GoSats app or UPI deposits through GPay, PayTM and PhonePe. The app supports all types of payments to load the card. Linking of accounts is not required. The card can be used for both online and offline transactions at any PoS device. At the moment, the card can only be used in India.
GoSats Card Benefits
The benefits of the GoSats card include a fixed reward percentage for both the Intro and Elite cards, with the Intro card offering 0.5% and the Elite card offering 1.5%. Additionally, there is a variable reward percentage, with the Intro card offering up to 25% and the GoSats Elite card benefit is up to 100%. The deposit bonus for the Intro card is ₹100, while the Elite card offers ₹1250. Both cards provide boosted cashback.
GoSats Card Charges
There are two types of GoSats card, GoSats Intro and GoSats Elite. The Elite Card comes with an annual fee of Rs.999 and provides 1.5% cashback on all transactions over Rs.200, along with a deposit bonus of Rs.250. On the other hand, the Intro Card incurs a one-time fee of Rs.499 and offers 0.5% cashback on all spends above Rs.200, as well as a deposit bonus of Rs.100.
Is GoSats Legit?
GoSats, a legitimate startup based in Bengaluru, has gained the affection of Bitcoin enthusiasts in India. Within just over a year of its launch, the platform succeeded in enlisting over 100,000 users. The application enables users to transfer their earnings to their self-custody wallet, guaranteeing the safety of their funds.
Now let us look at how a Bitcoin cashback appeals to different types of people:

You are a believer in Bitcoin – then you would want to stack more Bitcoin, usually, people do it by buying it on exchanges but receiving cashback in Bitcoin every time they shop online is a no-brainer.

You are new to Bitcoin – One of the common patterns that I have observed is that when people hear about Bitcoin for the first time, they are skeptical about it. Which means they are not going to invest their hard-earned money right away, which is where Bitcoin cashbacks can be a great fit.

This can be a great way for newbies who have just learned about Bitcoin to get their hands on their first satoshis. There is no risk involved since there is no investment of money involved, they earn Bitcoin for free when they shop online. — GoSats blog
More Information
Additional information
| | |
| --- | --- |
| Bitcoin Only | |
| Mobile App | Yes |
| Operating System (OS) | |
| Browser Extension | Chrome |
| Wallet Type | |
| KYC | |
| Referral Program | Yes |
| Made in | India |
| Year Launched | 2021 |