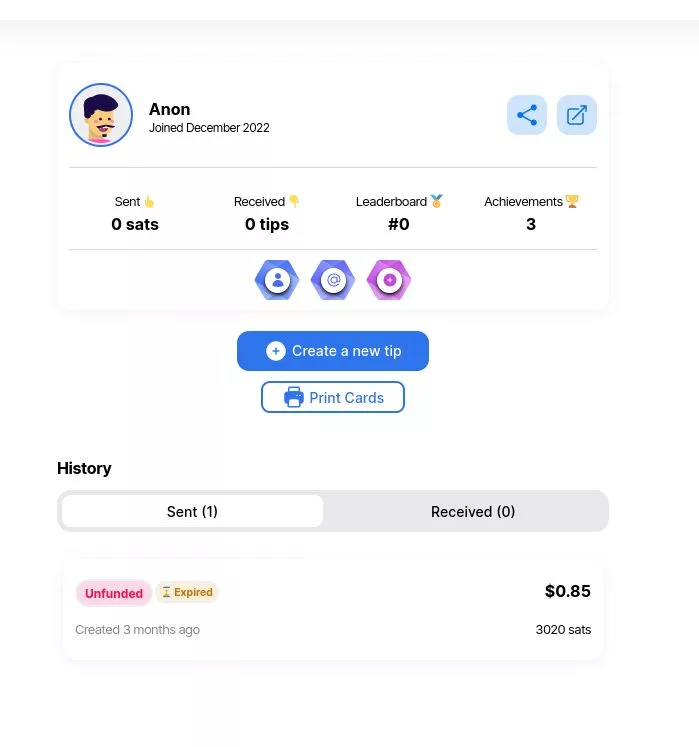 Lightsats Review: Send Sats as Gifts
Lightsats is a platform that allows Bitcoin enthusiasts to send sats as tips or gifts to others without needing to guide the recipient through the onboarding process.
Description
Lightsats is a platform designed for Bitcoin enthusiasts to easily send sats as tips or gifts, without the need to guide the recipient through the onboarding process or risk losing their sats. The platform provides the recipient with a comprehensive set of user instructions, which includes downloading a Lightning wallet, to familiarize them with how bitcoin and the Lightning Network operate. Furthermore, if the recipient fails to withdraw their tip promptly, the sender can reclaim their sats via the Lightsats platform.
How Lightsats Works
To use Lightsats, you have the option to sign up either by scanning the QR code using a Lightning wallet or by using your email or phone number. Once your account is confirmed, you can proceed to create your first tip.
There are three options for onboarding your bitcoin recipients: Standard, Skip, and Lightning. For the Standard onboarding flow, the recipient can claim the tip using any login method, such as email or phone number. After claiming the tip, the recipient will go through a short onboarding process before being able to withdraw the tip. The Skip option allows the recipient to directly withdraw the tip without logging in or going through any onboarding process. The Lightning option suggests using a lnurl-auth compatible Lightning wallet and only allows claiming with Lightning. LNURL-auth is a technology that enables users of the Lightning Network to log into third-party services using their Lightning accounts.
You can set a duration for the tip to return to you if the recipient has not claimed it. Additionally, you can choose to send the tip anonymously or not. You can also leave a note to the recipient. If you are sending a printed tip, you can generate a passphrase for the recipient to enter here. This option for printed tips is for recipients who cannot scan a QR code. There's a new feature on the platform that allows you to tip in bulk.
Sats recipients will be shown how to safely withdraw their bitcoin to a Lightning wallet and all the ways they can use their funds. Moreover, the Lightsats Dashboard includes a guide that outlines various ways to use bitcoin, including spending, earning, saving, and donating.
Wallets that are compatible with Lightsats include Alby Wallet, Muun, Strike, Breez Wallet, Wallet of Satoshi, Zeus, Phoenix, and Zebedee.
More Information
Additional information
| | |
| --- | --- |
| Bitcoin Only | |
| Mobile App | No |
| Lightning Network | |
| QR Code | Yes |