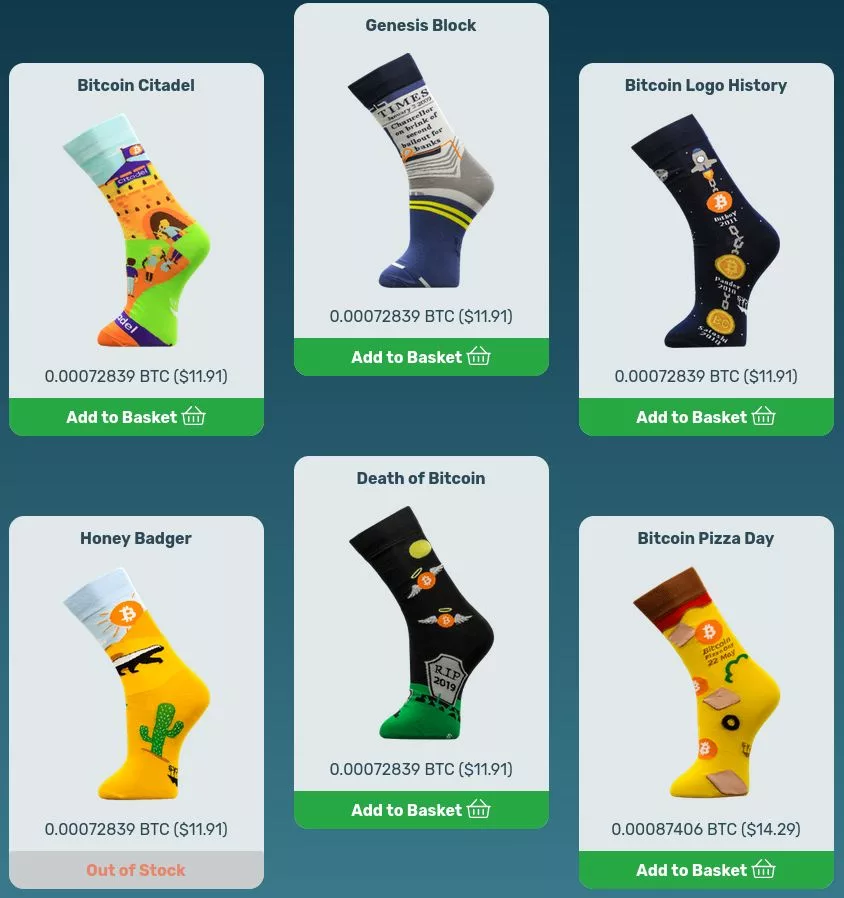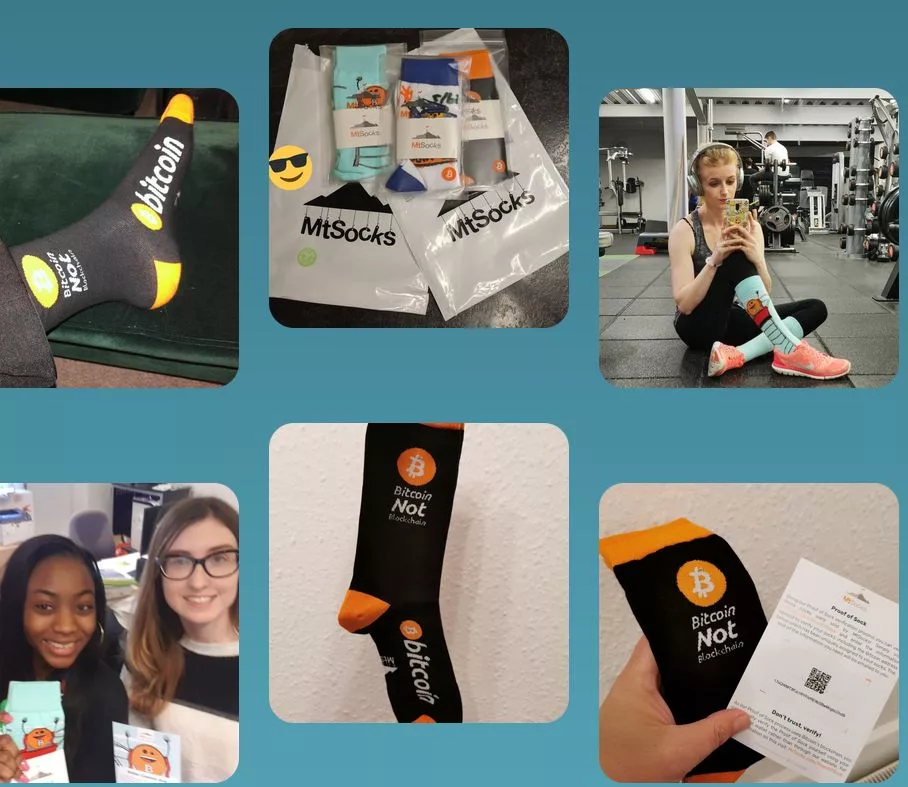 MtSocks: Bitcoin Education Socks
MtSocks is a company that sells socks with bitcoin messages as a way to educate people about the history of bitcoin and show how it can be used in everyday life.
Description
MtSocks is a company that uses socks as a way to educate people about the history of bitcoin and demonstrate how it can be used in everyday life. Through their socks, MtSocks aims to provide information about bitcoin and its role in the world of finance and technology. The socks can be delivered in the countries listed here. You can choose to buy for yourself or as a gift for someone else by entering their shipping details at checkout.
Each of the socks offered by MtSocks has been designed with inspiration from events and developments within the bitcoin industry. Each design comes with a detailed explanation, and can be verified as genuine through a "Proof of Sock" check. This allows customers to confidently wear socks that are not only stylish and unique, but also representative of the bitcoin industry and its history.
MtSocks is a product of CoinCorner, a bitcoin-only exchange for buying and selling bitcoin with a credit card, debit card, SEPA, or bank transfer.
MtSocks…sound familiar? A play on the name MtGox – one of the world's most iconic (but now defunct) Bitcoin exchanges.
Why are the socks special?
Bitcoin Education. With every purchase of MtSocks, customers will receive an informational card that explains the history and significance of the sock design within the bitcoin industry. Customers are encouraged to share their new knowledge with friends and family, spreading awareness and understanding of the bitcoin industry.
Finite Supply. The limited supply of bitcoin is one of the factors that contributes to its value and desirability. MtSocks has incorporated this concept into their business model by releasing a new sock design on the first day of every month, but with a limited number available for purchase. This creates a sense of exclusivity and rarity for the socks, similar to the finite supply of bitcoin itself. Once the limited supply of a particular sock design is sold out, it will no longer be available for purchase. This ensures that customers can own a unique and sought-after item, while also aligning with the principles of bitcoin.
Proof of Sock. MtSocks has a strong focus on education and wants to showcase the lesser-known, but impressive capabilities of bitcoin. One such feature is the ability to sign a message using a private key to prove ownership of a bitcoin address. To demonstrate this, MtSocks includes a unique signature with each pair of socks they sell. This signature serves as proof that the socks were exclusively sold by MtSocks and adds an extra layer of authenticity and security for customers. By highlighting this feature of bitcoin, MtSocks aims to educate and inform their customers about the capabilities of bitcoin.
Buy With Bitcoin. MtSocks is a strong advocate for the use of bitcoin as a means of payment and believes it has the potential to shape the future of financial transactions. In support of this belief, MtSocks is requesting that customers pay for their products using bitcoin only. By accepting bitcoin as a form of payment, MtSocks is actively contributing to the growth and development of bitcoin as a viable payment option for the future.
Supporting Bitcoin Core Foundation. As a company that strongly believes in the potential of bitcoin and its role in the future of finance, MtSocks is committed to supporting the ongoing development and maintenance of the bitcoin network. To this end, they donate 5% of their profits from sock sales to the Bitcoin Core development team. The Bitcoin Core team consists of dedicated individuals who work on testing, developing, and maintaining the bitcoin software, and their efforts are crucial for the continued success and growth of bitcoin as a global phenomenon. By supporting the Bitcoin Core team, MtSocks is helping to ensure that the bitcoin network remains strong and secure for the benefit of all users.
More information
Additional information
| | |
| --- | --- |
| Bitcoin Only | |
| Size | UK 7-12, unisex |