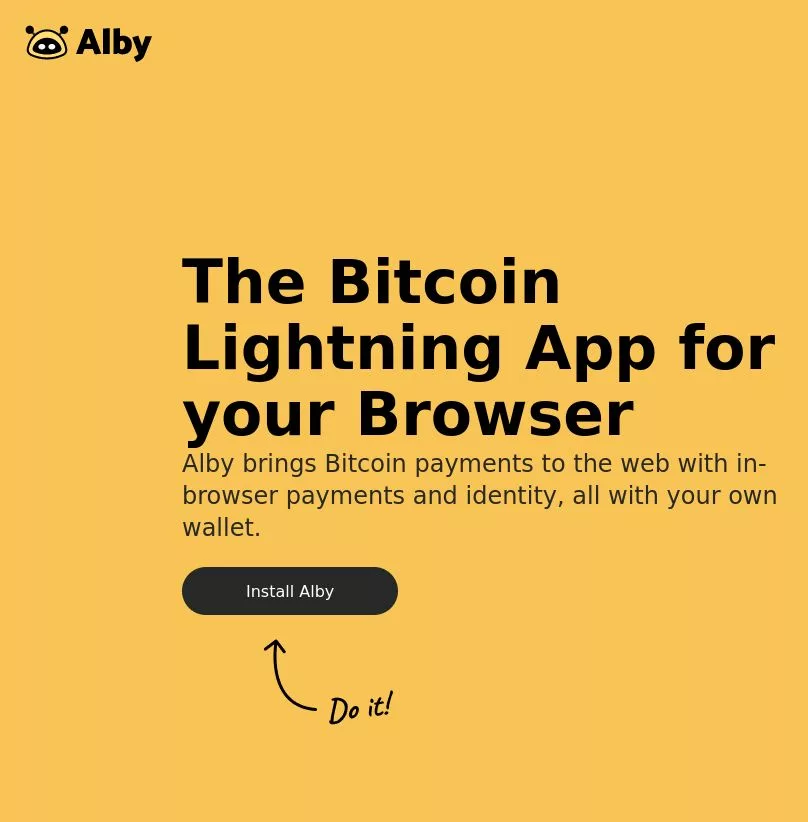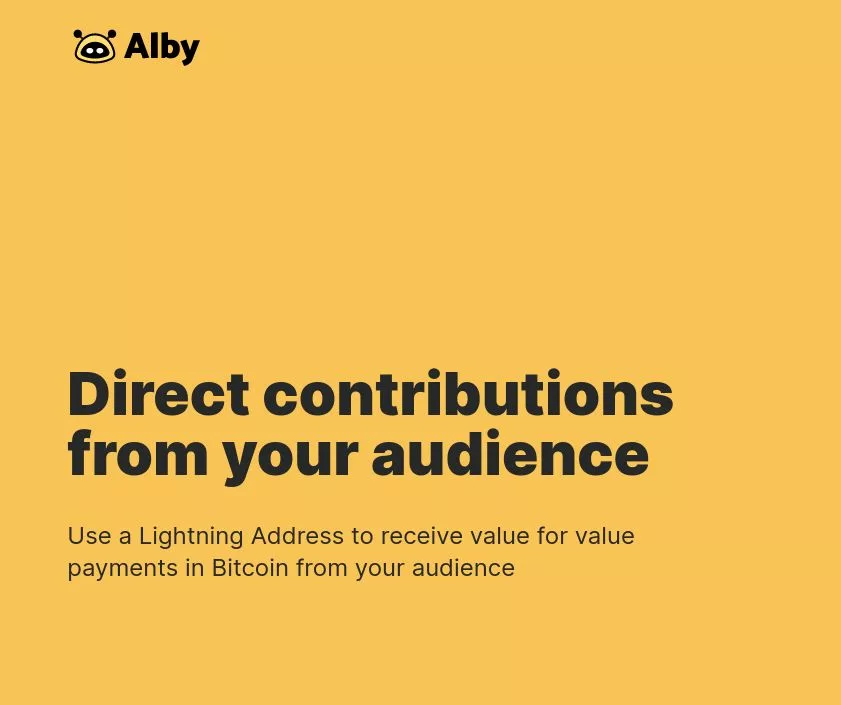 Alby: Bitcoin Lightning Wallet
Alby is a web and browser-based open source Bitcoin wallet for Lightning and Nostr apps. It allows you to obtain a simple Lightning address to pay or receive bitcoin over the Lightning Network via your browser.
Description
Alby is an open source Bitcoin Lightning program for the web and your browser that allows you to buy bitcoin, receive, tip, and pay in bitcoin via the Lightning Network. The program allows you to obtain a Lightning address, which is similar to an email address (e.g., [email protected]), but for bitcoin, and is simple to share and remember. You can also use the app to log in to websites that support Lightning logins.
Alby brings Bitcoin payments to the web with in-browser payments and identity, all with your own wallet.
How to use Alby
You need to sign up with your email. Once your account is set up, create your Lightning address by choosing a name that will be followed by @getalby.com. Choose your address carefully because you won't be to change it. You will be able to use your address to receive bitcoin and your account to send bitcoin to others. In addition, you can use the Alby Browser Extension to conduct transactions on the web or connect your Alby account to a mobile app. To install the browser, go to Alby website and click on 'Install Alby' and use your Alby email and password. At the moment, the browser extension is available on Firefox and Chrome.
Your lightning address comes with a public Alby page that makes it super easy to share and allows others to send you bitcoin.
Alby features
Send in one click. Lightning transactions happen in your browser. No alt+tab or QR-code scanning needed.
Connect existing wallet. Alby is a custodial wallet, however, it lets you connect your existing Bitcoin Lightning wallet.
Receive payments. The app allows you to receive bitcoin payments on your website, Twitter, YouTube and BitcoinTV.
Buy bitcoin. Alby has a built-in exchange in partnership with MooonPay.
No paywalls. You can define individual budgets for websites to enable seamless payment streams without looking for your payment details.
Privacy. Use Alby to conveniently login into websites that offer logins with Lightning and access applications on top of the Bitcoin Lightning Network. No need to remember a username or password.
Free and open source. Alby's code is open and can be audited by anyone.
No tracking software. No stats, analytics, or other trackers come with the extension.
Podcasting 2.0 (Value4Value). A real-time streaming payments system that allows podcast listeners to make bitcoin micropayments directly to podcasters' Alby wallets as they listen.
Alby creates a new experience to consume and reward content or services online.
Apps compatible with Alby
One of the benefits of Alby browser extension is that you can use it on many apps to pay or receive Bitcoin. Websites and webapps where you can use our Alby browser extension include the following:
Entertainment:
Podverse: A podcast player that supports bitcoin payments, enhancing user engagement.
Stacker.News: Lightning-powered Bitcoin news site delivering real-time information.
Wavlake: Lightning-powered music player for a seamless audio streaming experience.
Y'alls: Platform featuring articles about the Lightning Network, educating users.
Shopping:
Bitrefill: Buy vouchers, refill your phone, or pay bills using Bitcoin Lightning.
BTC Map: Easily find places to spend sats globally with an interactive map.
Coincards: Shop for gift cards, mobile top-ups, and prepaid vouchers with Bitcoin.
Social Media and Communication:
Blogstack: Medium-like blog sharing platform.
nostr.kiwi: Share notes and curate content in communities.
Snort: Fast Nostr web client for quick and efficient browsing.
Trading:
Kollider: Instant Bitcoin derivatives trading platform for quick and efficient trades.
LNMarkets: Another platform for instant Bitcoin derivatives trading with user-friendly features.
Gaming:
LNBlackJack: Play Blackjack and earn Bitcoin rewards.
Lightning Poker: Play Poker while earning Bitcoin.
Lightning Roulette: Play Roulette with Bitcoin
Node Management:
Miscellaneous:
Geyser: Crowdfunding projects with Bitcoin Lightning.
Lightsats: Onboard people to Bitcoin by sending them tips.
LNCal.com: Get booked and paid in Bitcoin with scheduling platform.
Sats for Likes: Earn Bitcoin for accomplishing tasks.
Using Alby lightning wallet and browser extension
Alby Lightning wallet is a great option if you are looking for a user-friendly and secure way to store and manage your Bitcoin. The wallet is easy to use and has a number of features that make it a good choice for everyday use. The browser extension is also a great way to add Lightning functionality to your favorite browser.
It is a great choice for both beginners and experienced users. However, it is important to note that Alby is a custodial wallet, which means that Alby holds the private keys to your funds. This means that you are trusting Alby to keep your funds safe and secure. Additionally, when installing the extension, The extension asks for permissions to communicate with other apps outside the browser. The wallet is not ideal for holding large amounts of funds, but it does allow you to connect to your own Lightning wallets or nodes, giving you more freedom and control over your money. If you are uncomfortable with this, you may want to consider a noncustodial wallet.
More Information
Additional information
| | |
| --- | --- |
| Bitcoin Only | |
| Browser Extension | Chrome, Firefox |
| Source Code | |
| Lightning Network | |
| LNURL | |
| WebLN | |
| KYC | |
| Wallet Type | |
| Built-in Exchange | |
| Year Launched | 2021 |