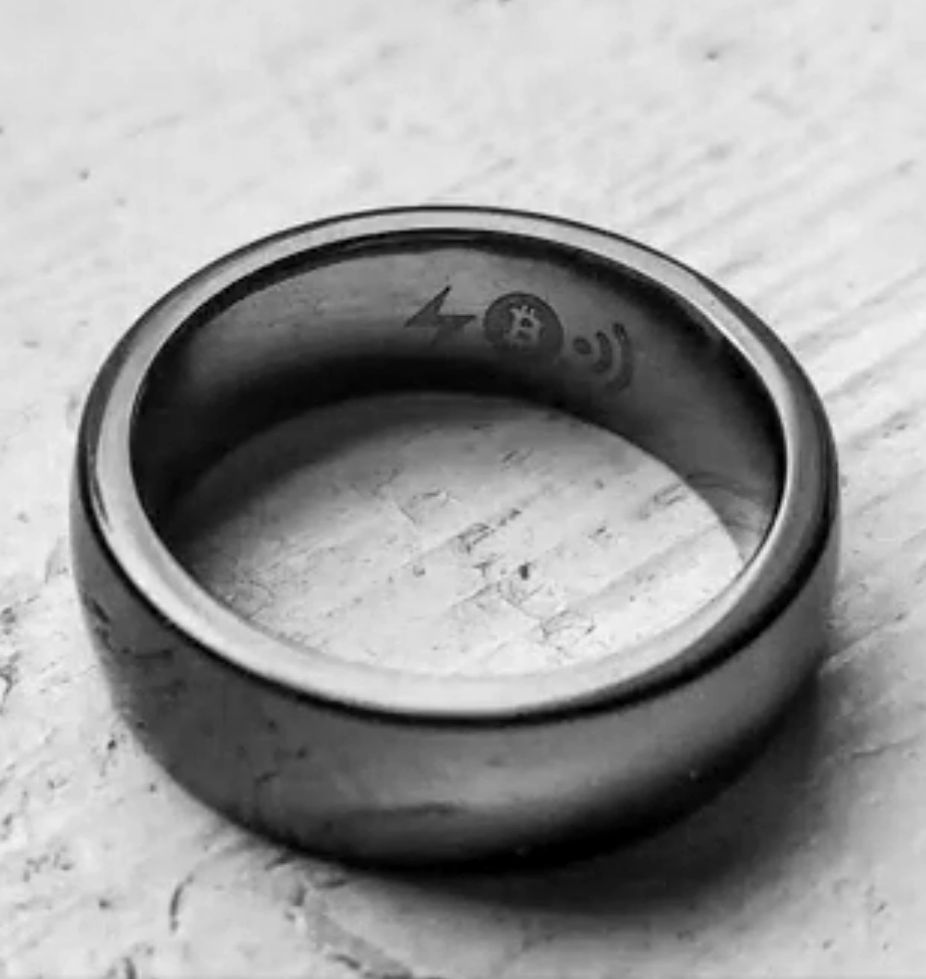 BoltRing: Bitcoin Payment Ring
85,00 €
BoltRing is a Bitcoin payment ring that enables you to make Lightning payments without the need for a smartphone or internet connection.
Description
BoltRing is a Bitcoin payment ring that enables you to make secure and convenient bitcoin payments with a tap, even without a smartphone or internet connection. This small NFC-enabled device is made of high-quality ceramic and is resistant to water, dust, and scratches.
BoltRing had a pre-launch edition that was available for purchase at the BTC Prague Conference 2023. This exclusive pre-launch version allowed early adopters to get their hands on BoltRing before the official release.
Benefits of using BoltRing include:
Security: BoltRing utilizes the Lightning Network, a secure and efficient scaling solution for Bitcoin, ensuring safe transactions.
Convenience: You can make payments without needing a smartphone or an internet connection.
Versatility: BoltRing works at any point-of-sale terminal that accepts Lightning payments, providing you with a wide range of payment options.
How to Use BoltRing
To use BoltRing, you first need to connect it to a Bolt service. Once the setup is complete, BoltRing generates special LNURL LUD-17 links that are unique and encrypted. These links provide replay protection to ensure the security of your transactions. Merchants who have NFC support at their point-of-sale can read the BoltRing and perform a one-time withdrawal from your connected Lightning wallet.
LUD-17, or Lightning URL Description, is a new method of representing website addresses in Lightning wallets. It allows website addresses of any length to be used.
The ring has an antenna that goes around inside the ring. Using the BoltRing bitcoin payment ring is as simple as tapping it on a Lightning invoice at a point-of-sale terminal. This instant and fee-free payment method uses the Lightning Network and LNURL technology, making transactions quick and effortless.
BoltRing has been tested with Bolt Card, Breeze POS, BTCPay PoS, and LNBITS TPoS, and more support is on the way.
BoltRing Payment Methods
You can use the following methods to buy the ring:
Cash on Delivery: Simply have the invoice amount ready, and the carrier will collect cash payment upon delivery. Please note that cheques are not accepted. An additional EUR 6.50 cash on delivery fee should be paid directly to the carrier when they deliver the parcel.
Direct Debit: BoltRing will automatically deduct the invoice amount from your specified bank account after receiving your order. An EUR 2 fee applies.
Payment on Account: Place your order and pay once it arrives. An EUR 2 fee is applicable.
Credit Card: Enjoy hassle-free payment using your credit card.
PayPal: Make quicker and easier payments through your PayPal account.
Payment in Advance: For free delivery within Germany (excluding express delivery), transfer the total amount due to their account with the provided details.
Cash Payment (In-Store Pickup): Order online and collect your purchase from BoltRinf shop, TemplateShop, located at Template Street, Templateville, Germany. Cash payment is accepted upon pickup.
Is BoltRing Safe?
BoltRing prioritizes safety and security. Although it currently operates on a single-tap mechanism without a payment validator, you have control over safety measures. You can set limits on the number of transactions per day or per transaction, and even deactivate the service if needed. In the future, additional safety features like merchant whitelisting or pin entry will be introduced to enhance security further.
It's important to note that BoltRing is not a hardware wallet and does not store the private keys to your wallet. Instead, it generates one-time LNURL withdraw links for each transaction. You have the option to use BoltRing with your own Bitcoin Lightning node like Bolt Card Wallet or a custodial service like CoinCorner or self-host it for added flexibility.
To reinforce security, BoltRing is equipped with an NTAG 424 DNA chip. This specialized chip provides advanced encryption and protection to prevent unauthorized access and tampering. It acts as a protective shield, ensuring that your payment information remains secure during transactions with BoltRing.
Bear markets are for building #Bitcoin pic.twitter.com/Z1DChgcnYa

— Bitcoin Ring (@bitcoin_ring) October 17, 2022
More Information
Additional information
| | |
| --- | --- |
| Bitcoin Only | |
| Lightning Network | |
| LNURL | |
| NFC | Yes |