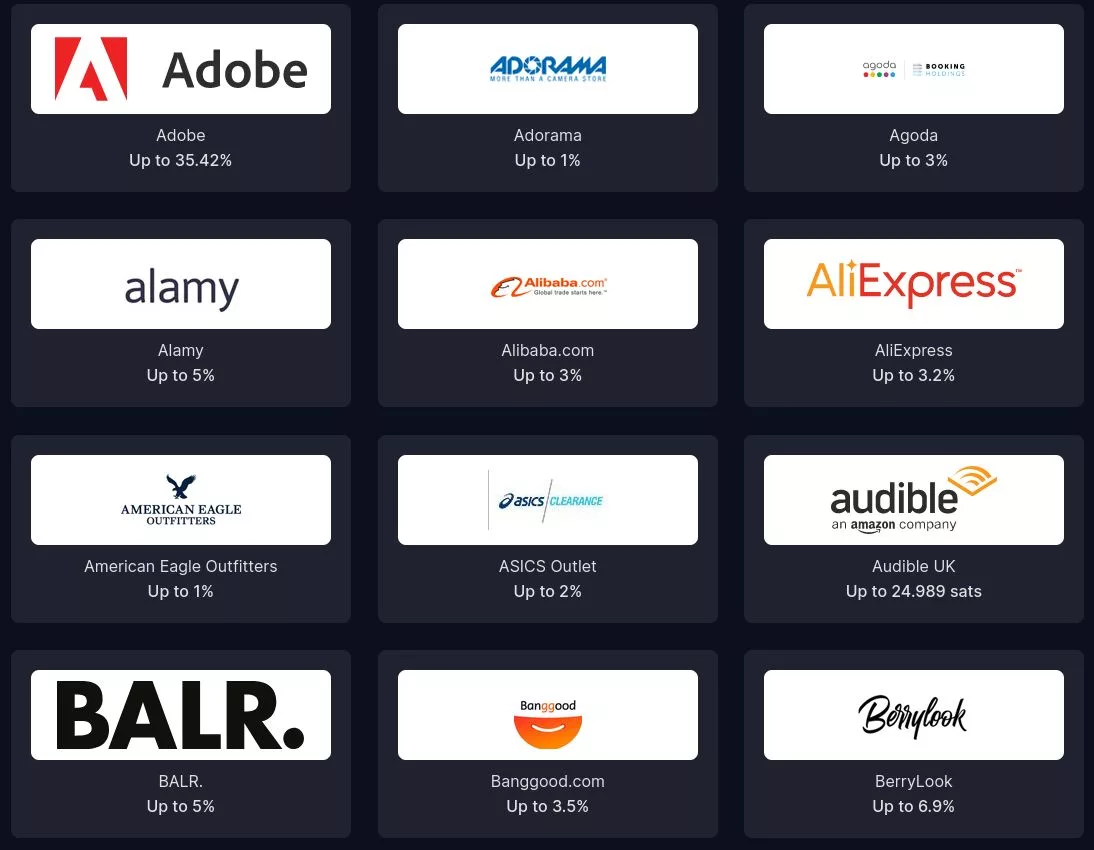 Satsback.com: Earn Bitcoin Rewards for Shopping
Satsback is a platform that allows you to earn cashback rewards in the form of bitcoin when you shop at participating online stores. The service is free to use, and it is designed to make it easy for you to earn bitcoin while shopping online.
Description
Satsback is a free platform that partners with online stores to offer cashback rewards to you in the form of bitcoin when you shop at partners stores. Satsback is one of simplest ways to earn bitcoin rewards via the Lightning Network while shopping online. Satsback is available in a wide range of countries, including US, Turkey, Denmark, Sweden, Czech Republic, Finland, Netherlands, Spain, Italy, UK, Norway, South Africa, and Singapore. Participating stores include Nike, eBay, Booking.com, Coursera, Takeaway.com, Alibaba, NordVPN, Airbnb, Fivver, Ali Express and Adobe.
How Satsback works
When you shop at a participating store through Satsback, the platform earns a commission from the store. Satsback then converts that commission into bitcoin and shares a portion of it with you as a reward for shopping through the platform. In addition to earning a commission from the store, Satsback also makes a small profit on each transaction. This allows the platform to operate for free while also protecting users' privacy.
To use Satsback, first sign up for an account. Then, go to the "Stores" section and browse for the online store where you want to shop. Click the green "Shop now" button to visit the store, and shop as you normally would. When you have completed your purchase, Satsback will automatically add your cashback reward to your account. You can also download the Satsback browser extension, which will alert you to activate cashback rewards when you visit participating online stores. As long as you do not return or cancel your order, you will be able to withdraw your cashback reward in the form of bitcoin to your mobile bitcoin wallet. There is no minimum amount of sats, the smallest unit of bitcoin, that you need to earn before withdrawing.
To withdraw your bitcoin rewards from Satsback, you will need to have a mobile bitcoin wallet that supports the Lightning Network (LN) and LNURL (a protocol that allows Lightning wallets to communicate with external applications and third-party services). Some wallet options that you may want to consider include Wallet of Satoshi, BlueWallet, and Breez. These wallets are user-friendly and can help you get started with using bitcoin on the Lightning Network. Keep in mind that you will need to install one of these wallets on your mobile device in order to withdraw your rewards from Satsback.
Satsback uses the Lightning Network to process cashback rewards, which means that you can only withdraw your rewards to a mobile wallet that supports the Lightning Network and LNURL. You cannot withdraw your rewards to a hardware wallet or an on-chain bitcoin address, as these do not support the Lightning Network.
To ensure that you receive your cashback rewards from Satsback, please follow these guidelines:
Start your shopping on the Satsback website, and visit participating stores by clicking the green "Shop now" button on the store's details page.
If you are using the Satsback browser extension, click "Activate satsback" as soon as it appears.
Disable any third-party extensions or ad-blockers that you may have installed. If you are using the Brave browser, make sure to activate "Shields are DOWN".
Accept marketing cookies and analytics on the store's website when prompted.
Complete your purchase in a single browser window and session.
Do not use any discount codes that you have not received from Satsback.
If possible, shop on a desktop computer. Mobile tracking may not be reliable for some stores.
Before shopping, consider clearing the cookies on your browser to help with the correct registration of your purchases.
By following these guidelines, you can help ensure that your cashback rewards are properly registered and credited to your account.
More information
Additional information
| | |
| --- | --- |
| Bitcoin Only | |
| Lightning Network | |
| KYC | |
| Mobile App | No |
| QR Code | Yes |
| Browser Extension | Chrome, Firefox, Safari |
| Year Launched | 2020 |