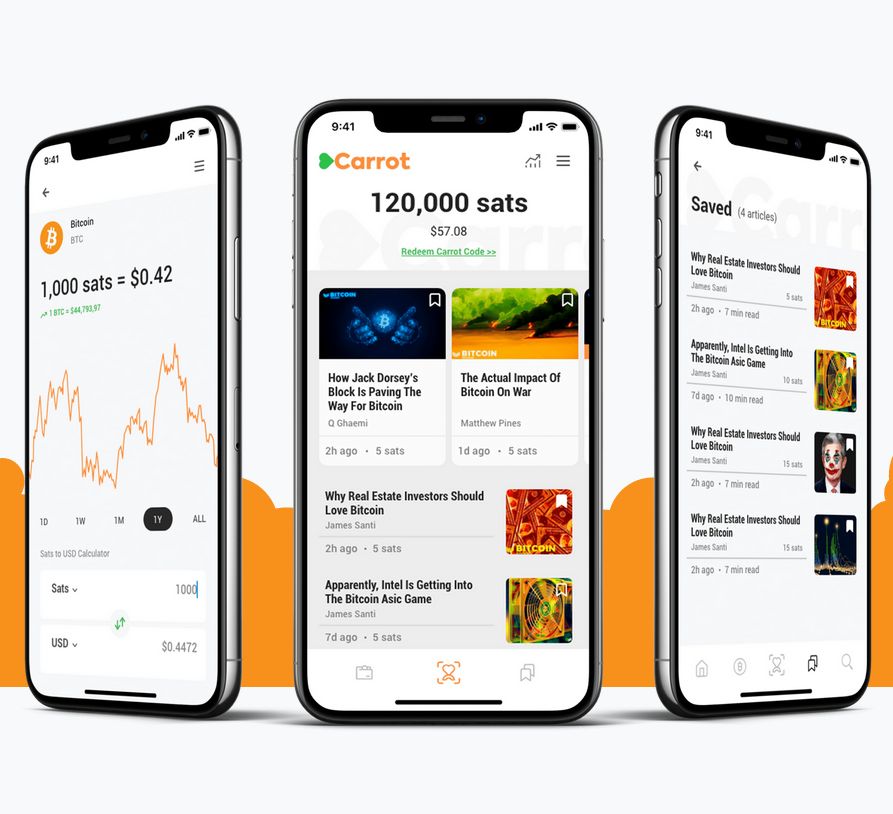 Carrot: Earn Bitcoin for Everyday Tasks
Carrot is an app that allows you to earn bitcoin by reading articles, watching live streams, and taking part in sweepstakes, surveys, and other activities.
Description
Carrot is an app that lets you earn bitcoin by reading articles, watching live streams and participating in giveaways, surveys, and more. Once you've earned enough sats, the smallest unit of bitcoin, you'll be able to withdraw them to your own bitcoin lightning-enabled bitcoin wallet such as Muun. Creators and brands can also leverage Carrot to reward their fans. The app is built by BTC Inc, the media group behind Bitcoin Magazine.
How Carrot app works
To get the app, simply go to the website and download the app from the Apple App Store or the Google Play Store. After you've downloaded the Carrot app, enter your email address, and you will receive an email with a secure login link. Return to the Carrot app after you've validated your email address, and you should be logged in.
There are various ways to earn with Carrot, but they may be broken down into two main groups: "drips" and "drops".
Drips are earning opportunities that are available at all times within the program, such as reading articles for sats. New articles are published on a regular basis, allowing you to earn money around the clock. If you're searching for a way to "stack sats," this is an excellent place to start earning while learning at the same time.
Drops are earning possibilities found outside the app. Every Friday, for example, "flash codes" are posted on the Carrot Twitter account. There are also occasional unique chances, such as surveys or learning programs.
The Carrot app is not a wallet, but a bitcoin-based rewards platform. This means that the Carrot app's only way to accept bitcoin is through Carrot codes.
Likuid Gold is a newly launched CBD brand that wanted to grow it's social audience and potential customer base on Instagram. They offered a reward of 80 cents through Carrot for people to follow their brand on Instagram and answer a few questions about what type of products these people were interested in. With Carrot, Liquid Gold was able to grow the Instagram following for their new page 5x in 2 weeks. Bitcoin Black Friday has also used Carrot to grow their YouTube subscribers and email newsletter.
More information
Additional information
| | |
| --- | --- |
| Bitcoin Only | |
| Lightning Network | |
| Mobile App | Yes |
| Operating System (OS) | |
| Year Launched | 2020 |
| Made in | USA |