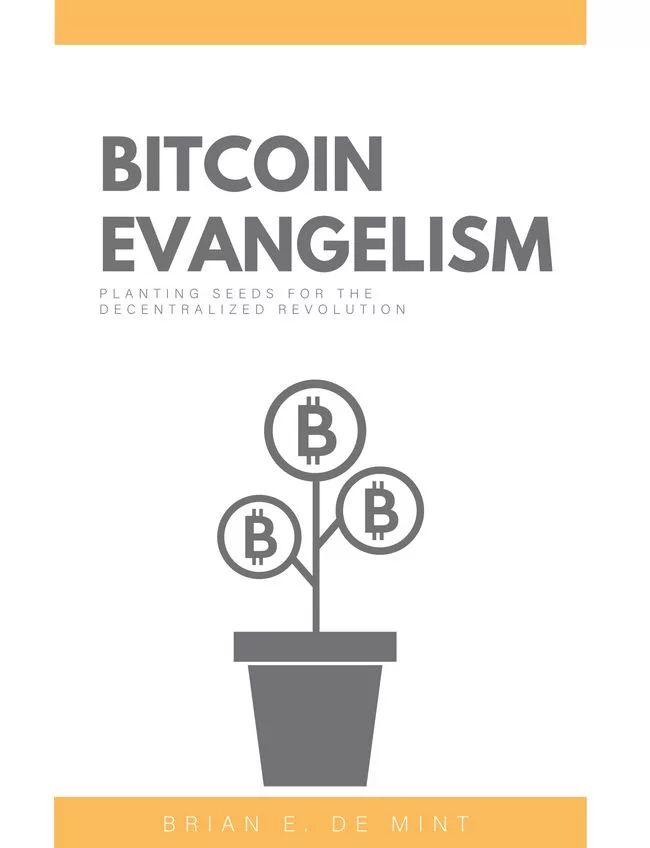 Bitcoin Evangelism
22,00 €
Bitcoin Evangelism: Planting Seeds for the Decentralized Revolution is a detailed guide aimed at educating the general public about Bitcoin and blockchain technologies.
Description
Bitcoin Evangelism: Planting Seeds for the Decentralized Revolution is a book written by Brian De Mint. It is a comprehensive guide aimed at educating the public about Bitcoin and blockchain technologies. Beyond technical explanations, this book delves into the fundamental value of these new technologies, their differences from older technologies, and their potential global impact.
Blockchain and digital assets, led by Bitcoin, are being adopted at a pace unlike any other technology. From 1990 to 2000, internet users grew at an average annual pace of 63 percent. From 2010 to 2020 blockchain users have grown at an average annual rate of 113 percent(15) – almost double the speed of the internet!

Africa is ground zero for the adoption of blockchain. Already today, Africa widely uses BTC for international remittances, banking in an otherwise unbanked region, and for protecting themselves against incredibly volatile national currencies. Several of the African currencies like the Zimbabwean dollar face inflation and volatility that are orders of magnitude greater than BTC. El Salvador has adopted BTC as a national currency. The city of Rio De Janeiro in Brazil has allocated one percent of its treasury funds to BTC as a hedge. Mayors of the biggest cities in the United States including New York and Miami are taking their paychecks in BTC. The state of Ohio allows citizens to pay their taxes in BTC.

To say that Bitcoin is going to zero or that it's a bubble will be looked back on as even more out of touch than saying the internet was a fad in the 1990s. There's a saying about upending the status quo: "First they ignore you, then they laugh at you, then they fight you, then you win." – Bitcoin Evangelism
The author served as the Chief Marketing Officer for Atheneum Blockchain for three years before resigning in 2021 to focus on Bitcoin/blockchain education. This led him to write Bitcoin Evangelism.
Additional information
| | |
| --- | --- |
| Author | Brian De Mint |
| Print | Yes |
| Audiobook | Yes |
| Year of Publication | 2022 |