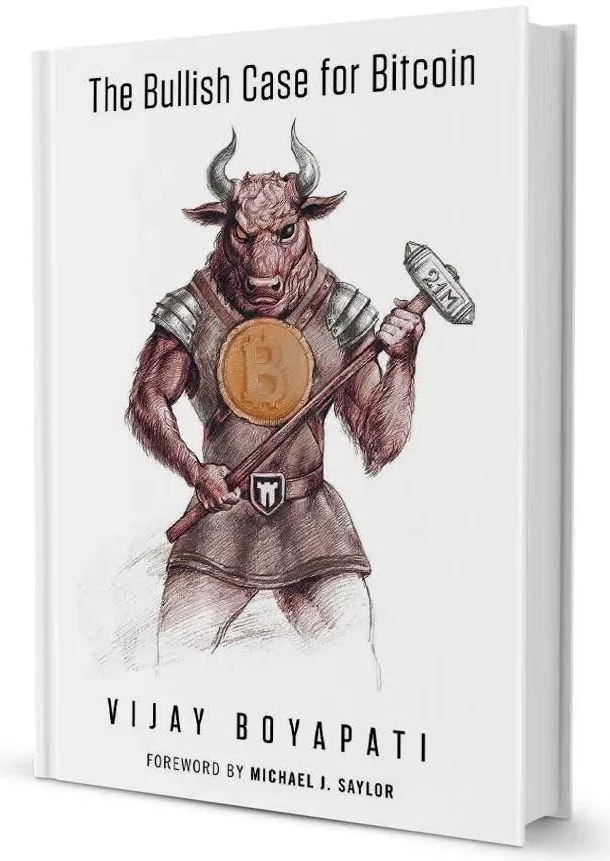 The Bullish Case for Bitcoin
The Bullish Case for Bitcoin examines the history and theory of money, the genesis of Bitcoin, and its economic and technological implications.
Description
The Bullish Case for Bitcoin is one of the most read non-technical introductions to Bitcoin. Originally written as a long-form article in 2018 by Vijay Boyapati, a former Google engineer, it was published in 2021. The foreword was written by Michael Saylor, with testimonials from Jack Dorsey (former CEO of Twitter), Cynthia Lummis (US Senator), and Adam Back (cypherpunk).
The book looks at the history and theory of money, the genesis of Bitcoin, the reasons it is superior to gold and fiat standards, and its far-reaching economic and technological implications.
Never in the history of the world had it been possible to transfer value between distant peoples without relying on a trusted intermediary, such as a bank or government. In 2008 Satoshi Nakamoto, whose identity is still unknown, published a 9 page solution to a long-standing problem of computer science known as the Byzantine General's Problem. Nakamoto's solution and the system he built from it — Bitcoin — allowed, for the first time ever, value to be quickly transferred, at great distance, in a completely trustless way. The ramifications of the creation of Bitcoin are so profound for both economics and computer science that Nakamoto should rightly be the first person to qualify for both a Nobel prize in Economics and the Turing Award.
The book, as well as art, clothes, and accessories related to the book, can be purchased at a discounted price via the book's online store.
As a non-sovereign monetary good, it is possible that at some stage in the future Bitcoin will become a global money much like gold during the classical gold standard of the 19th century. The adoption of Bitcoin as global money is precisely the bullish case for Bitcoin….
The original article that this book is based on can still be read online. It's still a great introduction to Bitcoin.
Additional information
| | |
| --- | --- |
| Year of publication | 2021 |
| Author | Vijay Boyapati |